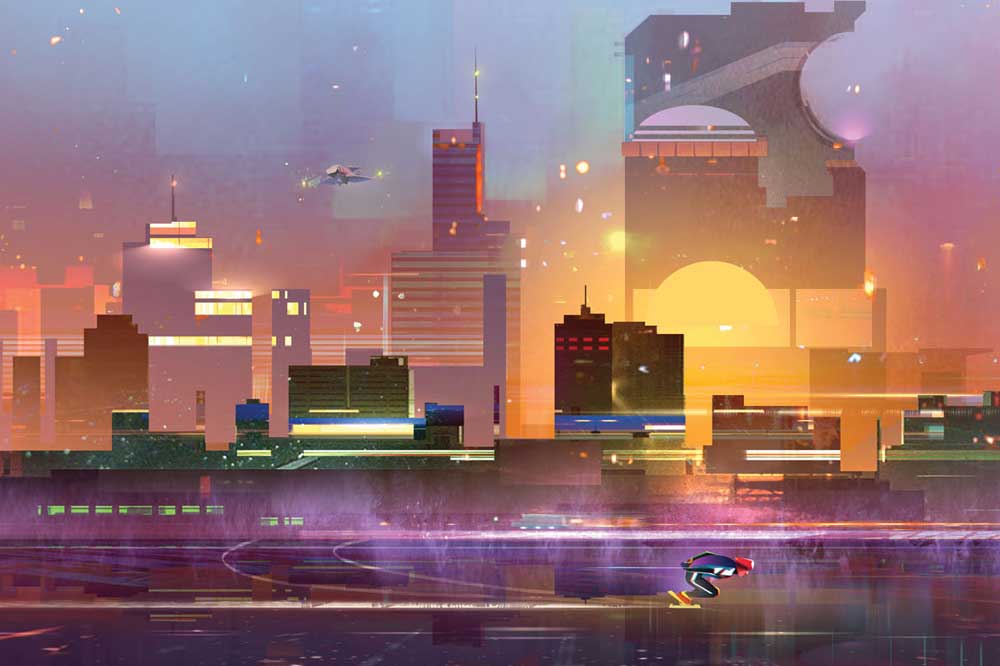 by Rebecca Ryan
The phone rang. It was Gary Becker, executive director of the Local Government Institute of Wisconsin. His members were being battered: state funding cuts, do-more-with-less, aging populations, crumbling roads, declining voter interest, more diversity in schools, and social media temper tantrums.
"What is the future of local government?" he asked.
The future is a paradox. It will be extremely different. It will be mostly the same.
Manmade meat. Deliveries in 30 minutes by drone. Thought-to-text. Rooms that read your moods and adjust their lights, images, and scent. Airport walls that smell bombs. Detection of Parkinson's disease from voice recordings. Autonomous cars. Predictive networks that anticipate severe weather, holiday retail volume, and voter sentiment.1
In 2000, no one could imagine putting 10,000 songs in their pocket. By 2100, no one will remember what it was like to sit in traffic.
Tomorrow's local government will be much different. It will be mostly the same.
Mark Funkhauser, publisher of Governing magazine, remarks on the unchanging nature of local government, "There has always been sewage, transportation, and public safety issues and there always will be."
People 100 years from now will still eat, defecate, have children, and need housing. Humans will be the same collection of blood and bones, a jambalaya of opinions, emotions, intellect, and experiences. Humans will be optimized; bionic knees, eyes, and ears, and nutrition will help us live longer than ever.
Governing residents will have the same broad curves of triumph and peril. On a day-to-day basis, local government will be similar to what it is today. In the words of Parks and Recreation's Leslie Knope, "What I hear when I'm being yelled at is people caring really loudly at me."
In 2100, the tools residents will use to "care loudly" will be different, but the caring—and residents themselves—will be mostly the same.
Categories of Change
There are four forces or categories2 of change that will have a 100-year impact on residents and communities. In rank order, these are:
Resources: The access to air, water, land, and energy.
Technology: The inventions that make life more convenient.
Demographics: The "who" of our communities (i.e., are we getting older or younger, healthier or sicker, richer or poorer, etc.?).
Governance: The rule of law and the rule of markets.
Governance is generally the slowest to change. And right now, many local governments are decades behind. They've already lost relevance for large segments of our communities.
As American politician and diplomat Madeleine Albright said, "Citizens are speaking to their governments using 21st century technologies. Governments are listening on 20th century technology and providing 19th century solutions."3
Gary Becker got an answer to his question about the future of local government. His board invited 150 diverse thinkers from across the state—artists, entrepreneurs, journalists, hackers, elected officials, bureaucrats, executives, and others—to imagine the future of local government in Wisconsin.
They concluded that local government was on a path to extinction if present trends and standard operating procedures continue; however, they also concluded that local government can adapt and recommended these three first steps:
Jurisdictions must collaborate, not compete. Unfunded mandates and jurisdictional boundaries are real. But the systemic, major forces of change or trends (see list on left) facing communities require coordinated regional responses.4  

When sea levels rise or water becomes scarce, when the local manufacturing plant closes or someone's grandmother can't get someone to answer her 911 call, voters want answers. They will expect coordinated responses from the grown-ups in the room. 

Meredith Roark, a budget analyst in Decatur, Georgia, says, "I am hopeful that [in the next 100 years] the lack of attainable housing and homelessness will be solved. Both issues will be solved by local governments working together on a regional level since it will take partnerships across jurisdictional boundaries to solve the issues for good."
 
Policymakers must reach beyond "the usual suspects" and engage voters where they are. Local governments complain that they always hear from the same people, but local governments don't change the way they listen.

Public officials must stop asking people to come to the town square and bring the town square to the people. This requires an intentional effort to build relationships with new residents, non-English speakers, renters, and those who don't trust government or are normally marginalized by public processes. Done well, the results are astounding. 

Minnetonka, Minnesota, wanted to engage working parents, but knew they didn't have time to attend traditional public meetings. So the city ran an experiment: it hosted a fun, interactive, and brief Facebook Live event and asked residents to participate from the comfort of their own homes. No travel, no parking, no babysitter, no fuss. Dozens of people participated in the live evening session, and more than 1,200 watched the recording online. It was a win-win. The city gained valuable insight and new advocates. Minnetonka signaled to working parents, "We get it. Life's busy. Civic participation doesn't have to be painful."

To remain relevant, local governments must remain visible. And that means meeting people where they are.
 
Local governments must demonstrate accountability. For most residents, local government is a black box. Taxes go in, services come out, and results aren't clear. This makes it an easy target for charges of cronyism or corruption. 

Shannon Flanagan-Watson, deputy county manager, Arlington County, Virginia, zeroes in on two areas where government is losing relevance: Outdated policies, ordinances, and procedures; and financial/tax structures designed for yesterday's economy. 

Relevance is key. Local governments can spend their time and energy defending outdated systems and protocols or invest in bringing their systems and policies up-to-date and measuring their results.
 
Kodak didn't fail because digital film took it by surprise. Digital film was invented at Kodak in 1975. Kodak failed because it was so afraid of hurting its lucrative film business that it refused to shift any marketing toward its digital product line. It sacrificed its future trying to save its past.
Local governments face a similar choice. Residents are changing. Families are changing. Technology is changing. Transportation is changing. The economy is changing. Communication is changing.
Will local government make the changes required to keep pace, or spend time defending what once worked?
The future of local government depends on its ability to remain relevant. And the future starts today.
---
Endnotes and Resources
1 These technologies are in use or development today.
2 Cecily Sommers, Think Like a Futurist: Know What Changes, What Doesn't; and What's Next (2012, Jossey-Bass).
3 Speech delivered to the Atlantic Council and the Digital Forensic Research Lab at the Disinformation Forum, June 2017: https://medium.com/dfrlab/we-need-21st-century-responses-6b7eed6750a4.
4 How were these trends identified? Hundreds of cities, counties, states, and provinces in the U.S. and Canada have used The Next Big Thing: the Future of Local Government to sort 44 trends according to their certainty and impact. These nine trends are consistently identified as very important and very certain. Alliance for Innovation, 2014, https://documentcloud.adobe.com/link/track?uri=urn%3Aaaid%3Ascds%3AUS%3A....
---
Rebecca Ryan is an economist, futurist, and author, and she currently serves as resident futurist at the Local Government Institute of Wisconsin, Madison (RebeccaRyan.com). She was the first to use Facebook Live to conduct virtual town hall meetings and is the founder of Futurist Camp, which trains people how to apply foresight to their organizations and communities.