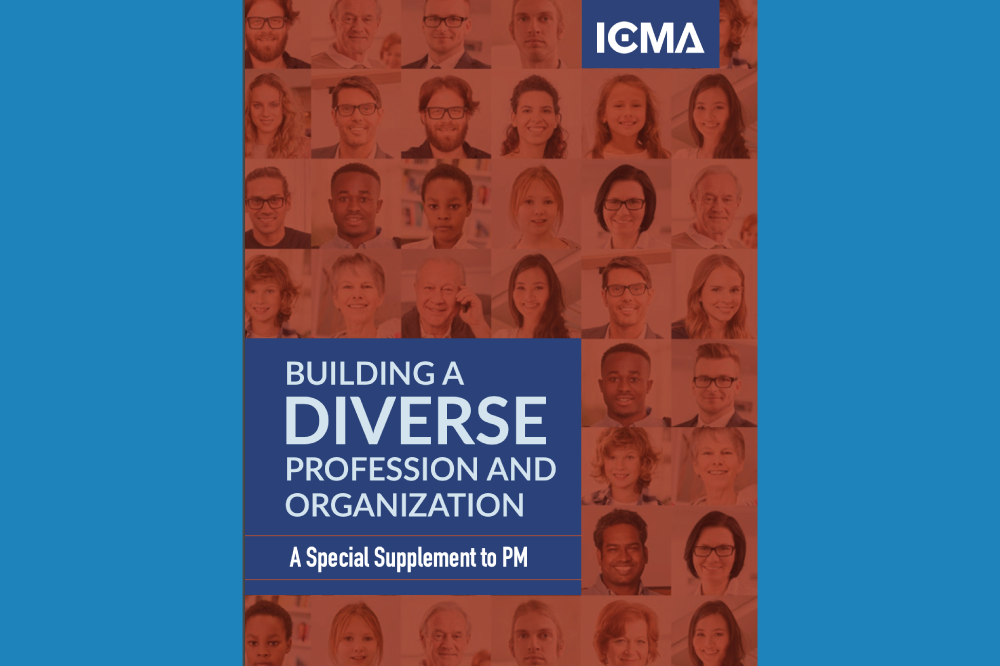 Introduction
By Karen Pinkos, ICMA-CM, ICMA President
As the ICMA Executive Board continues to be engaged in implementing our strategic plan, "Envision ICMA," one of the strategic initiatives that has been a key issue over this past year is expanding and diversifying the membership. We've been looking at how to give a stronger representative voice to the diversity in our membership while remaining a world-class organization of local government leaders. Just as our world is evolving, so is our profession and the ICMA organization, which amplifies our desire to include new and different voices. To that end, the Executive Board continues to focus on improving diversity, equity, and inclusion of membership across the association, particularly in terms of race, ethnicity, gender, and age.
The Executive Board has initiated a conversation about more effectively engaging our members across the career spectrum in the work and benefits of the association. To help make this happen, we launched an engagement process at the beginning of this year to hear from members and explore options for bringing more inclusion to the ICMA Executive Board and our membership. The Board has proposed several ideas with respect to membership and voting privileges in ICMA that would require member approval to amend the ICMA Constitution. In addition, our members have suggested many other ideas for improving diversity, equity, and inclusion, while maintaining the organizational focus to support leaders in local government.
Many of you have participated in this process and I've heard a lot of candid feedback, and I'm grateful for that. Sometimes we must have these difficult, uncomfortable conversations to move forward. We need to be fair, we need to be true to our Code of Ethics, and we need to ensure that our organizations and our communities allow everyone to feel valued, heard, and a part of the team. 
I also acknowledge, along with the Board, that much progress has been made in recent years. The work ICMA is doing in promoting women, people of color, and underrepresented groups began well before I became ICMA president. But we still have further to go. We are certainly not alone as an industry when it comes to the need to improve our gender balance and minority representation, yet I see it as a huge opportunity. Our local government profession can be a leader across all sectors in raising the ranks of women, people of color, and underrepresented groups in executive management. We know local government is the best place to work, and we can show the world that it's because we welcome anyone and everyone to be successful. 
If you can see it, you can be it. And we are beginning to see it. I'm excited to keep the momentum going. Thank you to everyone who has participated in this conversation so far, and I look forward to seeing you in Nashville. 
Download the entire supplement here.