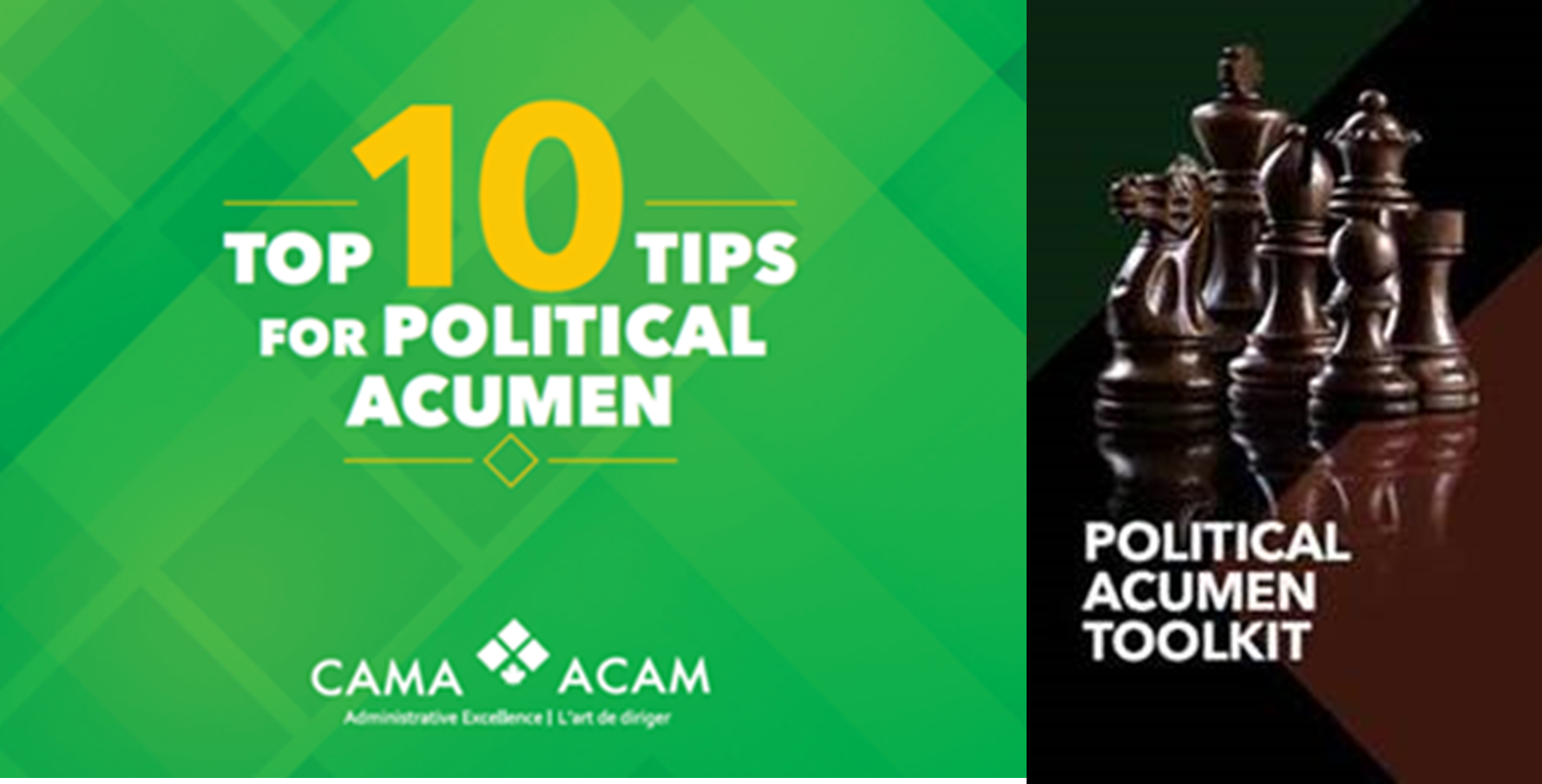 CAMA is excited to be participating in the inaugural edition of International Digest and we hope that sharing Canada's best practices will be beneficial for all countries.
Recognizing the importance of political understanding in the role of senior municipal administrators in local government, the Canadian Association of Municipal Administrators (CAMA) prepared a Political Acumen Toolkit.  This toolkit will strengthen political acumen as a core competency for CAOs, their direct reports, and the next generation of municipal leaders.  This online resource can be found at politicalacumen.camacam.ca and will support municipal administrators around the world.
Political acumen is not any one thing but is a combination of competencies that will serve a CAO and other senior administrators in a variety of ways. Political acuity needs to be acquired and practiced. While it may come naturally to some individuals, others will need to learn it through experience, observation, and talking to colleagues they trust and respect.
Political acumen requires situational knowledge across a diversity of municipal landscapes. However, there are some truths that apply throughout. Here are the top 10 ways to demonstrate political acuity:  
Integrity

:

Maintaining your integrity is crucial to achieving success as a CAO. This rings true in all of your actions as well as supporting 

ethical behavior

 on the part of your elected officials.

Roles

: 

Council, CAO, and other senior administrators

 must all have a clear grasp of their role in municipal governance

. 

Council orientations

,

training, and 

mentorship

 are key to understanding the boundaries and mitigating the risk that comes with blurred lines between roles.

Priorities

: As a CAO, your actions should be aligned with those of council. Take the time to learn what council's priorities are, and do not be afraid to clarify if needed.

Trust

: 

Establishing trust

 is a cornerstone of leadership and lays the foundation of political acumen. Trust is not a given and must be earned through your actions.

Respect

: Even if you do not agree with your political leaders or the decisions they make, you must always respect them and demonstrate this respect to your staff and the public.

Transparency

: Maintain a culture of no surprises and no secrets between you and your council. Being transparent and honest is vital to building relationships that will support your career now and into the future.

Relationship-building

:

Work at building rapport at all levels. Whether it is 

your staff, your council

,

your 

municipal neighbors

, 

the media

,

or interactions at the 

provincial or federal

 levels, relationship-building goes a long way toward achieving the goals of your municipality.

Neutrality

: Leave the politics to the politicians. The role of CAO is to remain neutral on issues while offering the best advice possible to the elected officials making the decisions and providing leadership to other municipal staff.

Communication

:

Communication is not only what you say but what you hear. Take the time to listen to council, 

residents

, and other stakeholders to truly understand where they are coming from and be honest in the information you provide. Be open and respectful in your discussions with council and never take anything personally.

Feedback

:

Do not be afraid to ask for feedback. Meeting with your council formally and informally can help ensure you are aligned with the strategic plan they have set for the municipality. Finding a mentor can also be a valuable resource for working through challenging situations and having someone to go to for support.
The Political Acumen Toolkit features many case studies from CAOs across Canada on a variety of political acumen topics. These stories reflect key learnings from the Political Acumen Toolkit and provide further insight into the role political acumen plays in the day-to-day dealings of local government, as well as how to use your acuity to deal with unexpected situations. Here are just a few examples. Click on the links for the full study:
Do you have questions? Want more information? Contact Jennifer Goodine, executive director, CAMA, at 1-866-771-2262, admin@camacam.ca.
New, Reduced Membership Dues
A new, reduced dues rate is available for CAOs/ACAOs, along with additional discounts for those in smaller communities, has been implemented. Learn more and be sure to join or renew today!