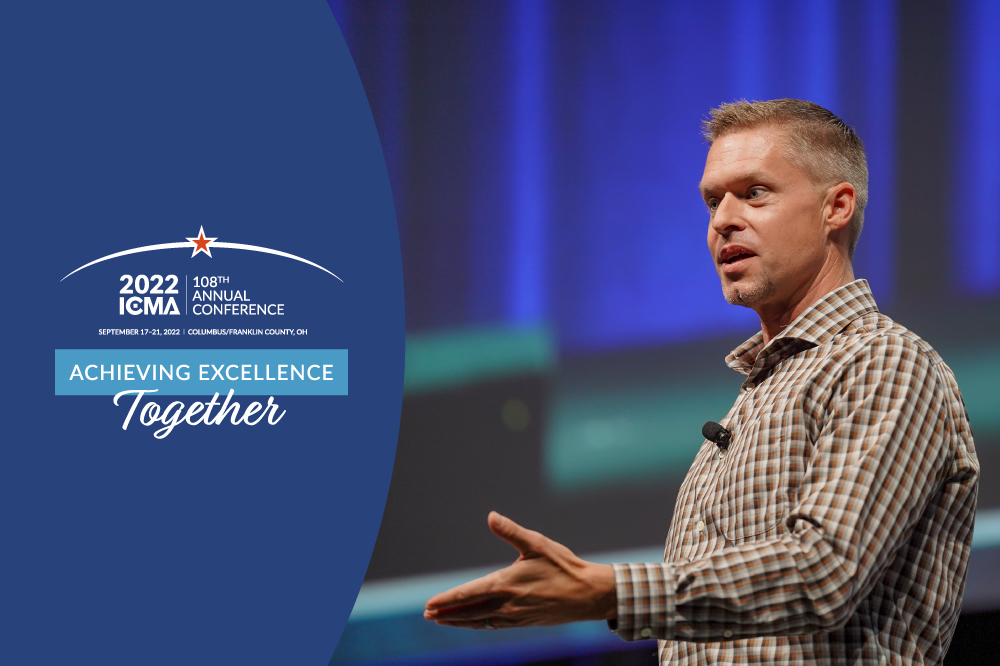 Nick Kittle grabbed the attention of the audience from the beginning of his game changer session at ICMA's Annual Conference, encouraging vocal cheers or boos in response to a few statements, including "Public service is pointless." It came as no surprise that this statement was jeered by the audience of local government leaders, but connected with the frustration many feel, "Banging your head against the wall of bureaucracy. And if you feel like that, imagine how your staff feels."
Success or Failure
Kittle flipped that frustration by reminding the audience that success or failure depends on perspective and time. He used examples including Betamax, Myspace, Segway, TiVo, BlackBerry, Napster, AOL, and QR codes. All got varying votes from the audience on perceived success or failure, but each had more to consider than the initial reaction. Kittle then connected it back to local government.
As we think about the communities we're building, time will be the judge. Our perception is critically important. It's not just a process, but a mindset. Not everything is immediately successful.
Irrational Fear
Kittle stopped speaking for a full minute to encourage the audience to share an irrational fear with someone seated nearby. Then he shared an alarming statistic:the number one fear of Americans is corruption of government officials, and even if that stereotypically is aimed at the federal level or at high-profile governors and mayors, unelected city/county managers are not immune.
"We fear what we don't understand. Apathy is actually the thing we're working against. Then we as local government leaders can end the greatest fear in America."
Real Innovation
Innovation as a cliché of technology or a complicated process that eventually makes things more efficient was dismissed by Kittle. He cited the example of the first automobile. It would take billions of dollars to extract energy out of the ground to run, and billions of dollars more to create the road infrastructure to support it. There was nothing efficient about it, but after many decades, the innovation of the automobile changed the world.
"Innovation and efficiency are not the same thing. We have to shake off the river of our experience so we can be better innovators."
Philosophy, Not Process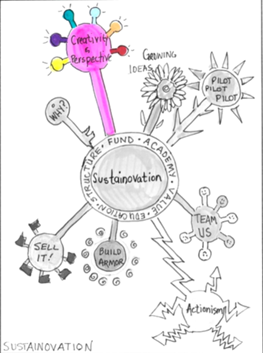 Kittle shared the Sustainovation wheel, designed to make innovation repeatable, realistic, and sustainable.
Why?
Perspective
Growing Ideas
Pilot
Team Us
Actionisms
Build Your Armor
Sell it
He added tips to foster creativity and innovation:
Be willing to ask why until the person or group is uncomfortable. Then ask twice more.
Asking why is key, but people get defensive when you ask them why they did something. Try asking how, instead, to get to the core of the issue.
Flex, fuse, fracture. How can you bend the rules, merge two ideas, or break the idea into individual elements?
Creativity comes in waves when it wants to, not when you want it to. Let people be creative when they want to be. Not at an arbitrary meeting time. Do this by asking for an idea dump people can send individually ahead of time. This will also avoid fear of sharing a crazy idea that may be crazy good in front of a judging group.
Create urgency. "If it's not urgent, people won't do it. Address facts and feelings."
"Controversy is an opportunity to educate," even if this goes against the instinct in government.
Tools
Kittle offered three tools to make it happen:
A modest innovation fund of approximately $50,000. It won't fund every program, but it will create hope for employee ideas.
Measure innovation value.
Employee-led education to engage and empower.
Doing Nothing Has Consequences
Kittle ended the session by posing a question, "What if I told you, you could change the world, but you get no credit?" Sustained innovation is difficult and requires patience for the long game. But Kittle said doing nothing has consequences, and at the very least, "innovation is a hedge against the risk of the way we've always done it," which will eventually not work. Innovation is the means for local government to bring new and better ideas to the public it serves and can turn a city or county into a community.
---
Save the Date!
The 2023 ICMA Annual Conference will be held September 30-October 4, 2023 at the Austin Convention Center in Austin/Travis County, Texas.
New, Reduced Membership Dues
A new, reduced dues rate is available for CAOs/ACAOs, along with additional discounts for those in smaller communities, has been implemented. Learn more and be sure to join or renew today!