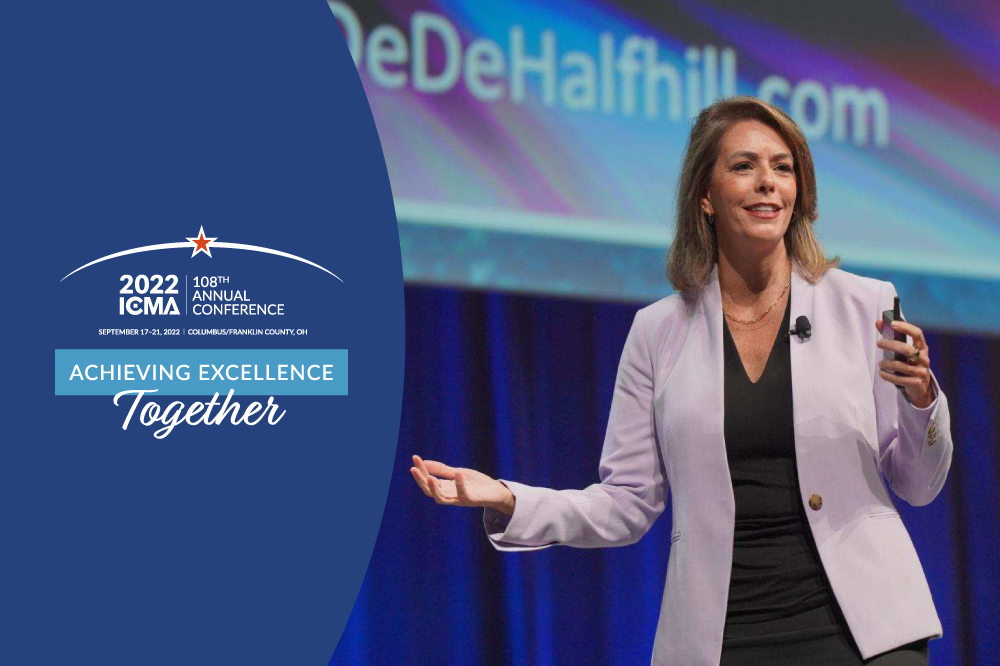 The Monday general session at the 2022 ICMA Annual Conference featured keynote speaker, Col. DeDe Halfhill, USAF, (Ret).. Halfhill spoke about why local government leaders struggle, what gets in the way, and how connection is a choice that can make the positive difference.
Halfhill opened by acknowledging new and old challenges for leaders:
Exhaustion and burnout.
Work-life balance for yourself and your team.
Recruiting, retaining, and developing your team.
COVID-19 and the aftermath.
Diversity and equity challenges.
Countless others that arise unexpectedly.
She said there's no shortage of advice on how to deal with these issues with more than 60,000 leadership books listed on Amazon. And no shortage of the positive vision people have about how they will be as a leader. Yet the reality is different.
Beer Goggles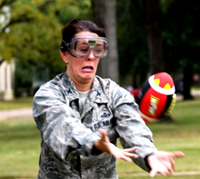 Col. Halfhill shared a story and in her words, an embarrassing photo of her trying—and failing—to catch a football wearing disorienting beer goggles. It was part of a community outreach day to raise awareness of the growing challenge of drinking and driving. But there was also a lesson in leadership.
"This photo was in the newspaper and on the website. Not flattering. It didn't represent my "fabulousness." But it did capture what it's like to be a leader. Things are coming at you, but you don't know from where, or when, or who. There's always uncertainty."
Slow Down
Col. Halfhill said we make 35,000 decisions a day; 95 percent are on autopilot. But connection is a choice and a decision point. Leaders must slow down or they will miss those opportunities to connect with their team.
"Leaders must spend a reasonable amount of time attending to fears and feelings, or squander an unreasonable amount of time trying to manage ineffective or unproductive behavior."
Loneliness Misunderstood as Tired
Col. Halfhill shared research that found although a vast majority of workers will identify as tired, that is most commonly a manifestation of feelings of being isolated, disconnected, and lonely.
"If I ask someone if they are tired and they say yes, I'll send them away to go rest. But if I ask if they are lonely and they say yes, I can bring you in and connect. This is a choice as leaders."
Col. Halfhill said she typically isn't a feeling type. She identifies as an efficient master of the checklist. 
I don't have time to deal with feelings. Have you seen my binder of to-dos?!?
The Choice is Yours
Halfhill used the word as key reminders on how best to connect with those you lead:
C: Communicate to connect vs just direct.
H: Harness our humanness. Don't hide it.
O: Own our vulnerability instead of outrunning it.
I: Ignite courage vs suppressing it.
C: Check our fabulousness. Don't chuck it.
E: Embrace the chaos. You can't control it.
Communicate: Halfhill compared military documents from the 1940s to today. Surprisingly, the original version had dozens of examples of feeling words compared to almost zero in the updated version. Yet both had equal usage of the word mission, and ample explanation of what the mission is and how to get it done. She said you don't have to forsake the discussion of what it is we do for how people feel about it.
Harness:  A story about how she left the car running in a closed garage for a few seconds before coming back to grips on things, and then most importantly, getting real help, illustrated how Halfhill did not hide from her own humanness, even as a Colonel, who was supposed to always be in control.
"We need to show humanity to show that connection. As leaders, show the challenges to show others you're not alone and they're not alone. We can harness those feelings. We don't have to be perfect."
Sharing the same story with her airmen, many others opened up and were more open to seeking similar help.
Own: A national news story on how the Air Force gave disciplinary action at an unequal rate to service people of color, Col. Halfhill directed her squadron commanders to have open discussion with the hundreds of airmen under their leadership. After finding out and being furious it never happened, she realized there were understandable reasons. One commander said she didn't have any answers and, therefore, was reluctant to even bring it up. Another said he'd tried similar conversations with friends and family about the racial issues and actually had relationships ruined over it. He was scared to say the wrong thing the wrong way at work. A third commander who was African American said he was worried he'd be seen as biased with an agenda to push.
All three had a unique reason that made them uncomfortable. It allowed them to put it off and not actually do it. This destroyed trust with the airmen under our command. Of course it's easier not to destroy it than to fight to get it back.
Col. Halfhill said no matter how uncomfortable, leaders have to own it. Admit to your team you don't have the answers but will work hard to get them. Admit you don't know exactly how to talk about it, and ask everyone to be willing give others the benefit of the doubt. Admit you may have bias, but everyone does and that should not prevent a team from being open.
Ignite: Halfhill took a Leadership Circle Profile. She said arrogance was her highest rating, which hurt. After the cycle of shock, anger, and rationalization, she went for more coaching to improve.
"I was reminded arrogance is less about what we say and more about how little we listen. My team felt unheard, unvalued, and dismissed."
Check: "Most often the hard feedback is our gifts in excess."
Check it don't chuck it, Col. Halfhill said she learned how to listen better. Even in moments of stress, confidence and leadership have to be delivered the right way to avoid it landing with arrogance.
Embrace: Col. Halfhill wrapped the session reminding local government leaders there will be chaos they cannot control. Have a plan and a set of core principles, but be ready to adapt. Trust and build relationships with your team. Most importantly, make the choice to connect with them.
---
Save the Date!
The 2023 ICMA Annual Conference will be held September 30-October 4, 2023 at the Austin Convention Center in Austin/Travis County, Texas.
New, Reduced Membership Dues
A new, reduced dues rate is available for CAOs/ACAOs, along with additional discounts for those in smaller communities, has been implemented. Learn more and be sure to join or renew today!