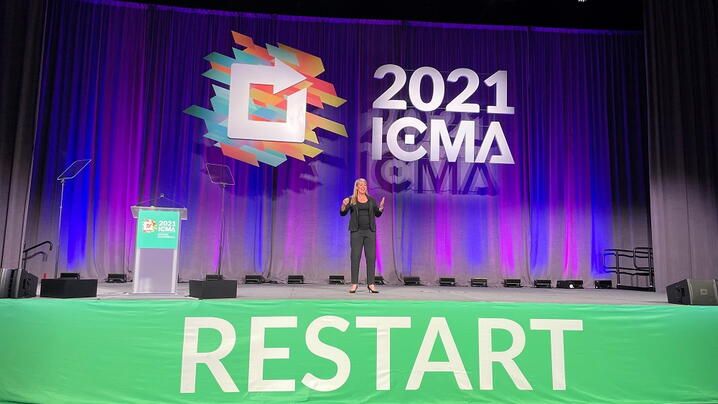 Nine days and 22 hours is what it took Yvonne Camus, Wednesday keynote of the 2021 ICMA Annual Conference, to cross the finish line of Eco-Challenge, the world's toughest adventure race.
In 2000, she competed as a member of the Canadian team of rookies that finished the grueling race against all odds. It was a 300-mile journey that involved sailing, swimming, hiking, cycling, rock/cave climbing, and scuba diving, among other things—all in Borneo, the harshest of terrains. She finished despite a broken wrist, bleeding feet, bugs larger than her hand, and extreme danger around every turn.
Prior to the start, each team was ranked based on their probability of completing the race, with Camus's team given a probability of zero. At that time, even the U.S. Navy Seals had never finished the race. "On paper, we didn't look strong enough." But as she would soon discover, the completion of the race involved so much more than the sum of their physical abilities. "Eco-Challenge demonstrates the capacity of the human spirit."
No wonder Camus has gone on to become a high-performance specialist and an expert on how to crisis-proof corporate teams. "I came home and wrote down everything it took to hold a team together." Here I've highlighted just a few of the many principles of high-performance success shared during her presentation.
"If two people on the team think exactly alike, one of them isn't necessary."
Each Eco-Challenge team must be co-ed, and on Camus's team, she was the lone female. While training for the race, she found that in some ways she wasn't as fast or as strong as her teammates and began to feel dismayed. But later she realized that each person had their own strengths, experiences, and ideas to contribute.
In Eco-Challenge, a team is disqualified if one of its members decides to drop out. It was critical that each individual bring a unique set of physical and psychological tools to allow them to succeed as a team. "Surround yourself with incredible people. In Borneo, all of us acknowledged that we couldn't have done it alone."
"Successful people practice with the intention of improving and they have a relentless commitment of effort."
Camus explained that high achievers have two distinct characteristics:
They practice or work at something with the intention of improving. They are able to identify where there could be growth. She said, "These people tend not to have that annoying voice in their head saying, 'Why can't this be easier?' But it doesn't have to get easier to get better."
They have a relentless commitment of effort. "There's an element of effort required of everything important to us. The effort doesn't go away; it's getting comfortable with the higher level of effort that means we're becoming successful."
"Acknowledge ahead of time that there will be conflict and plan accordingly."
Camus isn't the first to report that we see more conflict in the workplace these days, perhaps due to more transparency and giving employees more of a voice. "During the race, the fighting was at times intense. Beforehand, we acknowledged that there would be conflict—not if something would go wrong, but when."
They developed a strategy: when they had a disagreement, they would all come together and say simply, How do we improve this situation right now? "When you phrase it like that, people start tossing out solutions. We had to keep moving—we didn't have time to discuss who was to blame or what we should have done. We would only focus on the current situation. So once a decision was made, it's all hands on deck and we sprang into action."
"We all need raving fans."
Camus firmly believes that if you cheer loudly enough for someone, their performance will improve. "We all need supporters. We all need raving fans telling us that we can do it." At one point during Eco-Challenge, Camus and her team had to cut the tops out of their running shoes because their foot were so swollen. "Our blisters were so bad it was like walking on glass." As they approached a checkpoint, while chanting it doesn't hurt at all, the checkpoint staff handed them stack of papers—hundreds of emails from home. Even Camus's dad, who had never sent an email before, went to his local library to email his daughter one sentence: "I am so proud of you."
Camus said, "We were so tired, and we had been talking about quitting, but all it took was encouragement from people who cared to keep us going a little longer." She took this same principle back to the office. "When you want the highest levels of performance from your staff, it's all about encouragement. Employees thrive when they hear you communicate your belief in them."
"Whatever you think and talk about most is what you're going to create."
Camus was only 12 hours into the race when she first thought of quitting. "Over and over in my mind, I thought about what would happen if I quit." The theory of dominant thinking says that whatever you think and talk about most is what you're going to create.
After ruminating for days on the notion of quitting, she finally told one of her teammates. He calmly said, "Ok, but how about you wait until the next checkpoint." She agreed and continued on toward the checkpoint. "Then I realized that not a single thing had improved when I said I wanted to quit. Not a single thing got better. I didn't have a warm bed or hot meal to eat suddenly. So why not keep going?" She convinced herself to just keep going checkpoint by checkpoint. "With anything in life, you'll talk yourself into it or you'll talk yourself out of it."
"You trip over pebbles, not mountains."
Accelerate through the wreckage. "Keep track in your own mind of who you are when you're at your best and when you get off track—and every team in this race did, and everybody in life does—those who have been successful can nudge themselves back on track."
It isn't too late to register for #ICMA2021 — Go Digital!
Gain full digital access to keynote and trailblazer speakers, 100+ dynamic sessions, 20+ livestreamed sessions, and conversation huddles through December 31. Register today!