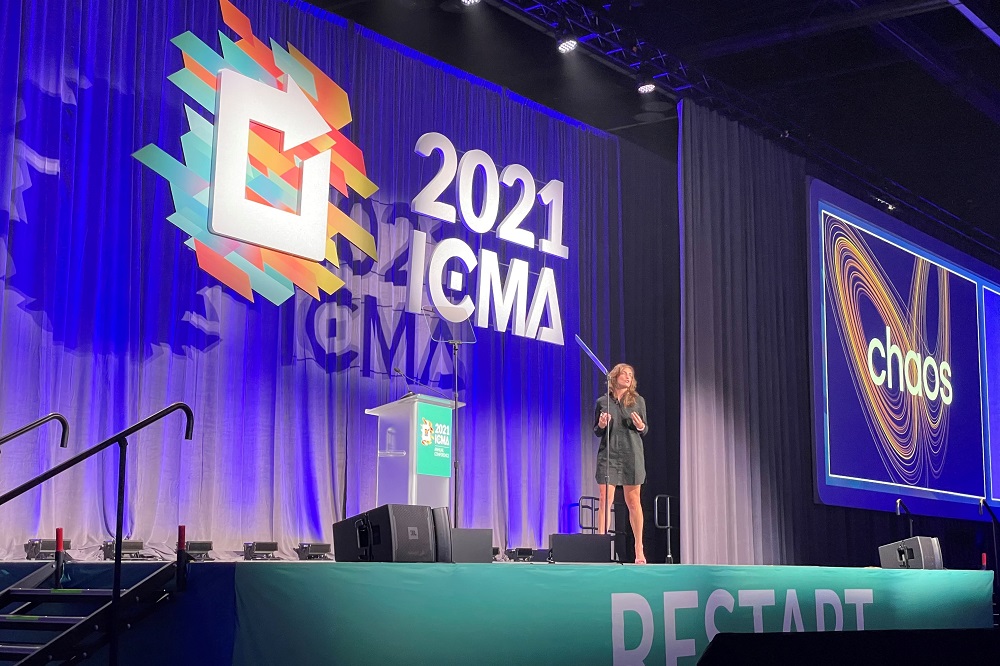 How would Claire Haidar, co-founder and CEO of WNDYR and Pattyrn, and 2021 ICMA Annual Conference keynote speaker, describe the world today? In a word, chaotic.
"We as humans don't like to embrace chaos. We want to box it, organize it, and make it go away." She continued, "Chaos, as we perceive it, is disorganized. But when you actually look at chaos scientifically, it's a highly structured thing, full of nodes closely related and working in tandem."
If this is our new reality, how do we deal with this? By examining our most precious commodity—time.
Haidar explained in detail how every human has 720 hours in a month. On average, it takes 70 hours to run a household (doing dishes, vacuuming, feeding pets); 225 hours to parent two children; 232 hours for work; 240 hours for sleep (eight hours per night); 10 hours for exercise; and 55 hours for personal time.
"However," Haidar said, "If you add it up, it doesn't equate. We're typically six days short on time every month. We're a society living in a time deficit. It's the most basic problem we're dealing with—a shortage of time." Haidar turned this back to the audience. How does a local government leader deal with this? How do you bring hope to your communities? How do we get people to relook at their lives and move from this place of living in deficit?
"We need to go back to fundamentals. We need to rearchitect our entire working culture. If we don't fix it, we're going to push our workforces to the brink and face an even greater crisis than we're already in." How do we begin to fix it? She issued a number of challenges to attendees:
1. Shrink the Workday
How do we reimagine work to understand that it will no longer be the dominant player in our lives but an integrated part of the greater whole? Haidar's answer: a four-hour workday. "Looking at the data that's emerging, we're finding that no productive employee is truly able to give their employer more than four good hours a day. After realizing that everyone is dealing with a time deficit, you have to accept that four hours is enough and will get the job done. Then you start having meetings with leaders in your cities to convince them of this as well."
2. Abandon the Hybrid Workplace and Make a Decision—Virtual or In-person
Haidar called the hybrid workplace—one that supports both in-house and remote employees—the impossible mirage. She contends that a virtual office culture and an in-person office culture are distinctly different: how you meet, how you task one another, how you engage around documentation and business assets, how you manage time. She mentioned that for so long we've depended on a physical building to do the work of culture building. The building made us feel a certain way and our mindsets reflected that. But culture should be more than that. "If we buy into the lie that hybrid is the way forward, we're going to complicate our lives and push the time deficit so far that we burn out."
3. Become a Student of Change
Haidar insists we view things differently to conceptualize what's possible. Embrace the principles of change management and focus on three things: the individual, the leadership, and the overall process or system. "No change will be successful or sustainable if all three pieces aren't working in tandem," said Haidar. "When working in tandem, change will happen and will stick. If not, people will default back."
4. Become a Student of Experience Design
To succeed you need to create experiences for people. Haidar explained that user experience (UX) designers do this day in and day out—designing to help people, draw them in, and keep them here—and she challenged attendees to do the same. "Create living experiences that keep people wanting to live in your community. The way your community makes people feel matters more than you realize."
5. Embrace Agile Management
Just as tech is built through agile management, so can local government. "You don't need to plan what your end product will look like; plan based on deliverables that someone needs within the next two weeks," she said. "Two weeks is the only period of time in a chaotic world that makes sense anymore. Start working in smaller increments. How do I take those ruthless priorities and deliver value in the next two weeks? It's a huge shift in perspective."
6. Start Ruthlessly Prioritizing
Since time isn't on our side, Haidar insists that we ruthlessly prioritize. We must work to quiet the unnecessary "noise" and understand what's important. "Decide what you can ignore." She predicts that traditional goal setting will eventually go out the window. "Your annual plan won't be viable. That window of time around what you've ruthlessly prioritized will have shifted things dramatically."
7. Change the Way You Communicate with Your Cities
"People are a lot more receptive to reality than we think they are. When we cut out the bullshit, that's when people start listening." Haidar said that if we communicate honestly around the pain points of what we want our city to look like, we'll begin to see positive momentum moving forward. "People like truth—it can hurt, it can be painful—but ultimately, we like it. We need to change how we communicate about an end goal and what it will really take to get there."
8. Change Your Calendar Setup
She recommends structuring our calendar with blocks of time that actually match our priorities. "Go back to the fundamentals of basic time management. Consider your city—what should its timeline look like based on your priorities?"
9. Become More Data-Driven
"We need to become more data-driven around things that matter to people. We need to get personal about the work of local government. Consider what the people in your community need and what data would be most valuable to both you and them," Haidar said.
10. Automate, Automate, Automate
Relook at your priorities. Remove as many redundancies as possible. Change the conversation. Start automating whatever and wherever you can.  
Haidar closed by reminding us that the beautiful thing about chaos is that it's all connected; it's a process playing out in a loop and there's no way to stop it. "I want to challenge you to trust the process—we're in the messy middle of the process, but we're going to get there. Stop trying to organize the chaos and embrace it."
It isn't too late to register for #ICMA2021 — Go Digital!
Join thousands for the 2021 ICMA Annual Conference, October 3-6, where attendees will RESTART by learning from the hardships, focus on what matters, and chart a new course for their communities in the year ahead. Gain full digital access to keynote and trailblazer speakers, 100+ dynamic sessions, 20+ livestreamed sessions, and conversation huddles through December 31. Register today!
New, Reduced Membership Dues
A new, reduced dues rate is available for CAOs/ACAOs, along with additional discounts for those in smaller communities, has been implemented. Learn more and be sure to join or renew today!