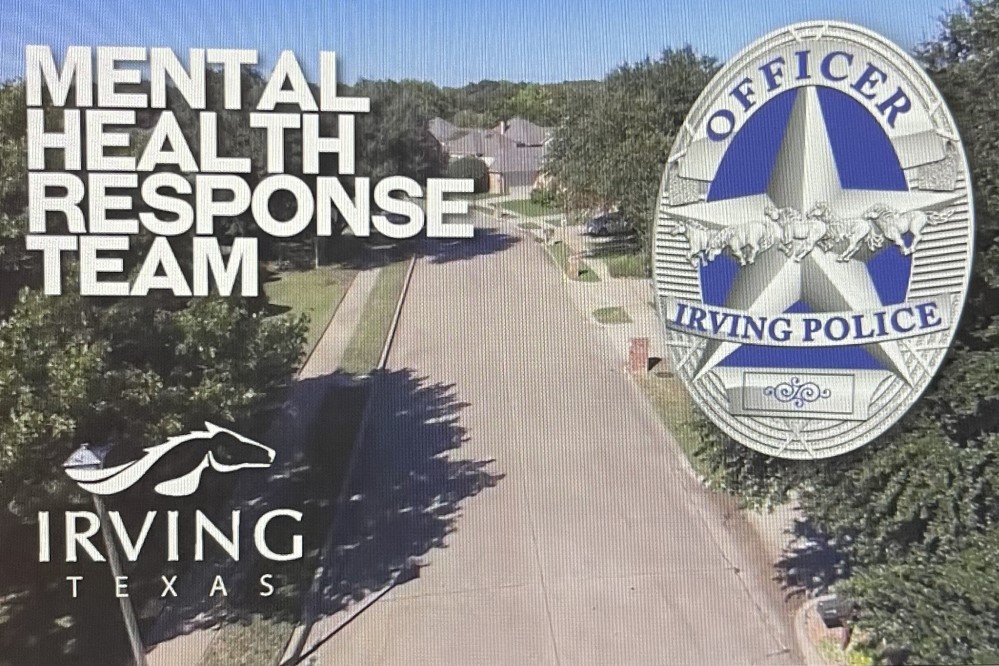 More than ever before, prioritizing mental health has become a crucial topic. In the 2022 ICMA Annual Conference session, "Public Safety Mental Health Response Teams and Peer Support Programs," Chris Hillman, city manager of Irving, Texas (pop. 256,000), discussed how his city has been proactive at managing mental health challenges, not only for residents but also for their own employees.
All things considered, it's a challenging time for a lot of individuals. One in five adults in the United States experience a mental illness, but over half of adults with a mental illness do not receive treatment. Hillman demonstrated this further by asking for a show of hands of those who know of a coworker, family member, friend, or even themselves who are currently experiencing a mental health challenge. Almost every hand was raised.
"Mental health is more than just a trending topic," Hillman said. "This is a significant issue, but what's most important is how we in local government are helping folks work through these challenges." The city of Irving is doing this in two very important and very impactful ways.
Mental Health Response Team
Several years ago, the city of Irving was beginning to see a rapid increase in mental health calls to the police department. Patrol officers had to respond without necessarily having specialized training or expertise.
"We knew we had a problem," Hillman said, so the Irving Police Department put into motion a mental health response team to better manage mental health calls. As his colleague said, "These are not criminals; these are people in crisis who need help. Arresting all of these people doesn't help them—it just furthers the crisis." The initial response is now all about de-escalation, assistance, and support.
Hillman shared five steps for communities interested in implementing their own mental health response team.
1. Understand the issue.
A crucial first step is acceptance and understanding that we have a mental health crisis in this country. "Your municipality has to be willing to recognize that," said Hillman. "And it's not just at the police department level—this acceptance must extend up through city/county management and the governing body and into the community."
2. Develop a plan.
Decide what will work best for your specific community and police department: what type of training is needed, what special teams should you put together, is this something you would absorb internally with existing staff or will you hire additional staff, what external partners and outside organizations would be helpful to work with as you move through the process. Bringing stakeholders and key individuals together is a great way to start.
3. Identify funding.
As Hillman said, "You've got to have the dollars to do this." Irving received a federal grant of $250,000 to establish their mental health response team almost five years ago. Initially, they were able to secure a clinician and a few police officers, but the team has grown to include many more clinicians and police officers.
4. Build support.
Find nonprofit and specialized support services within your community that are already helping with mental health responses. Have those conversations and have them help you build support for the plan. You can't do this alone. It's not only the resources they bring in, but also word of mouth and advertising. Irving announced plans for the team through a news conference that brought together the various partners involved. Community buy-in is key.
5.    Implementation.
Hit the ground running and do so aggressively. "We could have talked over our plan for another year or two to make sure we had all the i's dotted and t's crossed, but at some point you just have to move forward."
The results of Irving's mental health response team speak for themselves. The police department has seen an 80-percent reduction in arrests. "That's the type of impact that a program like this can have," Hillman said. "And it means the world to the people we've helped on those calls. They didn't go to jail, so their lives were not disrupted, their families were not impacted, their work life didn't have to suffer. All because we had the resources to help them move through the mental health response they needed at that time."
Similarly, Irving Police Chief Derick Miller said, "The central goal of our mental health response team is to try to divert individuals who need mental health care out of the criminal justice system. Jail is not the place for people who find themselves in a mental health crisis."
Voluntary Peer Support Program
Helping residents is crucial, but what about your first responders? How are we as cities and counties supporting them—as employees and as human beings. Sadly, first responders are more likely to die of suicide than they are in the line of duty. After a suicide within the police department in 2016 devastated the organization, the city of Irving recognized a new need.
Members from across the police department formed a steering committee to begin a peer support program. They stepped up and said they wanted to see this program happen. The committee recruited volunteers to become peer support members to assist coworkers who were struggling, referred them to victim services counselors or to an outside agency, and provided follow-up after their time together. More and more people began to use the program. Eventually, the counselors found themselves spending more and more time counseling officers and firefighters on top of their full-time jobs. The demand soon exceeded what the volunteers could provide.
This led Irving to put together their Public Safety Wellness Unit, devoting the necessary resources to have a wellness program specifically for first responders and their mental health challenges. The Wellness Unit now has three full-time clinicians on staff available 24/7, not only for crisis intervention, but prevention. They also provide training to spouses of newly recruited first responders in order to equip the family to understand how the job will change and affect their family member—early symptoms of anxiety, PTSD, etc.
Dr. Mildred Betancourt, senior manager of the Public Safety Wellness Unit, said, "The overarching goal for us and for anyone starting a program like this is to help our first responders develop a resilient mindset. If we're able to do that, everything else falls into place."
How to Create a Public Safety Wellness Unit
1. Start with a Peer Support Program
• Identify committed individuals in the departments.
• Find a volunteer counselor.
• Provide referral information.
2. Expand Services
• Increase number of peer members.
• Hire clinicians.
3. Develop Standalone Unit
• Form an advisory committee to ensure best practices.
• Develop specific scope of services.
• Hire full-time staff.
During the panel discussion, Dr. Betancourt reiterated why this type of team is so important. "There's a need for this sort of support for first responders because of their constant exposure to trauma. If we want them to have long healthy careers, we have to be there for them along the way."
New, Reduced Membership Dues
A new, reduced dues rate is available for CAOs/ACAOs, along with additional discounts for those in smaller communities, has been implemented. Learn more and be sure to join or renew today!