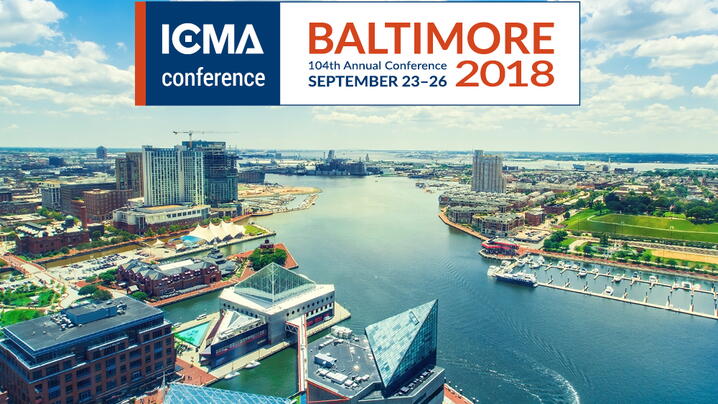 More than 4,000 ICMA members, exhibitors, and guests from cities, towns, counties, and other organizations throughout the world are expected to attend the 104th ICMA Annual Conference in Baltimore, Maryland, September 23-26, 2018. Conference registration and housing open on Wednesday, June 6 at 12 noon Eastern Time.
Also known as Charm City, the city of Baltimore is an exceptional location for the ICMA Annual Conference—with the Inner Harbor, access to history, free and paid museums, Harbor Place, the Maryland Science Center, the National Aquarium, Camden Yards, and great neighborhoods (including Fell's Point). And B'more is just a few miles north of Washington, D.C.
This year's conference features four outstanding conference keynote speakers who will discuss a range of insightful, historical, and social-cultural issues:
Bestselling author and popular keynoter Daniel Pink returns to open this year's ICMA Annual Conference on Sunday, September 23, from 3:00 to 5:00 p.m. Pink will provide attendees with compelling insights from his new book, When: The Scientific Secrets of Perfect Timing, into how we can live richer, more engaged lives.
 
Drawing on her new book, Leadership in Turbulent Times, Pulitzer Prize-winning author and historian Doris Kearns Goodwin returns to ICMA's keynote stage Monday, September 24, from 8:30 to 9:30 a.m. to examine the unique journeys of four presidents—Abraham Lincoln, Theodore Roosevelt, Franklin D. Roosevelt, and Lyndon B. Johnson—as they develop into leaders.
 
Tuesday morning (September 25, 9:00 to 10 a.m.) keynoter Greg Bell believes there is one leadership characteristic that influences and strengthens all others: courage. Through powerful stories based on his book, Water the Bamboo: Unleashing the Potential of Teams and Individuals, Bell will show us how to unleash our own tenacity and cultivate the bravery and leadership potential of those around us.
 
Baltimore native Wes Moore has been busy since his first visit to the ICMA in 2011. In 2014, he founded Baltimore's BridgeEdU, which focuses on students from marginalized populations, and he was named CEO of Robin Hood, New York City's largest poverty-focused foundation. In his energizing, conference-closing presentation at the Celebration of Service on Wednesday, September 26, from 10:00 to 11:00 a.m., Moore will inspire us to see solutions instead of problems and to evolve, adopt, and inspire others.
This year's conference program also features two inspiring afternoon featured speakers:
Charles "Chuck" Marohn, founder and president of Strong Towns, who believes that if we want American cities to be strong and resilient, we need to change everything about the way we plan and build them (Monday, September 24, 1:30-2:30 p.m.).
 
International crisis management expert Melissa Agnes helps organizations prevent or manage festering problems before them become catastrophic (Tuesday, September 25, 2:00-3:00 p.m.).
In addition to Learning Lab sessions, roundtable discussions, ICMA University forums and workshops, and field demos highlighting the best of Maryland's Charm City, the half dozen theme tracks of concurrent educational sessions developed by the 2018 Conference Planning Committee will focus on:
Creating Communities that Last.
Equity and Social Inclusion.
Not Your Grandparents' Workforce.
Redefining Community Engagement: From the Couch to Town Hall Meetings.
Smart Communities: What Are They?
The Challenges and Responsibilities of Putting Your Well-Being First.
The conference program will also feature sessions specifically designed for conference attendees who are assistants/deputy managers, county managers, from small communities, and senior/Credentialed Managers.
Don't miss this exceptional opportunity to learn, play, and grow. Plan now to join us in Baltimore, Maryland, for the 104th ICMA Annual Conference.
Register for the ICMA Annual Conference
Join us September 17-21 in Columbus/Franklin County, Ohio for the 2022 ICMA Annual Conference.
JOIN ICMA TODAY!
ICMA provides the tools, resources and connections to help you become part of the international network of 13,000+ local government management professionals.