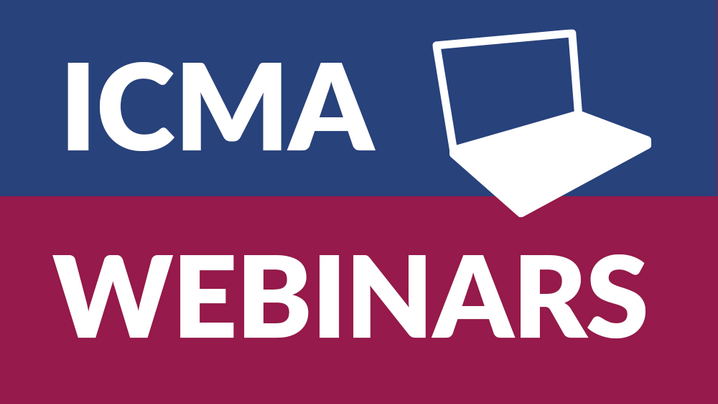 ICMA has launched free online events for local government leaders—both members and nonmembers—to address the COVID-19 pandemic and social justice issues. These events will feature experts discussing the current situation, as well as how to mitigate the impact of the coronavirus and address the effects of the pandemic; economic, public health, public safety crises; and racial justice protests—which highlight the larger disparities in our communities of color—on your community and local government operations. Speakers will provide up-to-date information to help inform your decisions. Details and registration for the events follows. 
Preferred browsers for accessing the webinar: Chrome, Firefox or Edge.
---
Upcoming COVID-19 and Social Justice Events
---
The referenced media source is missing and needs to be re-embedded.
Tuesday, July 28
Free Webinar│Building and Maintaining an Equity Mindset in Local Government
The webinar will feature equity professionals in local government, focusing on the present and future of equity work with ideas on challenges, experiences, and tools for how to build equity programs.
---
You will receive a confirmation email once you register. 
Preferred browsers for accessing the webinar: Chrome, Firefox or Edge.
These sessions will be recorded and made available on ICMA's coronavirus resources page and the Social Justice Resources page.
---
Thursday, July 23
Free Webinar│City Health Dashboard: Using Data to Guide Your Jurisdiction's COVID-19 Response
Thursday, July 16
Free Webinar│The Two Pandemics: Systemic Racism and COVID-19
Wednesday, July 15
Free Webinar│Transforming Law Enforcement to Address Public Health
Wednesday, July 1
Free Webinar│New Executive Order on Law Enforcement
Join national law enforcement experts as they explain the implications of President Trump's New Executive Order on Law Enforcement and how it relates to local government police reform efforts.  
Tuesday, June 30
Free Webinar│From Relief to Resilience: Supporting Small Businesses During & After COVID-19
Join us as we chat with cities and counties that have charted these complicated waters and successfully stood up or grown their small business grant and loan programs and are now planning for the recovery ahead. We'll discuss how to define your relief program's criteria, best practices in ensuring your approach is flexible, equitable, and reportable, and share lessons learned in serving others when they need it most.
Friday, June 19
Free Webinar│The Public Health Crisis and Racial Inequities
A panel of experts will address the pandemic, economic crisis, and racial justice protests, highlighting the larger public health disparities in our communities of color. 
This webinar was developed in partnership with National Forum for Black Public Administrators (NFBPA), Local Government Hispanic Network (LGHN), International Network of Asian Public Administrators (I-NAPA) and Government Alliance on Race and Equity (GARE)
Friday, June 12
Free Webinar│Recreation Leading Recovery: Strategic Planning For the Rebound
Sports Facility Advisory will share key considerations and factors for reopening and utilizing parks, recreation centers, and sports complexes as a piece of your community recovery strategy.
Thursday, June 11
Free Webinar│Sharpening the Focus on Social Equity to Make Strategic Budget Decisions
This webinar presents the key factors, best practices, and tools for maintaining and improving equity as a piece of your budget strategy.
This webinar was developed in partnership with National Forum for Black Public Administrators (NFBPA), Local Government Hispanic Network (LGHN), International Network of Asian Public Administrators (I-NAPA) and Government Alliance on Race and Equity (GARE)
Wednesday, June 3
Free Webinar│Working Differently in a Post-COVID-19 World
Tim Rahschulte, Ph.D., CEO of the Professional Development Academy, and Erika Philpot, Human Resources Director of Coconino County, Arizona, two experts in the fields of online training and human resources, discussed the impacts of the COVID-19 pandemic on the local government workforce. 
Friday, May 29
Free Webinar│Extraordinary Resilience
This webinar focuses on tactical, action-oriented strategies to help individuals and teams enhance their resilience, providing beneficial skills for dealing with the immediate challenges of the work environment as well as equipping attendees with meaningful skill sets for the future. 
May 20: Free Webinar│Prioritizing Emotional Strength During Difficult Times
Cigna, ICMA Presidential Level Strategic Partner, provides insight about how to manage stress, anxiety, loneliness and grief surrounding the pandemic and ways you can manage competing priorities and cope with distress.
May 15:  Free Webinar│Planning and Preparing for Your Local Government's Return to Work
As local governments plan for their COVID-19 return to work in the coming months, major questions remain: in the short term, how do you prepare for the gradual return of employees to your office spaces? And, in the long term, how will you manage your real estate and workplaces and serve your mission when government budgets are strained by reduced tax revenues and rising expenses for healthcare and other critical constituent services?  Join JLL Commercial Real Estate |  Property Investment and Stantec, a global design firm, as they dive into these issues and provide practical next steps. 
May 14:  Free Webinar│Engagement During a Crisis: Local Goverment's Response to COVID-19
Zencity, an ICMA Strategic Partner, welcomes city leaders from Peachtree Corners, Georgia, Cedar Rapids, Iowa, and Winthrop, Massachusetts, to discuss best practices for engaging with residents during a crisis. Each will share their community's story and strategies for managing through this pandemic.
May 8: Free Webinar│Fiscal and Organizational Strategies During a Pandemic
Local governments have been tapping their reserves and spending whatever has been required to meet the immediate public health demands of this COVID-19 crisis. City and county managers recognize that even as their costs have increased, their revenues are declining.  We have a team of experts from the private sector and local government to discuss strategies to prepare for both the short-term and long-term economic reality.
May 1:  Free Webinar│Employment Law and COVID-19
The Families First Coronavirus Response Act (FFCRA) and the Coronavirus Aid, Relief and Economic Security Act (CARES Act) have created new rights such as expanded family and medical leave and emergency paid sick leave that local governments need to comply with. Neil Reichenberg, executive director, International Public Management Association for Human Resources, (IPMA-HR), provides information on the major provisions of these laws and the regulations and guidance that have been issued by the federal government and guidance on reopening.
April  22:  Free Webinar│Managing Crisis Communications During the COVID-19 Pandemic
In this webinar, Thomas Bakaly, former city manager and current CEO of the Los Angeles-area Beach Cities Health District, Thomas Bryer, professor of public administration at the University of Central Florida and Sarah Stoeckel, a councilmember from Titusville, Florida, shared strategies and insights that will help make your own outreach and engagement efforts more effective during this challenging time.
April 17:  Free Webinar│Budgeting During a Crisis
Join Andrew Belknap, senior vice president, Management Partners, for a webinar offering budgeting strategies that will help your community weather the COVID-19 pandemic and the recession that will likely follow. Includes case studies.
April 15:  Free Webinar │ The Role of EMS in Local COVID-19 Responses
The Center for Public Safety Management (CPSM) and the Academy of International Mobile Healthcare Integration (AIMHI) team up to bring insights into how the COVID-19 pandemic is affecting EMS delivery, and some of the top challenges facing local EMS agencies as they try to meet this crisis head-on.
April 13:  Free Webinar │ Invest for Today and Tomorrow —Dealing with Current Conditions
In the first session of the ICMA-RC Financial Planning Series, you'll receive advice on managing your investments during this turbulent time.
April 8:  Free Webinar │ Moving Beyond the Current Crisis: A Plan to Re-open Our Communities with Richard Florida
In this 90-minute webinar, Richard Flordia feature's a 10-point plan to re-open our communities after the COVID-19 pandemic.
April 7:  Free Webinar │ Understanding the CARES Act and Other Recent Federal Legislation for Local Governments
A national webcast on the resources for local governments and communities in the federal coronavirus response packages; presented by Sustainable Strategies DC.
April 3:  Free Teleconference │Dealing with Your Own Stress: Coping Strategies in the COVID-19 World
Join David E. Morrison, M.D., consultant, psychiatrist, and founder of Morrison Associates, Ltd., in an ICMA teleconference about how local government managers can cope with stress during this global health crisis. 
March 31: Free Webinar │ Tools and Techniques for Managing COVID-19 Recovery Costs
Offered together with ICMA Strategic Partner Hagerty Consulting, this webinar focuses on what's required to promote successful short term response and long term financial recovery.
March 27: Free Teleconference  │ Recovering from Economic Disasters
Jeff Finkle, president and CEO of the International Economic Development Council (IEDC), provides an update on COVID-19. He describes lessons learned from past experiences in emerging from economic disasters and share important information about resources that communities can tap in the weeks and months ahead to help them recover from this disaster. (Restore Your Economy.org - resources for economic development)
March 20: Free Teleconference │ Impact on Public Health
Dr. E. Oscar Alleyne, chief of programs and services, National Association of County and City Health Officials (NACCHO), will provide an update on COVID-19 and the impact that community mitigation can have on the spread of the virus. Following his brief presentation, ICMA members will have the opportunity to ask questions.