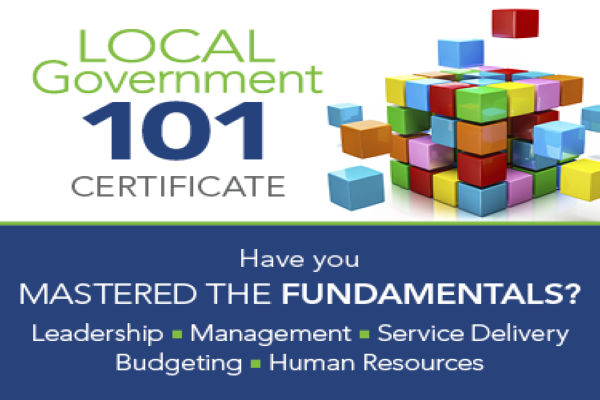 In addition to training and professional development opportunities that will be provided by each local government sponsor, ICMA will provide the opportunity for Fellows to complete the ICMA Local Government 101 Certificate.
The Local Government 101 certificate provides training to local government professionals in those essential skills and practices that are the foundation of becoming an effective local government manager.
Leadership
Management
Service Delivery
Budgeting
Human Resources
What is Local Government 101?
This interactive online certificate program immerses you in the unique challenges that confront the local government manager today. Taught by experienced managers and local government experts, it is designed to impart real-life experience, best practices, and sound advice in the areas most important to a manager's day-to-day role.
Gain Your Competitive Edge
Local Government 101 helps new and mid-career managers, assistant managers, and even career-changers new to local government gain a competitive edge in leading their communities and advancing their careers. This five-course, 15-session program provides the basic skills you need to do an outstanding job for your community and make yourself marketable in the increasingly competitive field of local government management.
Choose Your Learning Track
There are two learning tracks available so you may choose the one that best suits your needs:
Track 1: Local Government Fundamentals Plus Equity and Inclusion
15 90-minute modules
Course 1: Effective Local Government Manager (3 on demand modules/90 minutes each)
Course 2: Equity and Inclusion (3 on demand modules/90 minutes each)
Course 3: Human Resources and Staff Effectiveness (3 on demand modules/90 minutes each)
Course 4: Managing Local Government Services (3 on demand modules/90 minutes each)
Course 5: Becoming an Effective Leader (3 on demand modules/90 minutes each)
Track 2: Local Government Fundamentals Plus Disaster Preparedness
Course 1: Effective Local Government Manager (3 on demand modules/90 minutes each)
Course 2: Disaster Preparedness (3 on demand modules/90 minutes each)
Course 3: Human Resources and Staff Effectiveness (3 on demand modules/90 minutes each)
Course 4: Managing Local Government Services (3 on demand modules/90 minutes each)
Course 5: Becoming an Effective Leader (3 on demand modules/90 minutes each)