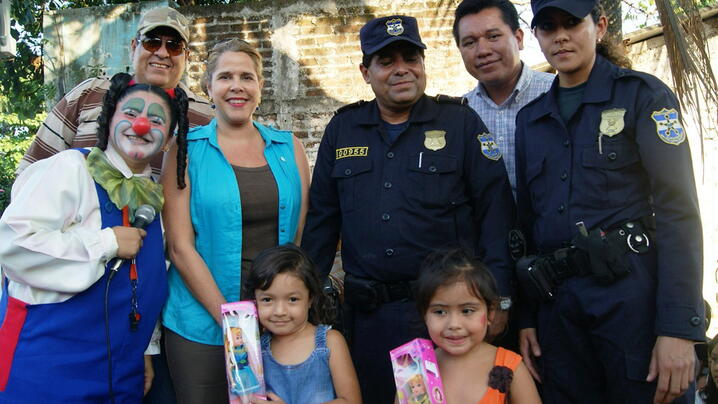 ICMA was awarded a project to help Central American countries develop innovative violence prevention programs, starting in 2009 with El Salvador and Panama and later expanding to Guatemala, Honduras, and the Dominican Republic.
Municipal Partnerships for Violence Prevention in Central America and the Dominican Republic (AMUPREV), funded by the U.S. Agency for International Development (USAID), seeks to establish networks that share best practices and lessons learned in crime and violence prevention and reduction throughout the region. The formal objectives of the program are to:
Promote comprehensive municipal-led violence prevention strategies and programs and foster development of regional peer knowledge networks that will be self-sustaining in the future
Employing ICMA's CityLinks™ model, provide training and technical assistance to local governments and community groups in coordination with police and other local-level programs.
AMUPREV Partner Cities
Participating municipalities in each country are partnered with jurisdictions in the United States:
Panama
Colón-Pinellas County, Florida
San Miguelito-Pinellas County, Florida
Panama City-Arlington, Texas
El Salvador
Sonsonate-Santa Ana, California
Nahuizalco-Santa Ana, California
San Bartolomé Perulapia-Alexandria, Virginia
San José Guayabal-Alexandria, Virginia
Suchitoto-Alexandria, Virginia
Ayutuxtepeque
Mejicanos
Guatemala
Santa Catarina Pinula-Santa Ana, California
Palencia-Santa Ana, California
Mixco-Santa Ana, California
Cobán-Stockton, Califormia
Tactic-Stockton, California
San Juan Chamelco-Stockton, California
Honduras
Villanueva-San Jose, California
San Manuel-San Jose, California
Pimienta, San Jose, California
Dominican Republic
Boca Chica
Santo Domingo Este
The partnerships focus on comprehensive and coordinated municipal-led crime/violence prevention initiatives and community-oriented policing. Staff and officials from the U.S. partner (resource) jurisdictions travel to host jurisdictions in Central America and the Dominican Republic to provide technical assistance. Study tours are arranged for staff and officials from the host municipalities to the U.S.
Through these visits, partners share information about successful crime and violence prevention practices, showcasing the engagement of nongovernmental organizations, schools, the faith-based community, the private sector, police, and other partners in violence prevention activities. They also explore opportunities for adoption of similar practices in their respective countries.
As a result of these exchanges, host municipalities have developed after-school programs, police athletic leagues, citizens' academies, municipal crime and violence prevention departments, campaigns against the use of illicit substances, and programs aimed at reducing gender violence, among others.
One of the primary approaches for municipal-based crime prevention in these countries is the creation of municipal crime and violence prevention entities within existing municipal governmental structures. These committees are made up of representatives of the kinds of organizations cited above. AMUPREV facilitates the creation and/or strengthening of these committees, supports the identification of risk and protective factors in their communities, the development of their strategic and work plans, and the design and implementation of communications campaigns and provides small grants for priority projects.
Initiatives supported by AMUPREV include a gang reduction and intervention program in schools in Nahuizalco and Sonsonate, El Salvador; a municipal awareness campaign to prohibit the sale of arms, prevent violence against women, and support youth development in Sonsonate; a campaign to prevent the sale of cigarettes, liquor, and other drugs to minors in Santa Catarina Pinula; the establishment of a municipal office for crime prevention in Palencia and Cobán, Guatemala; and a mentoring program for youth in Suchitoto, San José Guayabal, and San Bartolomé Perulapía, El Salvador.
ICMA also supports municipal associations in the AMUPREV countries to institutionalize the sharing of information and promote replication of the methodology.
In 2013, ICMA helped to launch a network of municipal associations dedicated to the promotion of legislation and norms in their own countries to improve citizen co-existence and promote municipal-led prevention initiatives. This network, known as the Red de Asociaciones Municipales de Centroamérica y República Dominicana para la Prevención de la Violencia (Red), consists of municipal associations in Costa Rica, the Dominican Republic, El Salvador, Guatemala, and Honduras.
In addition, ICMA supported the creation of the Confederation of Municipal Associations of Central America and the Caribbean (CAMCAYCA), launched in June 2015. This Confederation is comprised of the national municipal associations of Belize, Costa Rica, the Dominican Republic, El Salvador, Guatemala, Honduras, and Panama. The CAMCAYCA's platform includes three key strategic areas: crime and violence prevention, climate change, and local economic development. CAMCAYCA is expected to assume the operation of the Red and the AMUPREV Portal beyond USAID funding.
Activities and accomplishments
Since its start, the AMUPREV program has:
Established a website and a Facebook page (both en Español) to provide easily accessible information about the program and to share good practices on municipal-led violence prevention among a network of more than 3,700 local, regional, and national government officials, civil society representatives, and other stakeholders throughout Mexico and Central and South America.
Published and distributed a Municipal-Based Violence Prevention Toolkit that serves as a resource for local stakeholders. Available in print and electronic formats, the toolkit presents the steps for creating, implementing, and regulating activities of municipal violence prevention committees or councils and introduces the role of community-oriented policing, citizen oversight and advocacy, and municipal planning, among other topics.
Provided support for the creation and/or development of 19 municipal violence prevention committees (MVPCs) in the Dominican Republic, Guatemala, El Salvador, Honduras, and Panama directly under AMUPREV, as well as another two in Honduras (La Ceiba and Choloma) and three in Mexico using the AMUPREV methodology under different USAID-funded mechanisms.
Conducted workshops with journalists and municipal communicators from Costa Rica, the Dominican Republic, Guatemala, and Honduras focused on the importance of reporting on crime prevention initiatives, particularly those led by municipal governments, and the use of alternative technology to disseminate information about municipal violence prevention.
Developed videos of successful municipal-led violence prevention initiatives, all of which are available on the AMUPREV website.
Documented and shared the experience in Brazil of the Unidades de Policía Pacificadora (UPPs) as a model for potential adaptation to and application in Central America. ICMA coordinated with USAID/Brazil and the Secretaria de Estado de Seguranca (SESEG) of Río de Janeiro to develop a Toolkit and Comprehensive Training Program on the UPP model and has supported a series of exchanges with El Salvador to share lessons learned and identify ways that the model can be adjusted and applied in the country.