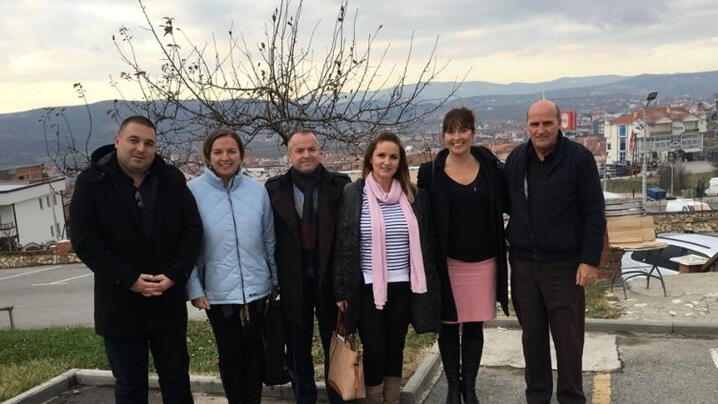 Municipalities are in a strong position to initiate programs aimed at countering violent extremism (CVE). These often take the form of activities that contribute to overall community resilience, such as hate crime prevention, support for youth programming, inter-faith dialogue, and job creation.
Recognizing the importance of local efforts like these, the U.S. Department of State Bureau of Counterterrorism and Countering Violent Extremism awarded ICMA a grant to implement a project to leverage the potential of cities in 2016-2017. The goal of the project, Building CVE Expertise for Municipal Authorities in the Western Balkans, was to foster partnerships between government, civil society, and the private sector to increase community engagement and resilience against violent extremism.
The geographic scope of the project encompassed Albania, Bosnia and Herzegovina, Kosovo, Macedonia, Montenegro, and Serbia, all of which had been identified by the Department of State as sources of foreign terrorist fighters.
Project Activities
The project sought to network, train, and mobilize mayors and municipal leaders across the Western Balkans region to identify and address risk factors associated with violent extremism through engagement in the Strong Cities Network (SCN), a global organization managed by the Institute for Strategic Dialogue (ISD), London, U.K. ISD is dedicated to building social cohesion and community resilience to prevent such extremism. Activities included
Collecting information from targeted cities to assess violent extremism dynamics and municipal authorities' particular needs
Implementing a range of activities, such as bilateral and regional trainings, to help municipal authorities learn and exchange best practices on how to prevent and mitigate violent extremism
Building membership in the Strong Cities Network.
This approach concentrated support to a group of neighboring countries to create momentum and opportunities for regional and cross-border collaboration.
Project Objectives
The overall desired outcome of this project was for municipalities in the Western Balkans to be better prepared to prevent and mitigate violent extremism through greater engagement with one another and as members of the Strong Cities Network. These were the objectives leading to that outcome:
Key Western Balkan cities and towns join the SCN, and consultations are conducted to include their needs and priorities in SCN-wide initiatives and activities.
Western Balkan municipalities exchange leading practices in countering violent extremism through the SCN.
Cities in target countries formulate proposals of the support needed to counter violent extremism at the local level in their countries.
Western Balkans SCN member cities are assessed to identify CVE-related mechanisms, policies, or action plans that could be developed in the future.
Project Results
The project team conducted an outreach tour that involved 85 meetings and engaged 58 local governments. They organized capacity-building workshops for 236 participants in four of the six countries and a final regional conference for municipalities of all six countries, attended by 107 participants from 28 local governments. Pre- and post-workshop polling indicated a substantial increase in knowledge of CVE and confidence to contribute to national and international efforts to counter violent extremism. The project also facilitated an increase in Strong Cities Network membership from 10 to 42.
For additional information about this and other ICMA projects, see About Global Programs or contact global@icma.org