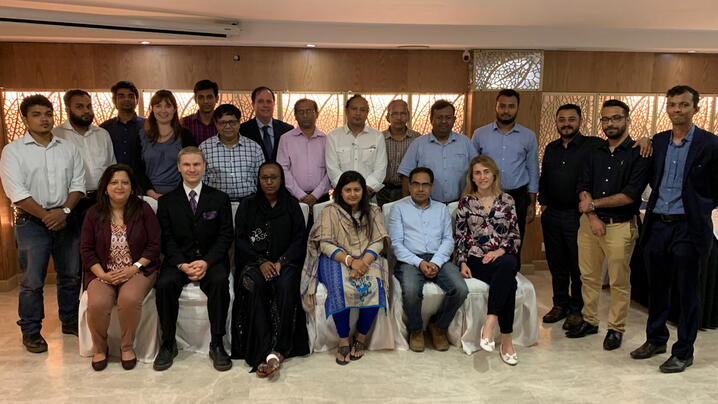 Key Project Information
Funder
Department of State
Period of Performance
-
Location
India
ICMA's Role
The Community Resilience Initiative (CRI) funded by the Department of State's Bureau for Counterterrorism, pilots a program in Bangladesh that focuses on strengthening communities by improving the well-being of their youth.
Project Details
Funded by the Department of State's Bureau of Counter Terrorism, ICMA implemented the Preventing Terrorism Through Community Resilience Initiative (CRI) in two communities in Bangladesh: Uttara in North Dhaka and Sayedabad in South Dhaka. The project aimed to strengthen the target communities with documented cases of radicalization by the improving the wellbeing of youth through community based multidisciplinary intervention mechanisms. ICMA implemented the program with its local partners Rupantar, Bangladesh Enterprise Institute (BEI), and Psychological Health and Wellness Clinic (PHWC), along with US-based partner One World Collaborative.
Based on rigorous research and analysis of existing international models and programs and the challenges and limitations to the provision of adequate psycho-social support to vulnerable individuals/groups in the target communities , ICMA developed a multi-layered, community-based interventions model for service providers that applies a multidisciplinary approach. The model provides all the needed elements for systematic intervention programming in Bangladesh, is also scalable and can be customized and replicated in other communities globally. It is based on peer-to-peer mentorship and delivery of psychosocial services while building skills, self-confidence, and trust. It enhances the well-being of vulnerable individuals through programming that connects them to community resources, enhances their positive social support network, and builds their potential to contribute positively to their communities, offering a more productive alternative to violent extremist ideology and life path. ICMA engaged youth leaders as mentors to vulnerable youth from the same communities and paired them in bi-monthly group activities focused on building life skills and also helped create a supportive network of peers and adults around them.
In addition to the model itself, ICMA and its partners developed a Handbook for PVE intervention programming. While the model was built for and piloted in Bangladesh, the intent of the handbook is to provide all of the necessary tools and guidance such that the program could be continued in the pilot target communities, expanded within Bangladesh, and/or replicated and appropriately modified in other communities and countries.
New, Reduced Membership Dues
A new, reduced dues rate is available for CAOs/ACAOs, along with additional discounts for those in smaller communities, has been implemented. Learn more and be sure to join or renew today!