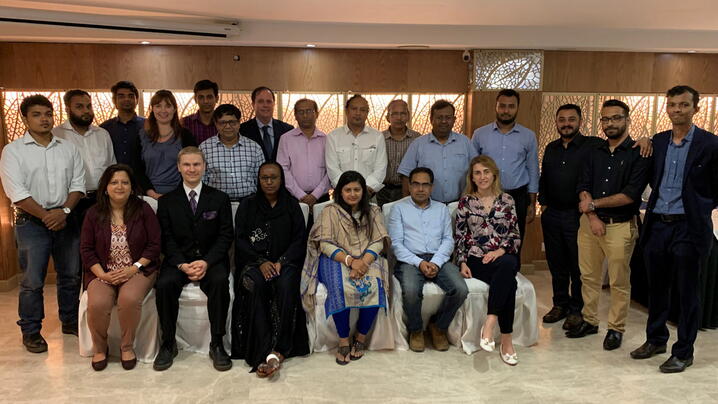 Name of Funder; Department of State     
Period of performance; August 27, 2018- December 31, 2020 
Name and contact info of HO project staff; Shraddha Karel-Pandey – Project Director; Lee Gerston – Sr. Program Manager
The Community Resilience Initiative (CRI) funded by the Department of State's Bureau for Counterterrorism, pilots a program in Bangladesh that focuses on strengthening communities by improving the well-being of their youth. It engages existing community resources, including youth role models and local professionals in a range of disciplines, to create a multi-layered, community-based, multi-disciplinary initiative. CRI is designed to create a supportive network through which life skills such as critical thinking, communication, planning and follow-through, as well as help-giving and help-seeking behaviors, are taught. Real examples from the program's youth, current events, or pressing community issues are discussed and tools that can help a young person more confidently navigate difficulties of early adulthood are applied and practiced. These challenges may include establishing a livelihood, finding a place of belonging, resolving conflict with others, doing well at school or pursuing an interest or life goal. 
Through CRI, young people from two pilot communities in Dhaka are enrolled in a youth peer-mentorship program which meets as a group twice per month, while the youth mentor and mentee also meet regularly one-on-one outside of the group setting. During the group meetings, important issues and the common challenges of youth are discussed, and focus is placed on the potential of each individual to contribute positively to the community and make a difference in the lives of others by encouraging each other to flourish.  CRI counselors are also available to meet one-on-one with the program's youth to provide dedicated support when needed, and program staff actively seek to facilitate connecting youth to available opportunities and activities that will contribute to their well-being and fulfillment of persona interests or goals.  
CRI has a multi-disciplinary two-tiered governance structure of experts, service providers and practitioners that provide professional support to the programming. They advise CRI program staff and facilitate access to helpful resources to include their own professional networks and institutions with which they are affiliated and share their knowledge and varied viewpoints on how youth well-being can be enhanced. 
CRI programming is community-focused, engaging, designed to be beneficial for all who participate through their various roles and very importantly – FUN! There is even a "Committee on Fun" that continually seeks to ensure programming brings joy to all those involved, which everyone knows has a positive effect on the well-being of youth especially during the recent difficulties and isolation brought on by the global pandemic. 
ICMA developed the CRI model and programming together with partners One World Collaborative, Rupantar and Bangladesh Enterprise Institute (BEI).