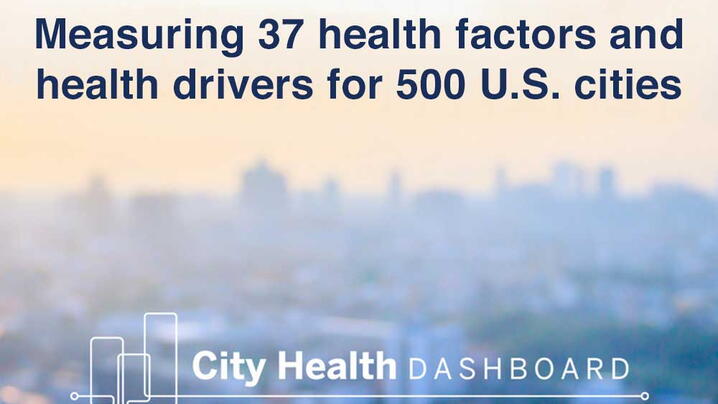 ICMA is a member of a consortium that developed a City Health Dashboard under a grant funded by the Robert Wood Johnson Foundation. The dashboard is a web-based resource to place city- and neighborhood-level data for 37 identified health-related metrics into the hands of municipal policy makers and communities.
The development team was headed by the Department of Population Health at the New York University (NYU) School of Medicine. Other partners included NYU's Robert F. Wagner Graduate School of Public Service, the National League of Cities, and the National Resource Network, of which ICMA is a member.
This online resource enables community leaders in the nation's 500 largest cities, those with populations of 70,000 or more, to easily see where their city or specific neighborhoods stand on 37 key measures of health, such as obesity and primary care physician coverage, and drivers of health, such as housing affordability and graduation rates. This resource also allows users to compare with others, creating an opportunity to learn how cities with similar characteristics have addressed similar challenges.
To learn more about the Dashboard and how to navigate it, check out this video:
The goal of the project is to spur action toward urban population health improvement. ICMA's role is two-fold: (1) to help bring the local government perspective to the Dashboard and (2) to represent the perspective of the National Resource Network. The overall goal of ICMA's involvement is to develop a Dashboard that is designed in the most efficient and user-friendly way possible.
By presenting data needed to understand population health status and its actionable determinants at the city level and allowing for ready cross-city comparisons, the project aims to support city leaders and community stakeholders in driving improvements in urban health and well-being. Here are some examples of state and local news coverage:
Indiana: New National City Data Tool Explores Life Expectancy Factors
Phoenix: New Data Shows Life Expectancy Varies Within Phoenix, Other Cities
Decatur, Illinois: Data Shows Neighborhood Health Differences
A pilot version was developed in collaboration with four cities (Flint, Michigan; Kansas City, Kansas; Providence, Rhode Island; and Waco, Texas) in 2017, and the enhanced version debuted on May 15, 2018.
For additional information, contact global@icma.org.