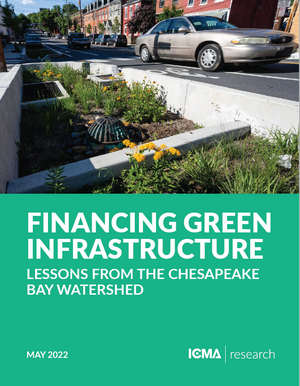 Banner image by Will Parson, courtesy of the Chesapeake Bay Program.
Green infrastructure refers to strategies that complement traditional "gray" infrastructure (pipes, tunnels, etc.) in managing stormwater. This additional capacity to filter and absorb stormwater is needed given increasing precipitation rates and sea level rise, as well as the limitations of aging gray infrastructure. 
Examples of green infrastructure range from local bioretention areas to regional greenways. Regardless of scale, green infrastructure has proven environmental, economic, and social benefits for communities. This report is a practitioner's guide on developing a green infrastructure program.
Inside you will find:
Green infrastructure definitions, benefits, and challenges
Steps to develop a funding and financing strategy for long-term investment
Lessons in success from local governments of all sizes.

Expert Insight
David Rouse, FAICP
Urban + Regional Planning Consultant
"Green infrastructure has become an indispensable tool in the local governmental toolbox. It can be used to address a host of challenges, ranging from satisfying regulatory mandates to increasing resilience to natural disasters to providing ecosystem services and benefits that residents (and businesses) expect. Particularly for smaller communities, lack of financial resources can be the primary barrier to employing green infrastructure solutions. The approach described in this report can be used to overcome this barrier in ways that maximize the full potential of green infrastructure to realize community goals and provide community benefits."