Overview
Live conversation with three women pioneers of the profession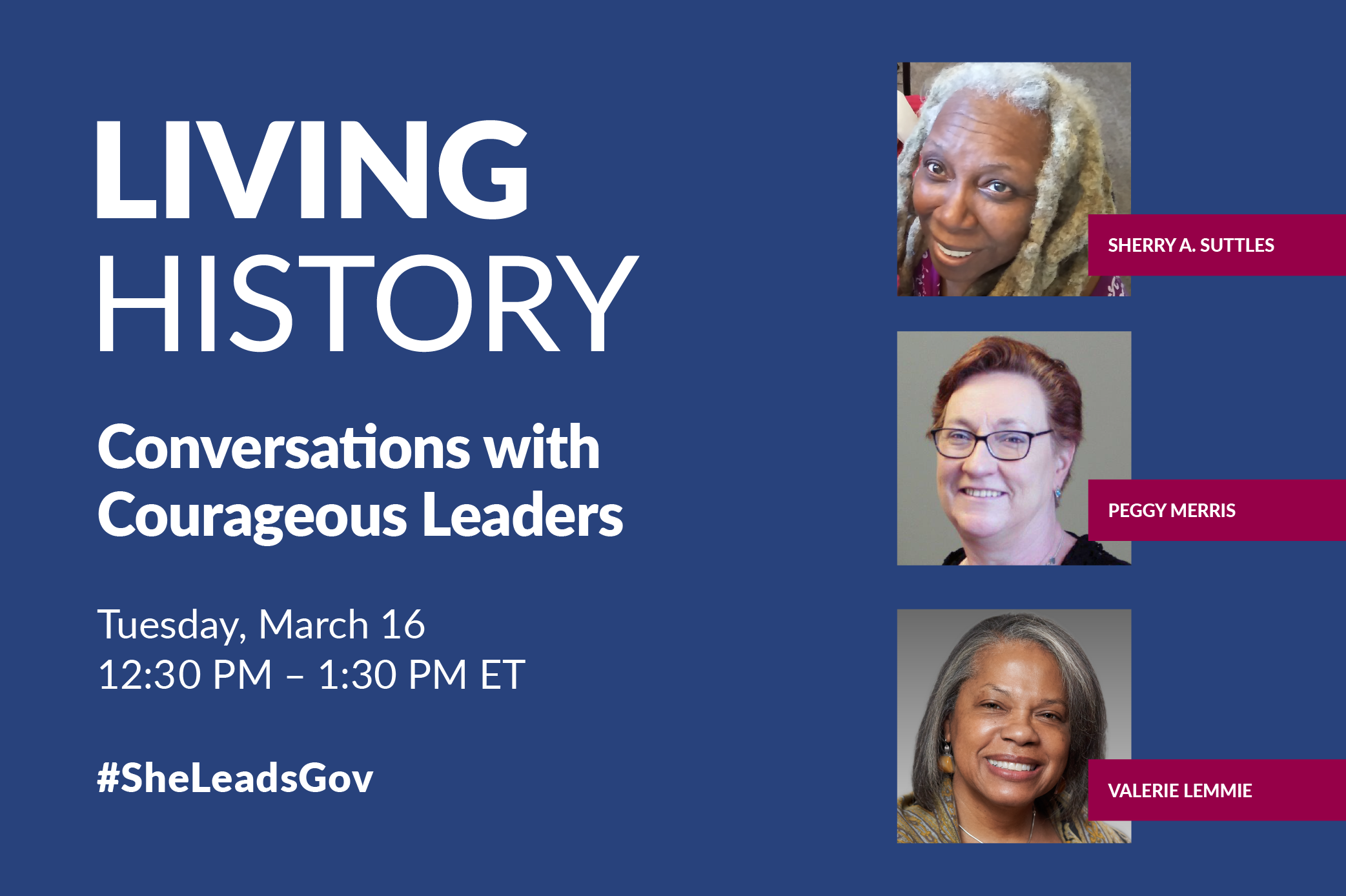 To commemorate National Women's History Month, our next Living History conversation will be with three women pioneer managers in the profession.
Sherry Suttles
Peggy Merriss
Valerie Lemmie
Join a conversation with these pioneers on Tuesday, March 16, 12:30 -1:30 PM ET, as we explore the milestones in the careers of three women former/retired city managers and uncover the history we are creating.
---
After registering, you will receive a confirmation email containing information about joining the meeting. This event will be recorded. View List of Past Recordings
---
Moderator: Felicia Logan, director, Leadership Development, ICMA
Panelists bios:
SHERRY A SUTTLES, first Black female city manager, served Oberlin, Ohio, 1979-81; a Motown Detroiter, graduate of U. of Michigan (IPPS) with master's degree in public policy; also known as the Bag Lady (EPA "Recycle" project). Suttles was appointed city manager of Oberlin in May 1979. In 1981, she rethought her career choice, moved to Cleveland, then returned to Africa and wrote a book about it, had a baby chose and Sylvester Murray as her son's godfather. She focused on marriage, motherhood, and county management as an assistant in Charlotte, Mecklenburg and in Greensboro, Guilford. During these 10 years, many other Black and Black female managers emerged as firsts around the country: from Black communities to mixed, integrated; from small, under 10,000 to big cities, including the nation's capital, Washington, D.C.; from controversial issues to routine city services. NFBPA was formed in 1983, the same year Suttles' son Kamau was born. In 1989, Suttles landed her second city manager job in Lawrence Township, New Jersey, She had managed some accomplishments in two years, including building a city park that had been on the council dockets for 20 years (required public vote for a bond) and a $300,000 grant to restore a beloved community center in the Black neighborhood. She served as deputy county manager, Guilford County, NC, 1994-97. Suttles retired early in 1998 from her two county governments. She created and presides over two cultural, historical nonprofits. Accomplishments to date: # historical markers, pictorial history book, Atlantic Beach, S.C. Gullah Geechee seminars and festivals. Suttle is a filmmaker, in collaboration with her son: VALA, 44 DAZE/Trayvon Martin featuring city manager Norton Bonaparte.
PEGGY MERRISS has a passion for furthering local government innovation and excellence through service, teaching, and serving as a mentor and advisor. For 35 years she served Decatur, Georgia, including over 25 years as city manager. Since retiring, she formed her own consulting firm, served as the interim city manager for Sandy Springs, Georgia, and is currently acting city administrator for Pine Lake Georgia. She completed a master's degree in public administration from the University of North Carolina at Chapel Hill, where she was recognized with the Distinguished Service Award in January 2019. She earned a bachelor of arts degree in politics from Converse College, Spartanburg, S.C., where she was recognized with the Career Achievement Award in April 2012. Merriss served as ICMA President, 2002-03, the first woman, and youngest person, to ever hold the office. She recently completed 10 years of service on the ICMA-RC Board of Directors, serving as the first woman chair for three years. The Georgia City/County Management Association recognized her with the Pillar of Professional Excellence Award in 2008 and in 2003 she was awarded the Georgia Excellence in Public Service Award for a city-appointed official. She looks forward to the end of the COVID-19 pandemic so that she can get back to completing her goal of visiting all 50 U.S. states, all 10 Canadian provinces, and all seven world continents!
VALERIE LEMMIE, an adept strategic thinker with more than 35 years of experience in solving public problems and controversial issues in governmental organizations and local communities, Lemmie joined the Kettering Foundation after a distinguished career in public service. She has served as city manager for the cities of Petersburg, Virginia; Dayton and Cincinnati, Ohio; commissioner on the Public Utility Commission of Ohio; and district director and acting chief of staff for Congressman Turner (Ohio's 10th District). Lemmie has also served as adjunct professor at Howard University and the University of Dayton and as a fellow at the Center for Municipal Management at George Washington University. She currently serves as the immediate past chair of the board of directors for the National Civic League; board chair of Dayton History; board trustee and treasurer of Initiatives of Change, USA; president of the board, SIVIO Institute (Zimbabwe); executive committee member of the Deliberative Democracy Consortium; and board member, Ohio Matriots. She is a fellow and past board chair of the National Academy of Public Administration and has served on numerous local, federal, and international boards and commissions. A published author, Lemmie is a noted speaker on democratic civic engagement and the complementary production of public work nationally and internationally. Lemmie received her bachelor's degree in political science and urban sociology from the University of Missouri and her master's degree in urban affairs/public policy planning from Washington University.
---
Living History: Conversations with Courageous Leaders
Event Details
When

Mar 16, 2021 - Mar 16, 2021

12:30 pm

01:30 pm

ET

Registration Deadline:

03/17/2021
Price

Member Price:

$0.00

Non-Member:

$0.00