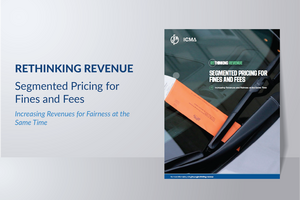 Cities and counties across the United States increasingly rely on fines and fees to balance their budgets. However, fines and fees disproportionally fall on low-income residents who often are strained to pay.  Therefore, local governments must become savvier about how they manage fines and fees. This paper contends that a pricing strategy called "segmented pricing" actually increases the revenues local  governments can raise from fines and fees, while also reducing the hardships that fines and fees can place on low-income citizens. The essence of segmented pricing is to charge the citizen the price they can afford—no more, no less. 
---
About the Rethinking Revenue Initiative
The Rethinking Revenue initiative is a joint project of many organizations that have an enduring interest in creating thriving local communities and making sure that those communities are served by capable and ethical local governments. Rethinking Revenue is about providing local governments with the ability to raise enough revenues for the services their communities need—and to raise those revenues fairly and in a way that is consistent with community values. This first report from Rethinking Revenue is about defining the problem that local government revenue systems face. As the famed inventor Charles Kettering said, "a problem well stated is a problem half-solved." The Rethinking Revenue initiative will follow this report with suggestions grounded in proven approaches to reform local government revenue systems.
The Rethinking Revenue initiative is a collaborative effort involving:
American Planning Association (APA).
Government Finance Officers Association (GFOA).
International City/County Management Association (ICMA).
National Academy of Public Administration (NAPA) Center for Intergovernmental Partnerships.
National League of Cities (NLC).
Center of Municipal Finance at the University of Chicago's Harris School of Public Policy.
Government Finance Research Center at the University of Illinois at Chicago's College of Urban Planning and Public Affairs.
Learn more about the Rethinking Revenue initiative.