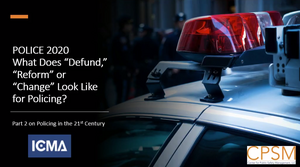 PowerPoint Presentation/PDF Slides
During this webinar, a panel of national experts looked at the history which led up to the 21st Policing report and covered highlights that remain applicable today.  But for communities that want to look at reforming, improving, or "defunding" police in various tasks –  they also discussed how to go about it, eg., reallocating some police resources to bring in social workers, EMS responders, mental health specialists, and other professionals able to respond to emergency calls.
Moderator:
Tom Wieczorek, Director, Center for Public Safety Management (CPSM)
Panelists:
Matt Fulton, Vice President, POLCO, National Citizen Survey/National Research Center
Deputy Chief Wayne Hiltz, B.S., former Interim Chief of Police, Pasadena and Irwindale Police Department, California
Angelica Wedell,  Director of Marketing and Communications, National Research Center (NRC)
Chief John E. Perez, Chief of Police, City of Pasadena, California 
Matt Zavadsky, President, National Association of Emergency Medical Technicians (NAEMT)
---
Listen to the podcast at Local Gov Life
---
Get more content on the topic of COVID-19 in your mailbox!