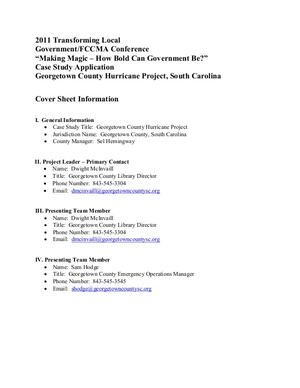 The Georgetown County Hurricane Project of South Carolina arms local folks in a southern, coastal, rural area through a variety of innovative means with key knowledge and skills to face and respond effectively to hurricane dangers.
The project has directly impacted so far 1 out of every 35 residents in Georgetown County. The effort centers on a very unique, creative, productive, high-profile collaboration between concerned citizens and the county's public library and emergency management division. It is funded by tax dollars and grants in a manner to keep it current in an ongoing manner. It has involved much staff energy and time but has never encountered any serious obstacles while producing significant results.
Since the spring of 2009, activities have so far involved the following creative processes:
• Teens digitally videotaping interviews with 150 hurricane survivors;
• Children acting in ten 30-second television PSAs;
• Residents gathering and sharing disaster photographs through the county's online digital history Internet website (www.gcdigital.org);
• Staff learning Web 2.0 information technologies to inform and interact with citizens;
• Young people understanding better planning for natural disasters of all types – earthquakes, floods, forest fires, hurricanes, etc. – through free, serious interactive Internet games like Stop Disasters (www.stopdisastersgame.org);
• Citizens participating in special educational events including a hurricane community day with over 600 persons.
The following case study explores an unusual partnership that has allowed both the County's emergency management office and the public library to reach double the number of residents, educating them on hurricane safety and on the County's fascinating and foreboding storm history.