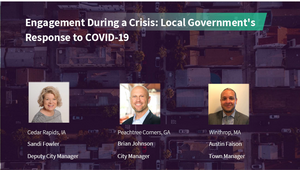 PowerPoint Presention/PDF Slides
Presented by
Zencity, an ICMA Strategic Partner, with city leaders from Peachtree Corners, Georgia, Cedar Rapids, Iowa, and Winthrop, Massachusetts, discussed best practices for engaging with residents during a crisis.
Each shared their community's story and strategies for managing through this pandemic.
Get the latest Coronavirus news and resources at ICMA's website.
Get more content on the topic of COVID-19 in your mailbox!