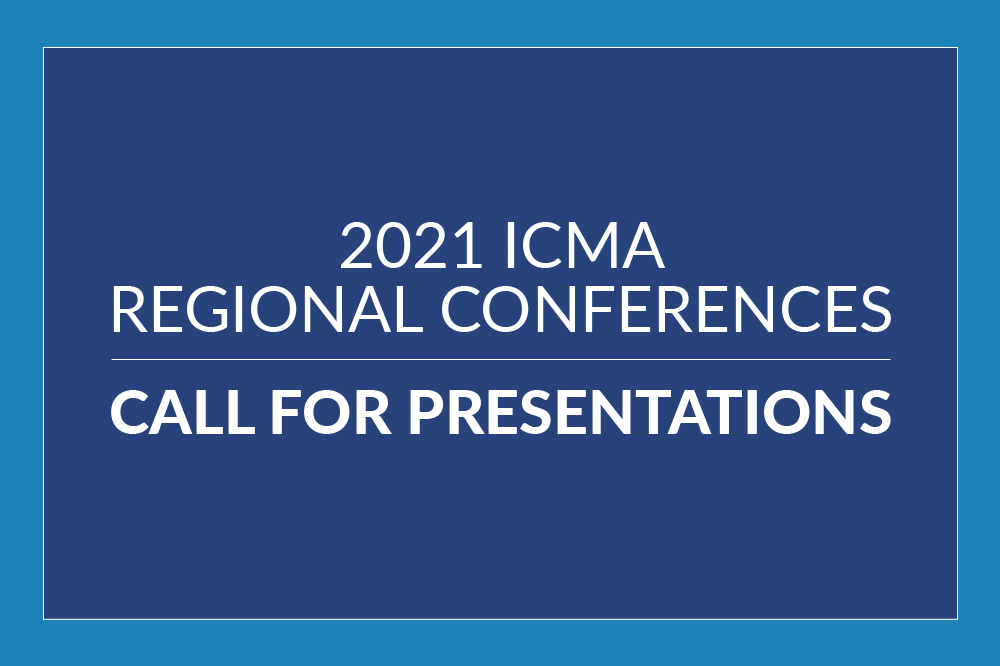 The Call for Presentations is now closed. Thank you for your submissions.
ICMA invites you to share your knowledge, best practices, and creative solutions that help to push our local government leaders and their communities forward by presenting virtually at the 2021 ICMA Regional Conferences to be held on the following dates:
At these regional conferences, local government professionals of all career stages will come together for discussions that focus on tools, processes, and leading practices in the long-term, equitable recovery and transformation of local government management and communities. Participants can expect to be inspired, build skills, network with colleagues, and develop meaningful relationships with their local government peers.
Presenters will choose from several engaging presentation formats and eight requested topic areas important to the profession. Share your knowledge, strategies, and stories to enable local government professionals to better address the challenges they face in 2021 and beyond.
The call for presentations closed on Monday, December 14. All submissions are now under review and a deadline for communicating their selection status will be announced in the coming weeks.
How the Call for Presentations Works
As the world around us evolves and changes, ICMA leadership and staff work with our members and other local government professionals to determine priority areas in which to provide educational opportunities to the local government community. These priority areas are listed under "Presentation Topics." We are interested in proposals that focus on tools, processes, and leading practices in the long-term, equitable recovery and transformation of local government management and communities.
Submission Deadlines
The deadline to submit a session for consideration is Monday, December 14, 2020 at 11:59pm (ET). Late submissions will not be accepted.
Presentation Topics
Addressing Racial, Structural, and Systemic Inequities: in public health; in economic opportunities
Civic Health: civic engagement, civility, dealing with civic unrest/political polarization, community mental health, reimagining public spaces
Economic Restoration: managing revenue loss; supporting small businesses; future of retail; future of tourism/visitor economies; strategies for small communities; workforce assistance
Future of Work: growing your career, navigating the changing workplace; staff recruitment and retention; diverse and inclusive workplaces
Leadership: leading through disruption; mental health/self-care
Service Delivery Transformation: police reform; virtualization of services, regional coordination
Threats and Emergencies: adapting to climate change; cybersecurity; disaster response
Transformative Technologies: AI (Machine Learning, Natural Language Processing, Robotics), IOT, Blockchain, autonomous vehicles, etc.
Presentation Formats
45-60-minute Presentation with Q&A. This traditional session features a speaker(s) or panel and includes time at the end for audience questions and answers. The Q&A is included in the allotted time period.
45-60-minute Roundtables. These sessions can begin a lot like a traditional presentation, with a speaker (or multiple speakers) presenting an idea to a group of people. After a short time, the focus shifts from the presenter to the audience. For the remainder of the session, the presenter becomes a facilitator, inviting comments, insights, and questions from the attendees. Roundtable sessions allow attendees to drive their own learning and share experiences with others, which also assists with networking. Alternately, the full session can be a facilitated conversation, with no formal presentation at the start.
SPONSORED SESSIONS (FEES APPLY)
45-60-minute Solutions Track (Fee applies – TBD). Your featured Solutions Track session will present practical and new informational case studies of local governments that have overcome challenges through innovative public-private partnerships. Each sponsoring company will present with a client/customer within the local government profession. Fees will apply for sponsored sessions. Please reach out to Megan Sherman (msherman@icma.org) for more information.
45-60-minute Sponsored Roundtable (Fee applies- TBD). Similar to a Solutions Track, sponsoring company and a local government professional will speak for a short time and then open up the conversation to attendees. Fees will apply for sponsored sessions. Please reach out to Megan Sherman (msherman@icma.org) for more information.
Call for Presentations Step-by-Step Process
Step 1: Create a New Account/Access Your Account

Click here to access the submission site. You must then create a new account. The submission site does not use the same log-in information as the ICMA website. (Note: We are using the same submission site that was used for the 2020 ICMA Regional and Annual Conferences. If you submitted a session last year and created an account, you may log in using the same email address and password. If you cannot remember your account information or are submitting for the first time, click "Join Now" to begin.)

Step 2: Create an Account Profile

If you are creating a new account, you will need to create an account profile that collects your contact information. Required fields are marked with an asterisk (*). There is an option to add assistant information as well and they will be copied on all emails that are generated from the submission site.

Step 3: Task List

In this section you will be assigned four tasks: (1) Speaker Information, (2) Session Details, (3) Learning Objectives, and (4) Speaker Agreement.

Task 1. Speaker Information: Add new speakers. Be sure to gather all information from anyone whom you plan to enter as a speaker.

Enter contact information (first/last name, title, organization, email address, bio and headshot) Click "invite speaker" button to generate an email that will be sent to the suggested speaker.

You should email the suggested speakers to expect an email from conferenceteam@icma.org.

Speakers must complete their tasks before you can submit the session.

If you plan to speak in addition to submitting the session, be sure you mark yourself with both roles After entering each speaker, click "save speakers" to proceed to the next task.

Task 2. Session Details:

- Add a session title

Be sure the title is entered as you want it to appear in print and online.
Avoid using abbreviations.
Avoid using all upper or lower case.
Make the title short, yet specific (minimum of 10 and maximum of 350 characters).

- Select session topic

- Select session audience(s)

- Select session type

- Complete a session description (300-word maximum)

Be sure the description is entered as you want it to appear in print and online.
Avoid using abbreviations.
Avoid using all ­­upper or lower case.
Check for spelling and punctuation.

- Press continue

Task 3. Learning Objectives: Three learning objectives are required. Complete the sentence, 'Upon completion, participant will be able to….' Use action words to begin this learning objective, such as list, describe, define, demonstrate, conduct, etc. Press "Continue" to move on to the next task.

Task 4. Speaker Agreement: Each speaker is required to submit a Speaker Agreement. The speaker(s) will access this via the email which you will send to them under Task 1 above.

Step 5: Submission Completion

After all speakers have completed their tasks, click the "Save Submission" button and then "Submit". An email will be auto-generated to all submitters/speakers on the session form. You will not be able to complete your submission until all speakers have completed their tasks and signed their speaker agreement forms. Please be sure to check back to complete the submission after your speakers have signed their agreements and before the deadline of December 14, 2020.

Step 6: Submit Feedback

If you have any feedback regarding the submission process, you will have an opportunity to provide feedback.
Frequently Asked Questions
What Are the Eligibility Requirements for Submissions?

All submissions must be in English and include the following:

Session title (as you want it to appear in print; no abbreviations, do not use all lower or upper case, grammatically correct)
Session type (i.e.- 45-60-minute roundtable)
Session topic (i.e.-Economic Restoration)
Target audience(s)
Three learning objectives
Session submitter/speaker name(s), organization name, title, complete address, phone, and email information
Brief presenter biography and headshot
Description of session (no more than 300 words, as you want it to appear in print; no abbreviations, grammatically correct)
Speaker agreement
Session information will be published on the website, in the virtual platform and other channels when available.

All presentations must be noncommercial. Outside of sponsored sessions, it is not permissible for presenters to use their time slot to advertise or promote a product, service, or company. Those interested in presenting a sponsored session should select Solutions Track or Sponsored Roundtable from the submission menu in Task 2. Questions on Sponsored Session fees and sponsorship opportunities should be directed to Megan Sherman, Senior Manager, Conferences & Sponsorships at msherman@icma.org.

ICMA reserves the right to cancel a session and/or change a speaker.

What are the ICMA Regional Conferences?

The ICMA Regional Conferences are smaller gatherings of local government professionals celebrating the amazing things taking place in our communities around the world. They provide unique opportunities for attendees to meet virtually and share stories and learn new skills. With the move to virtual events, each regional conference will run for two, half-days to allow participants to spend time attending to office business before/after attending daily sessions.

When are the 2021 ICMA Regional Conferences?

March 11-12 Southeast Conference

March 18-19 Northeast Conference

March 25-26 West Coast Conference

March 25-26 Mountain Plains Conference

April 15-16 Midwest Conference

Who Can Submit?

Anyone! While nonmembers are encouraged to join ICMA to enjoy the benefits of membership, submissions by members and nonmembers are accepted.

Can I Submit Ideas to More Than One Regional Conference?

Yes! The Call for Presentations is open to everyone where they may submit for one or more of the Regional Conferences. Submitters are limited to a total of five session submissions.

Please note: Submission acceptance to one conference does not guarantee acceptance to all other conferences.

Does Submitting an Idea or Proposal Guarantee my Acceptance?

Idea or speaker submittal does not guarantee selection.

What Should Session Descriptions Include?

Session descriptions should include tool(s) attendees can take back to their communities. Ideas should be educational, non-commercial (unless a sponsored session) and provide value to a wide-ranging group of ICMA conference attendees.

Will I be Notified if my Submission is Accepted?

All submissions will be reviewed, and submitters will be notified by email in January whether or not their proposal is selected for inclusion in the conference program.

Do Speakers Need to Be Registered for The Conference?

Yes, ICMA will register all speakers. ICMA members are expected to pay the conference registration fee and will be billed accordingly.

What Happens if my Idea/Submission is Selected?

All selected submitters will be contacted with further information including notification of all deadlines. Please note it is crucial to the success of the conference that all selected speakers, moderators, etc. adhere to all ICMA deadlines. Failure to meet deadlines may disqualify a speaker or session from inclusion on the program.

What Session Formats is ICMA Seeking?

A complete listing of available session formats is available in the submission portal.

Who Attends the Regional Conferences?

Local government management professionals of all career stages and backgrounds come to the ICMA Regional Conferences each year. Audience types consist of: Encore, Executive, Assistant/Deputy, Department Head/Director, Staff/Analyst/Assistant, Student/Interns, Small Community, and Senior/Credentialed Managers. Members are welcome to attend any regional conference, regardless of where they reside/work; though historically, during in-person events, most members select to attend in their home-region.

Who Do I Contact for Questions?

Please email Felicia Littky, Manager of Conference Education Programming, at conferenceteam@icma.org.