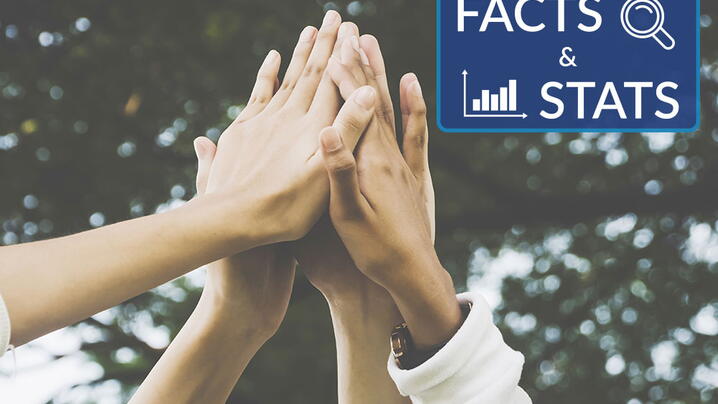 Volunteering programs help to support and grow vibrant communities. According to Leigh Britt, president of the National Association of Volunteer Programs in Local Government, volunteers can help enhance the work of local government staff, fill gaps in local government work, and allow residents greater ownership of their communities. There are countless intangible impacts that volunteering can have on a community.
Knowing the impact volunteers can have, one might ask, "Is there a monetary value that volunteers represent to local government?" $25.43 per hour.
That's the estimated national value of each volunteer hour in the United States in 2018, according to Dan Cardinali, president and CEO of Independent Sector, a national membership organization that brings together a diverse set of nonprofits, foundations, and corporations to advance the common good. In Cardinali's blog celebrating Volunteer Month, he states why they calculate the value of volunteers. "One reason we calculate the value of volunteer time is because it reminds us that volunteering may be priceless, but it isn't free. Volunteers contribute real value, and we need to recognize that."
According to the Bureau of Labor Statistics, there were approximately 62 million volunteers in the United States in 2015. These volunteers spent a median of 52 hours doing a range of work, including environmental beautification, disaster preparedness and response, senior citizen services, food preparation and service, and mentoring and tutoring.
With all of these volunteers adding value to their local governments, what do we know about how local governments use volunteers and non-staff support? Here are some statistics about volunteering from recent ICMA surveys.
Over half of local governments responding to the 2017 Alternative Service Delivery (ASD) Survey involve their citizens in some aspect of service provision, most often the planning of service policies and funding decisions.
For local governments facing budget cuts or decreased spending, using resident volunteers for service provision helps to conserve funds. The survey also found that more than a quarter of local government respondents indicated that citizens are involved in the actual delivery of services.
Volunteers of any type are most often involved in fire suppression services, operation of museums, and operation of cultural and arts programs according to the same ASD Survey. 
Local governments often have a range of volunteer opportunities for residents, including options for all age groups. Operation of museums and cultural programs may be fitting for some retired residents, while park clean up or beautification may be an option for families with children.
According to the 2018 Municipal Form of Government Survey, 88 percent of municipalities report the use of resident authorities, boards, or commissions.
This type of volunteering helps residents feel ownership of their community and use their expertise in various areas to help shape the jurisdiction. It also helps local governments make decisions that are driven and informed by community members.
As Volunteer Month winds down, don't forget to download the "How to Build a Successful Volunteer Program" guide!