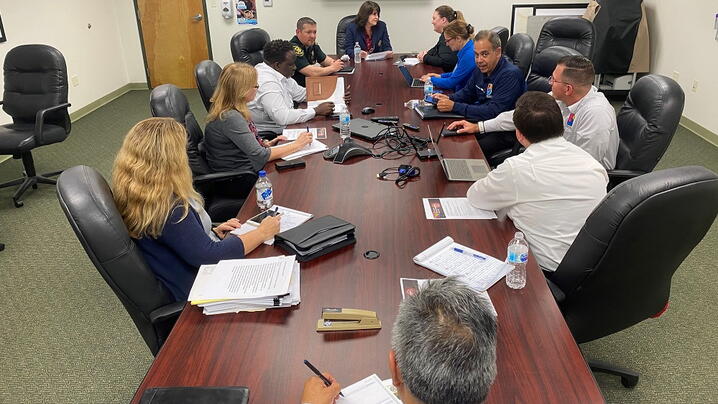 We asked several ICMA leaders for their perspectives on how they are preparing for and dealing with the COVID-19 outbreak. Check out week one updates.
By Ana M. García, ICMA- CM, city Manager, Dania Beach
The city of Dania Beach is taking a lead role in Broward County, Florida in response to the threat of the Coronavirus, COVID-19.
One of the city's internal key policy, the Telework Policy, directing the majority of city employees to work from home, was crafted, executed and activated on Monday, March 16 while essential personnel such as fire, police and utilities remain fully operational. 
The city's IT division staff has been working diligently to provide the necessary hardware and software to employees, allowing them to telework. Today, more than 55 city employees are working from the safety of their home. 
To make telework a success, the IT department deployed all necessary equipment at top speed to facilitate the needs of each employee, including laptops, mobile hotspots, cell phones, copy machines, printers and office supplies. The workstations were configured to enable remote access.
"Today as the city manager for Dania Beach in Broward County, Florida, my team and I face the greatest challenge of our Lifetime, the Coronavirus!" explains Ana M. Garcia, Dania Beach city manager.  
"We have and continue to take bold proactive measures to protect our community and our City Team by mitigating the spread of this deadly virus."
The city's Telework has been a team effort between the city manager's Office, labor attorney, human resources and finance.
Currently, Dania Beach employees are effectively and safely working remotely and performing their duties, never missing a beat.
"The city's IT Division staff are in the process of transitioning nearly all City administrative employees to telework status," says Finance Director Frank DiPaolo. "Additionally, IT staff continues to ensure the safety and security of critical City technology infrastructure while shifting their focus to assist employees encountering technical issues while working remotely."
Linda Gonzalez, HR director explains that the city's Union reviewed and supported the newly created policy right away to allow a smooth transition for employees to telework.
"We have implemented continuous communication to our employees regarding their safety and health during this pandemic, including CodeRED communications to both the public and our staff." CodeRED Emergency Noticifations allows the city to communicate critical updates directly via text and telephone.
In addition to the telework policy, the manager's Coronavirus Task Force was set up at the onset of this deadly disease to discuss key concerns, plan and successfully execute proactive and ongoing initiatives to mitigate the spread of Covid-19 and keep our people safe.
The city is asking employees, residents and visitors to stay home as much as possible, practice social distancing and to remain informed. City Hall is closed as well as all city parks. Residents are directed to pay their water bills online or to leave their payment in a dropbox available at the entrance of City Hall. 
The city is determined to make every effort to help prevent the spread of COVID-19, Coronavirus. 
To protect public health, the city beach, pier and parks are closed.  All bars, nightclubs, taverns, pubs, cocktail lounges dance halls movie theaters, halls for hire, auditoriums, bowling alleys, video arcades and other like entertainment facilities and businesses, including but not limited to those contained within a hotel or other enclosed facility or structure are close. 
In the midst of this unprecedented Global Health Crisis, we as professional administrators should be innovative and act proactively and swiftly working closely with our elected leaders for the greater good of the communities we serve"!
---
By Greg Chavarria, city manager, Hallandale Beach, Florida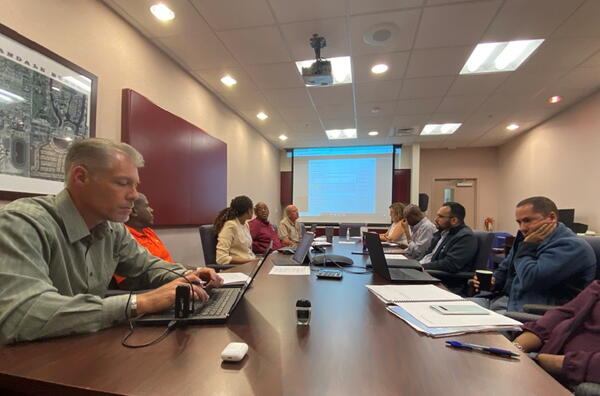 The emergence of a crisis requires staff members to quickly assess, plan, and follow up with various critical time-sensitive tasks.  The nature of each emergency is unique and carries a multitude of variants that make an emergency plan sometimes obsolete.  The city of Hallandale Beach has had great success in keeping the community safe, clean, and informed, since the outbreak of the coronavirus. Three significant components of our readiness and resilience attributed to being agile, sharing knowledge with prompt speed, and using the latest tools to bring all together.
Being Agile
Agile is a contemporary management framework that helps teams address complexity through iterative collaboration.  Agile delivers plans that are continually changing but promptly delivering results that share high value for stakeholders.  Although agile management is widely used in the technology space, the philosophy may prove to be successful under critical conditions. Applying it under crisis requires emergency teams to meet frequently and review three things: An assessment of current conditions, a review of actions in the process, and a team discussion of what needs to be done next. Diluting the complexity of a crisis into the three mentioned high-level categories helps teams focus on what matters the most: delivering value.
Knowledge Sharing
According to Morten Hansen, author of Great at Work, successful leadership builds upon an organization's capability of sharing knowledge quickly. Under a crisis state, emergency teams may reach success if they can share information quickly from the meeting to the stakeholders in a prompt time.  Having a communication plan with specific messages toned for particular audiences will help keep all informed of decisions and bring cohesiveness to emergency action plans. 
Virtual Collaboration Tools
While traditional email is widely adopted, there are emerging tools that synch on the cloud with ease and offer agile options for all levels of users.  During three emergency deployments, Trello, a cloud-based agile tool, has been used to document assignments, quickly assign tasks to individuals, and improve collaboration for team members. This type of tool helps the team know: what is remaining to do, what is in process, and what remains to be completed and offers a visual rich interface and may be accessed via a desktop or mobile device. Being able to connect virtually, helps individuals track assignments, minimizes the need to ask for statuses, and helps team members understand what has been achieved.  Collaboration tools with these attributes help reduce meeting times and help all stay informed.
Emergencies reveal themselves often, and managers must be ready to serve agile, share information swiftly, and collaborate regularly. Leveraging technology, with adaptable management processes, helps individuals stay connected and informed of the latest decisions and next steps. Strong leadership, coupled with contemporary tools and methods, will help managers serve resiliently through any situation.
---
By J.C. Jimenez, town manager, Bay Harbor Islands, Florida; vice president, Miami-Dade City and County Management Association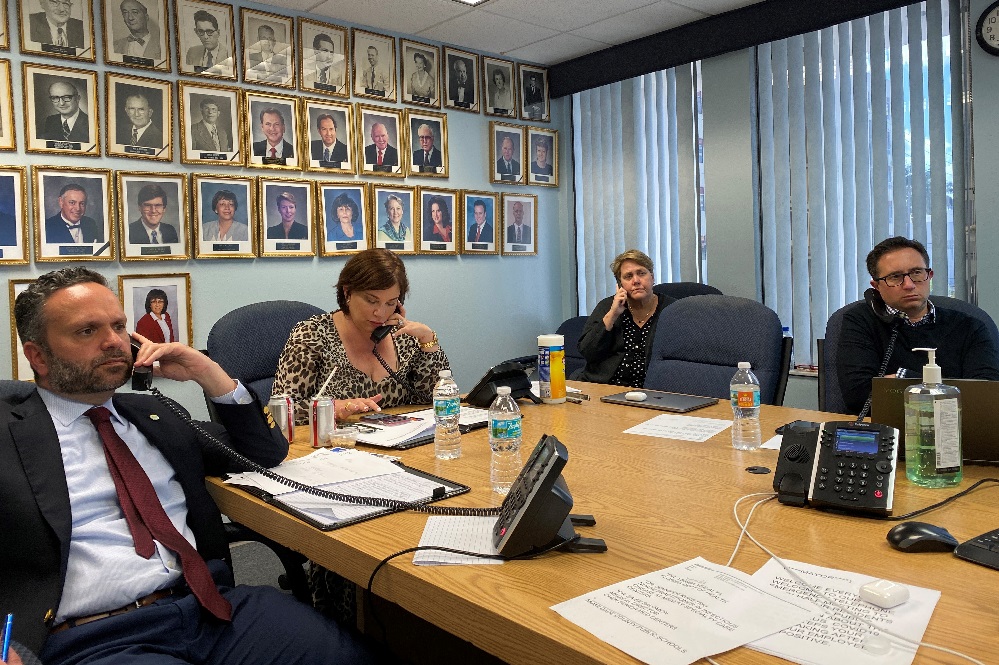 With an employee testing positive for COVID-19, and other employees and residents who interacted with this employee seeking medical attention, our small town in the middle of Biscayne Bay (population under 5,000) found itself in the middle of a growing media frenzy on, of all days, Friday the 13th.
As soon as our employee informed us of their medical issue, we took immediate steps, based on the CDC's guidelines, to inform our small staff on what we were doing.
I worked closely with our town's human resources manager to make sure employee concerns were addressed and that every staffer had access to information and medical help, as directed by the CDC and state of Florida's guidance.   We also made sure part-time employees without health insurance were connected directly with our Florida Department of Health. We reviewed all pertinent policies and implemented new ones in light of the situation, including the ability to work from home.
As would be expected, word of a possible positive case leaked out to the media before the health department could confirm our employee's test and we could issue our first piece of outward facing public communication.  The media, and concerned residents, descended upon town hall. The phones were blowing up.  There was little we could share, as we were directed by the state of Florida to refer all questions to the department of health.  For the media, and some of our residents, that wasn't good enough.  I quickly mobilized my team to coordinate messaging with the state so we could stay in our lane, yet still provide the public with factual information. We supplemented the efforts of our town's only PIO with help from a respected local crisis management and communications team.  We made it a habit to coordinate our messaging with the Joint Information Center at the Florida Department of Emergency Management.
Our mayor declared a state of emergency. This cleared the way for the town administration to quickly spend money on emergency supplies and hire services, like a major deep clean of town facilities.   We found it helpful to have the cleaning vendor provide us with a report of exactly what was done and what cleaning agents were used so we could share that information with the public in our efforts to be transparent.
We also found it helpful to have our town attorney explain to the public exactly why the town could not release the identity of the employee to the public.  We check on our sick employee regularly by phone and the entire Town is praying for her speedy recovery.
Finally, while we live in a digital world, many of our residents are elderly and still prefer the telephone.  We made sure our town hall telephone greeting was updated with the same information available on our website.  The town quickly moved to organize a live, emergency telephone town hall meeting to allow residents to ask questions of medical professional and the town without having to leave home.   We had more than 1,200 callers on the line at once for the telephone town hall event that included the head of our local health department, two local medical doctors, myself, the mayor, and town attorney.
---
For additional information, visit ICMA's Coronavirus Resource page.
New, Reduced Membership Dues
A new, reduced dues rate is available for CAOs/ACAOs, along with additional discounts for those in smaller communities, has been implemented. Learn more and be sure to join or renew today!