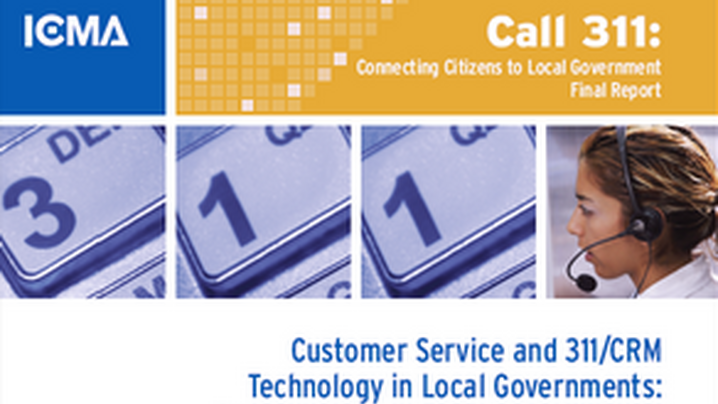 By Cory Fleming, Senior Technical Specialist and 311/CRM Program Director, ICMA
311/CRM systems have been around for more than two decades and continue to innovate as they mature as an industry. Beyond providing relief for 911 emergency systems and improving customer service—their original purpose—local governments are using 311/CRM systems for:
Encouraging greater citizen engagement by accepting feedback on local government plans and initiatives
Improving daily operations by providing a wealth of data for performance measurement and management
Re-engineering local government processes to improve work flows and produce better results
Boosting community and economic development by providing information on attractions, events, and other tourism opportunities.
Over the last few years, two new and important innovations have been gaining traction in the 311/CRM field—regionalization of 311/CRM and self-service 311/CRM.
Regionalization
Most 311/CRM systems are implemented as a system for a single local government. A handful of joint city/county systems exist, such as those in Charlotte-Mecklenburg County, North Carolina (CharMeck 311); Miami-Dade County; City-County of Denver; and City-County of San Francisco, to name a few.
But a system that serves customers from multiple local governments would be unique. Salt Lake County, Utah, is exploring the feasibility of such a system for the county and the 17 cities, towns, and townships located within its boundaries. Most citizens are unaware of the boundary lines between local governments and don't necessarily know which government to call when they need a service. A regional 311/CRM system could pool available resources, making it much more affordable as well as lessening frustrations among citizens who want to go to one source when they need information or services.
Self-Service Systems
While most 311/CRM systems use websites and online request forms, the heart of the center remains the customer service agents who answer calls and talk to citizens about their needs. The use of laptops, tablets, and smartphones, however, continues to explode. New mobile apps are introduced every day, and products like Siri and Alexa provide consumers with information that they don't even have to "Google."
The development of a 311/CRM system that focuses on self service may be the next step. While some people want a live voice when they call their local government, many simply want to find the information or request the service they need. Artificial intelligent (AI) may soon supplement live customer service agents, allowing real people to address more complex issues and focus on analyzing the data generated by a 311/CRM system.
Register for the ICMA Annual Conference
Join us September 17-21 in Columbus/Franklin County, Ohio for the 2022 ICMA Annual Conference.
JOIN ICMA TODAY!
ICMA provides the tools, resources and connections to help you become part of the international network of 13,000+ local government management professionals.