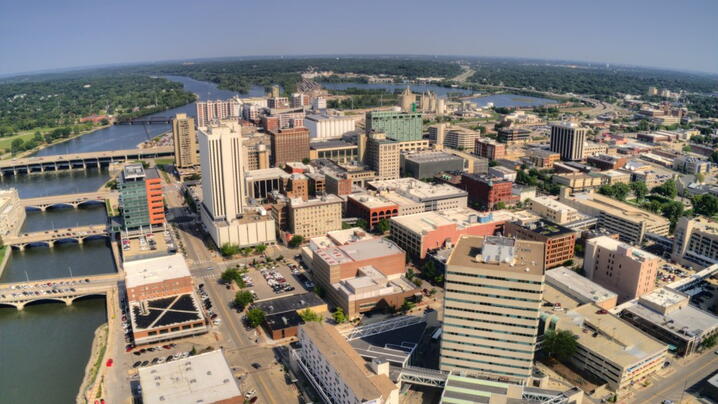 How can we improve customer service and where should we start? These are constant contemplations for cities across the nation. As we charted our own journey to improve customer service delivery in Cedar Rapids, we realized it would be prudent to pause and reflect on our motivation, develop a roadmap for success, and identify and implement any missing tools.
From there, the ambition to innovate and refine our processes became second nature. A little over a year into our implementation plan, and about two years into our overall efforts, we've learned how sharing our customer service story has contributed to our success.
Those already on this journey know it is not an easy feat—there is no one-size-fits-all answer. Providing exceptional customer service can be a fast-moving target not easily defined; a blend of varying factors unique to every community. We share our own story in the hopes that you can find something useful for your attempts to empower and unite residents through improved customer service delivery.
Finding Motivation
Our approach started with a service-centric mentality instilled in every city team member. Our customers are our residents, businesses, industries, and property owners. Our people are the reason that city government exists. Understanding this, it makes sense that we must work persistently to improve service delivery and hospitality. We also must acknowledge how this work is critical to building community trust in city government.
Like every other local government, we wanted our efforts and resources spent on service delivery to be impactful and long lasting. There are so many opportunities to focus our improvement efforts. We found ourselves asking how to get started to find the right fit for our community.
Developing a Roadmap
Our first step was to determine the outcomes we wanted to see based on feedback from our residents and city leadership. We started with our city's core values: we serve enthusiastically, we team up, and we find a way. From there, we used data from a resident survey to identify three customer-service goals that aligned with those values:
We serve enthusiastically by ensuring our services are inclusive and easy to access.
We team up to build a culture focused on effectively serving our customers.
We find a way to continuously improve the effectiveness of our customer service.
We worked from the inside out—our initial focus was directed toward employee culture. It was important to continue instilling the customer-service mentality we have been building for years. We convened an innovation team of customer service champions within divisions, with the support of leadership from the very top, to reinforce our internal commitment to quality customer service. Using these champions, we set high expectations for every employee to renew their commitment to providing quality customer service.
Identifying Tools
Armed with clear goals and objectives, our next step was to determine what tools we would need to achieve success. Our team ultimately concluded that implementation of a citizen request management system (CRMS) would be the best way forward. We realized such a system could not only improve our internal tracking, reporting, and metrics, but also could make our services more accessible for residents to use.
Keeping customers in mind was key to developing a convenient and accessible tool that also met operational needs. Internally, our list of must-haves included a system that could provide:
A universal storing house with consistent processes and expectations for addressing customer requests.
Methods to utilize data and feedback from customers to improve our internal processes.
Integration with existing asset management systems staff were already using.
We launched "My CR," a custom, integrated CRMS application for residents and visitors to report non-emergency issues, such as potholes, streetlights, and overgrown grass. The platform is a new way for our customers to interact with our services. It is available around the clock. Reports are easy to file through the city website and our new app, Mobile CR, which launched in conjunction with the My CR reporting tool. Residents who prefer to access our services over the phone or in person can continue to do so—support staff enter those requests into the system as well. The following are some unique features offered to customers who utilize My CR: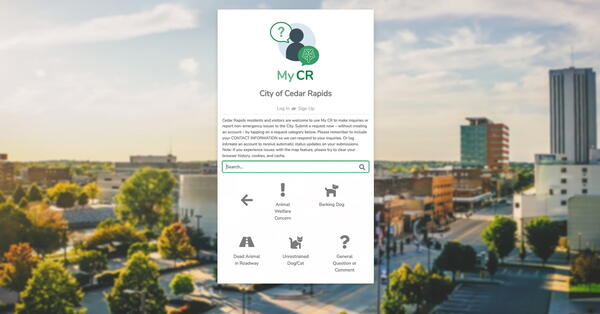 Automatic emails: Registered users receive automatic confirmation emails when the system receives their request. They also receive emails any time there is an update to the status of their request. Each email includes the appropriate department's contact information. For processes that tend to take longer to resolve (i.e., nuisance issues involving court proceedings), the automated message includes expected timelines and additional details. These automated messages save staff time while also improving the feedback loop for customers.
Messaging through the system: Residents and staff can interact with each other through the system's inbox feature. This reduces the need for email and phone correspondence. All message history is tied to each request, including internal-only notes and comments, which is helpful when a request needs to be routed through several departments.
Ease of getting started: Clear visual icons depicting concern categories are arranged by topic/category rather than by responsible department. This takes the guesswork out of the equation, so residents do not need to know which department typically handles various request types before filling out a report. A convenient search option makes it easy to start filing a concern based upon keyword or topic.
GPS integration: A mapping feature can quickly locate a resident at the location of their concern, using the GPS embedded in their mobile device.
Option to remain anonymous: Residents can remain anonymous, which is not commonly allowed by other municipalities utilizing a CRMS. Although we do recommend users register in order to receive the full benefits of the system, we recognized a need to provide this anonymous option.
Citizen request map: Users can view a citizen request map on the My CR home page. This map includes recently reported concerns within the system, with "halos" around the category icons marking their status (pending, in-progress, and completed). Residents who wish to remain anonymous can use this as a tool to track their requests.
A Successful Launch
My CR is a vehicle that our customers can use to submit their concerns and questions. In order for this vehicle to be of any value, we needed to equip its drivers (city staff) to adequately process the requests and see them through to the finish line.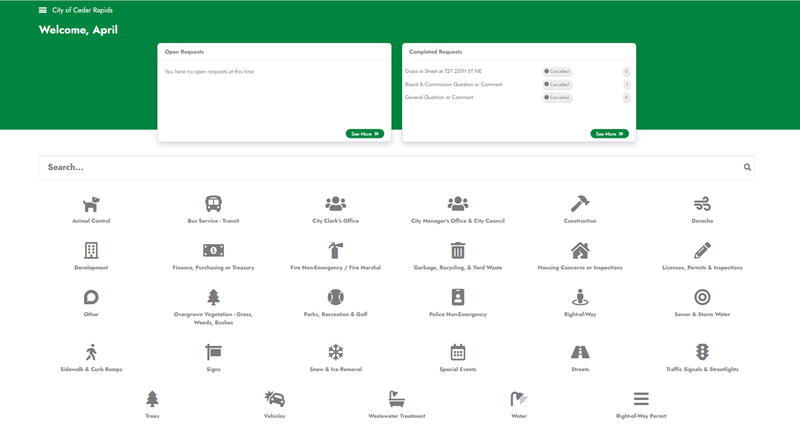 We identified several supporting actions to ensure the system would set our employees up for success, which in turn made the system successful in achieving our customer service improvement goals:
Training for all users: More than 200 system users attended a 90-minute training session covering a system overview and how-to for processing requests. Several opted to attend an additional training session once the system was in beta mode. This allowed for hands-on discovery and learning prior to launch.
Put expectations in writing: We created a policy outlining expectations for use. City staff using the system were required to review and sign-off on the policy to ensure a thorough understanding. A step-by-step, how-to guide—with images and frequently asked questions—was provided to ensure requests would be processed efficiently and that customers would enjoy a consistent experience. Expectations include the following:
Communication is key. Staff must reply to users' concerns, including an explanation of the actions that will be taken to remediate requests (or why a concern could not be remediated) before the request is closed out.
Timing is everything. Requests must be put into a workflow—and/or the customer must be followed up with—within one business day.
Mind the details. Staff must provide complete notes and details for each request along every step of the way.
No early outs. Requests should only be closed when they have been resolved.
Keep track of your efforts. Run daily reports to track division request activity and identify any delays.
Constant and Consistent Communication During Kickoff: Weekly updates outlining recent system changes—and reiterating previous important messages—were key during the first three months of system launch. Reminder emails have become less frequent as employees became familiar with the system and expectations. A solid foundation of existing key customer service concepts—through interactions via phone, email, and in person—were directly transferable to this new digital tool.
Build customer service champions within departments: We assembled a Customer Service Leads group, comprised of support staff from each city department, to support the system's success. During monthly meetings, customer service leads share questions from their employees and clarify expectations. The information is cascaded down to users in each department.
Customer support leads are encouraged to run daily reports, spot check requests, and follow up with other support staff and managers to ensure staff are meeting expectations. Combined with the tracking and reporting systems, a clear set of expectations allowed this team to zero in on specific employees who might need additional support.
Accountability from the top down: While the aforementioned supports helped our employees provide exceptional customer service with My CR, perhaps the most important support that will continue to drive our efforts has been support from city leadership. A key factor in behavior change is the ability to model behavior and demonstrate accountability. If managers can effectively model exceptional customer service and consistently reiterate expectations for their employees, their team members will begin to buy in and hold themselves and each other accountable.
We have spent years working on organizational health and building knowledge and skillsets around key customer service concepts across our entire city team. These efforts paid off when we launched My CR. Our process also provided opportunities to hold staff accountable to new expectations. The new system added to our abilities to gather data and make informed decisions surrounding process improvements.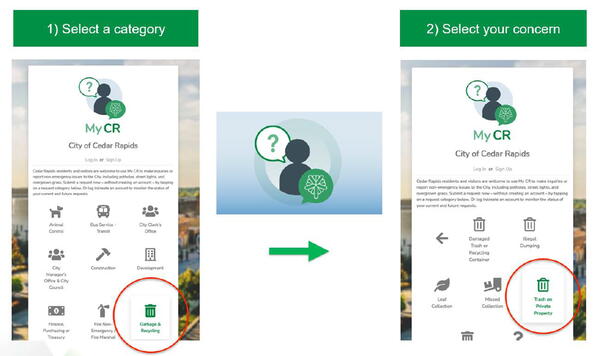 Constant Improvement, Iteration, and Refinement
Within months of launch, the system has already helped us identify customer service delivery pain points. We are working on a list of internal process improvements we can continue to focus on, thanks to the data and systems integration. And we are following up on these opportunities even while we continue to onboard additional divisions and processes into the system.
Here are a few key takeaways:
Monitor Usability and Be Ready for Change
With any new system, we knew there might be some early tweaks. As employees started using the system and new interaction scenarios arose, implementation staff worked through any outliers to ensure the system reacted predictably. We continue to monitor feedback from our customers and employees regarding usability. Our vendor agreement includes updates and improvements along the way to ensure the system becomes more user friendly and our employees can continue to provide excellent customer service.
Track Data, Draw Trends, and Make Improvements
To help departments monitor the request activity within the system, we created a data dashboard. The data can be broken down by division and filtered by date. Some examples include:
Number of total requests in the system.
Number of requests by status type: pending, in progress, on hold, and completed.
Number of requests closed within the last 30 days.
Most common request types.
Average days to request completion.
All managers have the ability to run detailed reports. We send a weekly email reminder asking managers to run reports and track their teams' data.
In addition to quantitative data, we recognized the need for qualitative data and created a customer service survey. The survey is automatically sent to users when a request is closed out in My CR. Survey responses and comments are filtered into the dashboard for staff to review. This data has also helped our teams make process improvements and enhancements within the My CR tool.
While we are incredibly pleased with the new system, we will continue to identify ways we can improve. By monitoring feedback and adapting to changing technology, the system will continue to allow us to provide the highest quality customer service to our residents.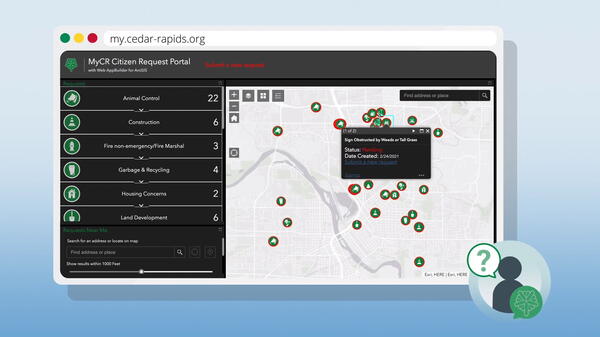 Telling Our Customer Service Story
It has been six months since we launched My CR and we have already seen the vast benefits provided by the system. We quickly realized that sharing improved customer service stories would not only help this new platform gain traction with our customers, it could also help encourage employees to use the system more effectively. Beyond one training session, it took real-world user experience for the success of the platform to click. Internal and external users have all benefitted by seeing the customers benefits in action. Customer satisfaction with this new tool has driven employee trust in the product, which in turn has improved customer delight and additional user adoption.
Sharing these stories of customer satisfaction has helped staff better understand and relate to the expectations that came alongside implementation. In order for customers to continue to utilize the system, they needed to experience the benefits, including action taken on their reported concerns and timely follow-up from city staff.
We continue to promote the application through owned and paid media channels, including social media, radio, the city's website, public facility message screens, visits to neighborhood association meetings—all sharing the benefits of the system and relatable examples. It is not uncommon for residents attending these meetings to chime in with their own success stories with My CR.
In only six months, more than 10,000 requests have been logged and tracked. Comparatively, in the previous full year, a total of 6,900 citizen requests were logged using previous systems and methods.Here are some positive comments we have received from residents:
"I have used My CR three times. In every case, the concern was handled promptly and professionally. I really like this way of reaching out to the city."
"I think My CR is an excellent way to ask a question, report a concern, etc."
"I reported a dangerous pothole and it was taken care of quickly."
"I filed a complaint about trash dumped in the street—it was resolved within a few hours."
"The app was easy to use."
"Fast action!"
We are pleased with the response to this major improvement in Cedar Rapids' customer service delivery. Improved responsiveness, request turnaround, tracking, communication, and buy-in have all been critical ingredients in our recipe for success.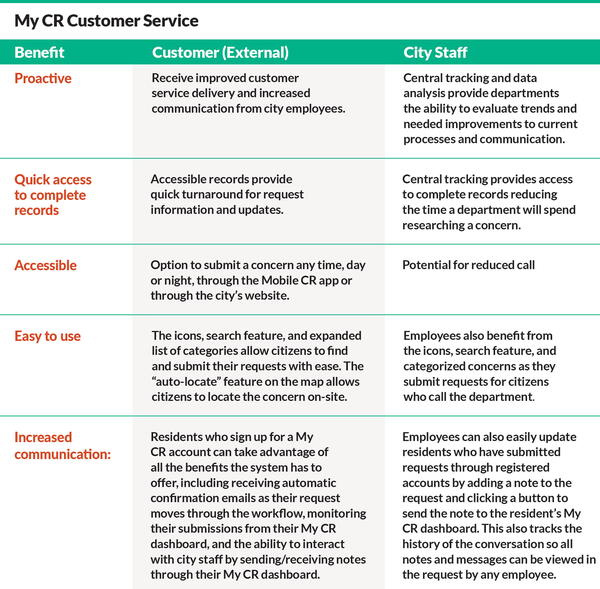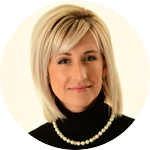 APRIL WING is a management analyst in the City Manager's Office of Cedar Rapids, Iowa.
JOIN ICMA TODAY!
ICMA provides the tools, resources and connections to help you become part of the international network of 13,000+ local government management professionals.