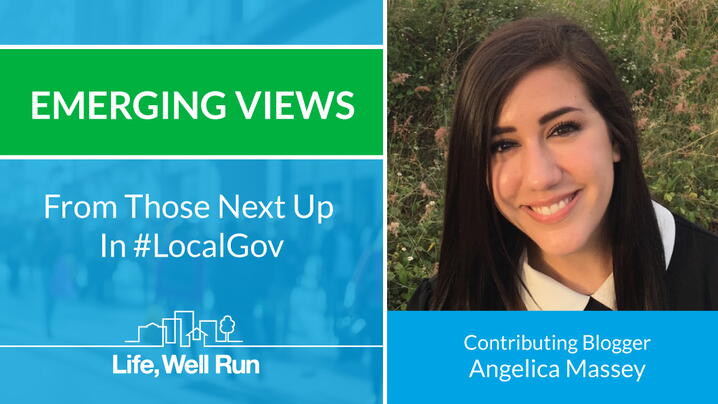 By Angelica Massey
With the Texas rain reminding me of Baltimore weather, I've been reflecting on my time spent there attending #ICMA2018.
Thanks to ICMA's Life, Well Run Student Photo Contest, I was able to attend the association's 104th Annual Conference as a University of North Texas MPA student and representative of the city of Sachse, Texas. Participating in the contest was inspiring because I was able to capture moments of the city manager's day that are not usually highlighted. This job goes well beyond 8:00 a.m. to 5:00 p.m., and I wanted to share the fact that being CAO of a community requires long hours.
While school and work have fueled my passion for public service, the ICMA Annual Conference was an amazing experience that reaffirmed my love for this career. The keynote speakers at ICMA 2018 were phenomenal. They gave us ideas to practice and take back to the office and provided us with support to let us know that we are not alone. The four keynote speakers [Daniel Pink, Doris Kearns Goodwin, Greg Bell, and Wes Moore] made us laugh, cry, and reflect on our careers. Their presentations were inspirational and refreshing.
The educational sessions I attended offered insight into specific problems that I could face as a professional in this field. I now feel equipped with a toolbox of management and problem-solving skills that will help me better serve the community. The people I met at the conference were extremely friendly, insightful, and inspirational. Everyone was willing to talk about the difficulties they've faced when helping someone else who may be struggling with the same issue. As a student, I was deeply inspired by the words of affirmation and encouragement, which I will remember as I continue my journey into this field.
I love public service, and I loved being surrounded by like-minded individuals at the ICMA conference. I am grateful to ICMA's Life, Well Run initiative because without it, I would not have been able to attend. This was my first ICMA Annual Conference, but it will not be my last. I learned so much and met so many incredible people thanks to this association.
See you next year!
Angelica Massey won first place in ICMA's 2018 Student Photo Contest. She is an MPA student at the University of North Texas and parks & recreation aide with the city of Sachse, Texas.