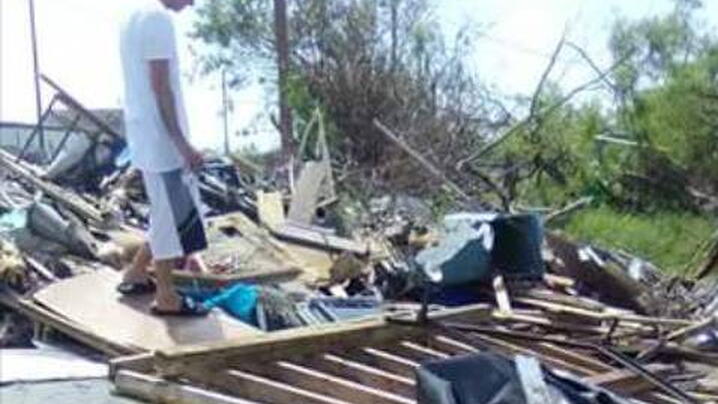 ICMA Regional Director Karen Daly has collected accounts from several managers, most of whom are still grappling with the long-term recovery process. Here are a few excerpts.
Kevin Carruth - Rockport, Texas
The city of Rockport, Texas, was ground zero for Hurricane Harvey. Rockport received national media focus as well as national and state government official/dignitary visits that had to be juggled while dealing with the widespread devastation. Being pulled in all directions and with limited email and phones, City Manager Kevin Carruth exemplified what being a city management professional and a family man looks like. He sent his family to stay with friends in central Texas in advance of the storm. Although his home did not receive major damage, his family has been away for two weeks and they are debating whether to put their high school senior in another school system so he can successfully finish his senior year. Keith noted that although the Rockport ISD is closed indefinitely, the football team continues to practice (because this is Texas after all!).
Rockport's public works director's biker friends came from Bryan to help clear brush from the city employees' houses and property. This was a huge relief to the employees who have been busy taking care of the residents. Kevin found it funny that the bikers were camping in the front yard of the public works director's home, which happens to be in a country club and the HOA president lives across the street.
Kevin continues to be overwhelmed at the kindness and generosity of people. Rockport has received donations of goods and equipment from as far away as Wisconsin and Maine.  He is thankful that restoration has begun and power is restored. 
Charmelle Garrett - Victoria, Texas
City Manager Charmelle Garrett said there wasn't a whole lot of time to prepare for Harvey. On Wednesday, it was a tropical storm; by Thursday, it was Category 4 hurricane. The voluntary evacuation turned mandatory within 24 hours as the city experienced two disasters: the first was the hurricane where high winds knocked out power and trees; the second was the river flooding. Ultimately, lost power was returned within eight days with 95% of residential electricity restored.
Victoria operates a joint Emergency Management Center with the county. Good emergency management planning tools and the benefit of tabletop exercises helped Victoria successfully respond. Charmelle also credited the camaraderie in the city management profession. The city of Austin assisted with crews to restore traffic control signals at 88 intersections. Charmelle is proud of the dedication of her staff—helping residents even while they experienced damage to their own homes and property.
Sereniah Breland - Alvin, Texas
In a series of Instagram posts, many of them reflecting her sense of humor, City Manager Sereniah Breland kept followers up to date on the storm and its aftermath. First predicted to miss the city, the county issued voluntary and mandatory evacuations due to potential tidal surges.
By Friday the city issued a curfew. Between 10 pm and 1 am, the city received 54 calls during that time including tree fires, vehicular accidents, power outages from blown transformers, 2 rescues from homes taking in water, and many other high water calls.
Sereniah posted on Sunday: "It's 3 am and we have about 6 feet of water on the first floor of home (garage) and have kayaks on the front patio, ready in case of water departure. The laptop has been moved to the third floor and I've set up a satellite EOC (thanks to WebEOC)...The bayou now looks like the roaring rapids at Six Flags and boats are even struggling to maneuver. I write the date and time on my 2nd-floor window and the phrase "PICK UP." A small boat arrives and is struggling to stay in one spot next to my balcony railing, believing this was my only option, we crawl over the 2nd-floor balcony rail and step into a boat. We waded to City Hall…I finished working after about 8 hours and am going to sleep in a very cold, but dry jail cell."
She continued: "By August 30th  and beyond: City is moving into recovery mode…I couldn't be more proud to work with such a fine team of public servants. Albeit delirious at times, these employees gave selflessly of their time and energy even when many of them lost property and have families depending on them….Got out and drove today to pass out water and snacks in Dickinson. Entire contents of homes line each road, neighborhood after neighborhood. The devastation seems surreal."
"By September 5th: Back to "normal" city operations and deciphering FEMA regs…Now we know that approximately 38 inches fell over Alvin in a 72-hour period, unlike the 15 inches first predicted. We have over 357 properties flooded out and performed over 250 rescues.  We are thankful for no deaths, and no reported storm-related injuries. Now the real works begin for recovery and supporting those who were impacted while working on a plan to get better."
Frank Baker - Van Alstyne
Van Alstyne City Manager Frank Baker is a first responder in the intricate state of Texas Emergency Response Plan, certified by the state of Texas to respond to a disaster and assist with staging and/or medical incidents. When Harvey hit, he appointed his police chief interim city manager, notified the mayor, and went to help those impacted by Hurricane Harvey. 
Frank's first assignment took him to the staging area in San Antonio where he waited to be deployed as part of a Medical Incident Strike Team. There were many different staging areas in the parking lots at the AT&T Center to assemble all of the assets needed in the Gulf Coast area.  From there, units and strike teams were deployed by the state of Texas. It wasn't until Tuesday that the waters receded in order to get to NRG Stadium in Houston. On less than five hours of sleep, Frank's team was deployed north of Houston to assist with 133 nursing home patients who had been evacuated. Frank was in charge of the master list of patients and his team quickly assessed and assigned patients to operating facilities that had availability in East Texas. Patients arrived by military helicopter at Conroe-North Houston Airport and were placed on charter buses, ambulances, or an AMBUS (bus outfitted as an ambulance) to facilities that could care for the patient's specific needs. 
Frank summed up his work, "Knowing you are putting people in the right spot is rewarding."
Note: the ICMA Annual Conference will feature an added session on disaster recovery, and Rockport City Manager Kevin Carruth will be participating.