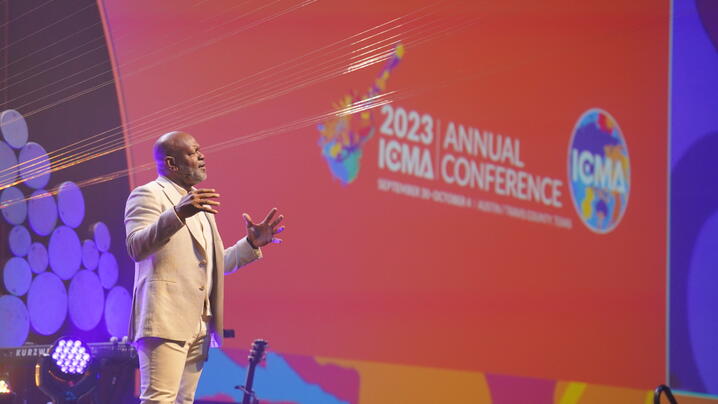 Emmitt Smith, Pro Football Hall of Fame running back, speaker, best-selling author, and entrepreneur kicked off the ICMA Annual Conference with a keynote on how to adapt to change and overcome obstacles, achieve goals, maintain success, leadership, and teamwork.
Cities and counties do not just develop overnight. It's all about a process.
"We see things that are motivating to us. You see how other cities, towns, and counties are growing. How other communities are doing things. You try to take best practices and apply them," Smith said. "For me that was part of the process: I saw a vision, where I wanted to go, what it was I wanted to do. I just didn't know what I needed to do to get there."
Smith acknowledged whether on a football field or within a local government, change can be scary without knowing what's on the other side.
Change happens. At 9 years old playing little-league football, Emmitt was moved from quarterback to running back in his second year. He objected but had his first real lesson in how to adjust and think about the team first. He learned the blocking schemes, the defensive strategies that would try to stop him, how to see the entire field, and how to manipulate it.
Then at 10, Smith dominated the 9–10-year-olds to the extent he was moved to the 11-12 group. He said on the first drill on the first day of practice he got hit by the biggest kid on the defense so hard he could barely stand back up, let alone try again. But trying again is exactly what his coach insisted on. He didn't want to and even thought about quitting. Smith said when he finally got the nerve, instead of going straight for contact in what was surely a losing battle, Emmitt used his timing, quickness, and balance to avoid the hit from the more powerful player, sidestepping around him untouched, for the touchdown.
"I learned a very valuable lesson at that time. Avoid contact at all cost! You have to learn. Making adjustments is what we do in football. The game is about being able to maneuver and make adjustments along the way. In businesses or running a local government, you have to do the same thing," Smith said. "You have to adjust. Adjusting to the budget that gets a little tight. Finding strategic partners for new resources."
Multi-year Process to Improve
Change continued at Escambia High School. As a freshman, Smith teamed up with a freshman quarterback and new head coach to turn around a struggling program. "You have to give something a new vision, and most importantly, people have to buy in. Humility allows you to not only buy into the vision, but believe in something that's bigger than you are," he said.
Similar to the local government leaders in the Austin audience, the football coach and the two star players were charged with leading the larger group of people looking for direction and purpose. "We need to inspire them and raise their level of greatness by giving them opportunities to see how they fit within the game plan and the mission we set forth," Smith said. "No man, woman, city, town, or community becomes successful by itself. It takes everybody to do their part. Share in the work and the success."
Dozens of wins and two state championships in four years were the result of implementing a plan, writing down goals, and putting in the work to slowly improve. Yet, in Smith's senior season, despite a 9-1 record, they did not qualify for the playoffs.
Smith said it's similar to setbacks in business or government, and understood we've all been there. "It was disappointing. You can work hard, you can be consistent. Sometimes things just do not work out. It doesn't mean that you failed, it just means the mission was delayed and you have to come back at it," he said.
"How many times have you seen cities do what you want to do? Things that you want your citizens to have? The process is arduous. The way up is inclined, a hill with speed bumps and rough patches, but you just have to keep going," he said.
Patience
Smith was named the national high school player of the year, was a consensus top recruit, and was promised to start day one at the University of Florida. Yet setbacks happen, and Smith found himself on the bench.
"You can work as hard as you want to, but sometimes it may not be your time. I had to develop patience. People want to sit in that number one seat. We know we have the capabilities of being that person, but we have to learn how to be patient."
Whether adding responsibilities early and mid-career or trying to land that first CAO job, Smith said if you keep asking and striving for something, you have to be ready to execute. "Your opportunity is now, and when it comes, there aren't any excuses. The moment is now."
Sharing Success and Knowledge
Smith's process had him prepared when opportunities increased in college and then with the Dallas Cowboys in the NFL. Growing into a superstar, three-time champion, the league's all-time leading rusher, and Hall of Famer.
It takes a lot of support to help everyone rise, he said. "Jimmy Johnson and Jerry Jones helped build it. Troy Aikman, Emmitt Smith, and Michael Irvin could not perform at the level we performed without that great wall offensive line, and Alvin Harper, Jay Novacek, and Daryl Johnston. It requires a complete team to be on the same page, headed in the same direction to be successful. There are no shortcuts. You learn from mistakes."
Smith said you have to seek wisdom in others on and off the field. "Always look to learn and seek new information to expand your knowledge base and perspective."
"Your citizens, your community are the most important thing. Everyone deserves an opportunity to be successful. It's up to local government leaders to create the best communities. It's you leaders that shape the lives of so many young people, including myself."
Smith said it was the opportunity and responsibility of everyone in the audience to inspire others to a level of greatness. "You're paving the way for some young person to follow in your footsteps. The question is are we going to leave them with an empty cupboard? Or are we going to leave them with a foundation to take it to the next level?"
"Success is delayed gratification. You have to go through the process. The process is not easy or a straight road. It's windy and uphill. But you'll get to the top and look back and appreciate the journey," he said.
Smith closed with a reminder there's always what's next. Opportunities come. But are you ready?
---
Check out "This Week in Photos," highlighting photos, videos, and other links from #ICMA2023!
 
Continued Learning
The 2023 ICMA Annual Conference is an opportunity to share success and knowledge with your local government peers. All conference attendees receive the complimentary on-demand access to conference content. Login credentials will be sent after the conclusion of the conference. Didn't have the opportunity to attend, but want to provide actionable insights to your staff? Get on-demand access to over 150 dynamic educations sessions from this year's conference.
You can also subscribe to PM magazine, Voices in Local Government podcast, Leadership Matters weekly newsletter, ICMA Learning Lab, and other ICMA channels to stay connected with the latest trends and best practices in local government professional management.
New, Reduced Membership Dues
A new, reduced dues rate is available for CAOs/ACAOs, along with additional discounts for those in smaller communities, has been implemented. Learn more and be sure to join or renew today!