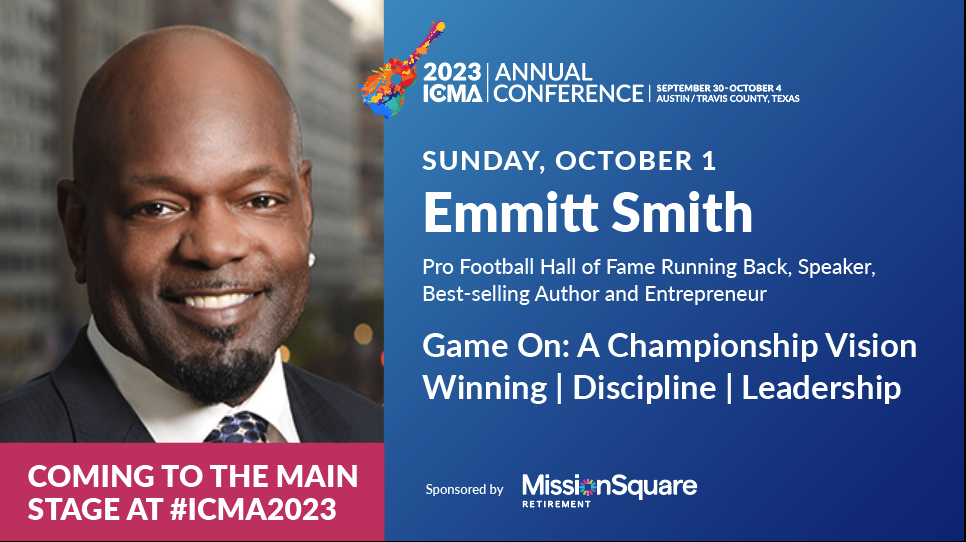 Emmitt Smith, Pro Football Hall of Fame running back, speaker, best-selling author, and entrepreneur is coming to the main stage to open the ICMA Annual Conference, Sunday, October 1, from 1:30 to 3:30. Presented by ICMA strategic partner, MissionSquare Retirement.
Emmitt will take the audience through his life and career, weaving into his story valuable lessons and inspirational messages. He will talk about adapting to change and overcoming obstacles, achieving goals, maintaining success, leadership, and teamwork, while highlighting his journey as a football player, businessman, and even "Dancing with the Stars" champion.
Smith shared some insight ahead of conference:
 
"It's only a dream until you write it down" is a quote from your Hall of Fame speech. What does it take to move something from a dream to a goal to a reality?
Hard work. Lots of hard work. Once you write a dream down, then it becomes a goal. After that it's all about the execution. It takes a consistent, ongoing effort, the ability to adapt to change, and a self-belief that you wouldn't be denied your goals.
Local government staff goes way deeper than city/county managers and department heads. Organizations have dozens, hundreds, or even thousands of workers grinding daily to pave the way — like what the offensive line and Moose (Daryl Johnston) did for you. How did you make them feel valued and appreciated instead of replaceable cogs in the machine, particularly when money and fame levels were so different?
I learned from my high school coach that any time you can share the spotlight and recognition with your teammates, especially the linemen who are opening holes for you up front, you should do so. My relationship with my O-line and Daryl was of the utmost importance to me, and I took pride in growing those relationships, both on and off the football field each season.
What was the hardest loss in your playing or business career? What did you learn and how did you bounce back?
There were a lot of tough losses in my career, but one that stands out to me was coming up short in the 1994 NFC Championship at San Francisco. We were chasing a Super Bowl three-peat and couldn't get past a really tough 49ers team. That loss fueled our motivation the following season to get back to [and win] the Super Bowl. Every loss brings with it valuable lessons and that day in San Fran was one I won't forget.
Fans love and remember the touchdowns, wins, Super Bowls, records — the glory. But many athletes say what they miss most is the comradery with teammates and the rush of taking the field with them. Was that your experience? What can local government professionals do to slow down and enjoy the process and the people around them, rather than obsessing about outcomes?
Do your best to be mindful in the moment. Regardless of your role in an organization, you have to realize that there are many individuals out there who would really appreciate being in your spot. It's important not to take anything for granted and appreciate the time and effort that goes into making a team successful. Everyone, no matter how big or small their role, contributes to the success of a team.
---
ICMA 2023 Annual Conference App
Download the ICMA App for the latest conference news and event information, polls, messaging features, post-session Q&A with speakers, a personalized calendar and more—right at your fingertips!
How to Download the App:
Go to the Apple App Store or Google Play Store.
Search for ICMA Conference and download the app.
Tap 2023 ICMA Annual Conference.
Tap Login.
Enter your email address that you registered with and enter your Confirmation ID number you received via email.
New, Reduced Membership Dues
A new, reduced dues rate is available for CAOs/ACAOs, along with additional discounts for those in smaller communities, has been implemented. Learn more and be sure to join or renew today!