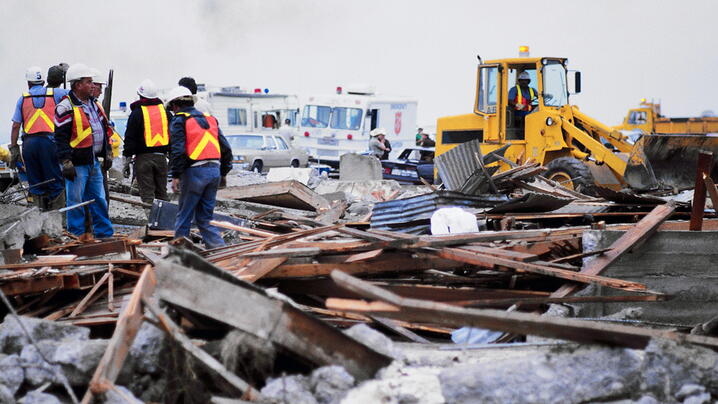 Sponsored content powered by WizeHive.
The United Nations Office for Disaster Risk Reduction predicts global disaster events will increase by 40% by 2030. Grant makers need to provide responsive and flexible support to address this growing need.
Establishing response processes and tools before a crisis occurs is crucial to having the greatest impact. Planning ahead will enable strategic and responsive aid while supporting pre-award due diligence and post-award impact data.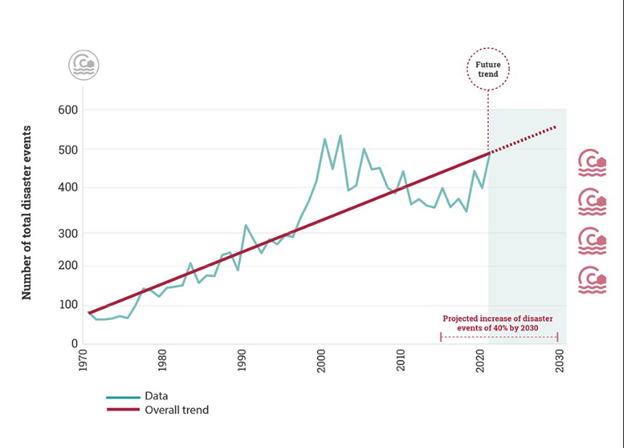 Source: The United Nations Office of Disaster Risk Reduction
Assess Existing Needs and Resources
Practicing responsible stewardship includes laying the strategic groundwork for aid before a crisis hits. By identifying infrastructure needs and combating emergent threats, you can better support communities both before and after the crisis.
Before the crisis it helps you identify infrastructure needs and combat emergent threats to life and livelihoods.
After the crisis it lets you focus on processing applications and awarding funds equitably and quickly.
Start by conducting a vulnerability assessment to understand the existing exposure and resources. The goal of a vulnerability assessment should not be to predict every eventuality (because you can't). Rather, the goal of a vulnerability assessment should be to inform disaster response strategies and establish communication and cooperation among stakeholders.
Simulating disaster scenarios during your vulnerability assessment is a great way to identify potential gaps in preparedness and response. As you move through scenarios, formulate a hierarchy of needs and wants with community stakeholders and create a list of resources at the federal, state, and local levels.
Create a Deployment Plan for Efficient and Equitable Action
In times of crisis and disaster, a well-prepared and effective response is crucial to supporting and aiding affected communities. As a grant maker, establishing a strategic deployment plan can help ensure your resources are utilized efficiently and equitably.
Determine What Your Grant Capacity Will Be
Start by referring to the needs and resources you identified during the vulnerabilities and then determine your funding capacity.
Be certain to identify (a) what you are equipped to provide in terms of grant types and funds and (b) what areas are aligned with your mission. By planning ahead, you can more effectively manage resources and distribute them equitably without overextending your organization or failing to follow through on promises.
Consider the Types of Grant Programs Needed
The unpredictable nature of crisis response means you must be highly adaptable and timely to be effective. This may include segmenting funding so that portions are available for immediate needs and medium-term and long-term goals, rather than all at once.
To offer the most comprehensive aid possible, it's important to have both proactive and responsive grant programs.
Proactive grant programs provide strategic funds ahead of a crisis that enables the community and response organizations to be prepared when a disaster strikes.
Responsive grant programs provide funds during or after a disaster. They are used to supporting organizations rebuilding after disasters and first responders on the front lines.
Collaborate with the Local Crisis Relief Network
Working with other organizations ultimately furthers your impact and effectiveness. Collaborating with local crisis relief agencies and non-governmental organizations will help you:
Understand their existing capabilities (as mentioned above).
Gain context on potential applicants.
Develop a network of organizations to notify of funding opportunities.
Connect with prospective applicants and proactively educate them on your offerings and process.
Identify a team of knowledgeable application reviewers.
Create a collective disaster response plan with other organizations.
Accelerate Responsiveness with Flexible Grant-making Solutions
Implementing a grants management system that accelerates processing and disbursement is never more critical than in disaster responsiveness.
Reduce Applicant Barriers
There are often conversations about equity in grant-making, but they are typically reserved for after the application is submitted. To be truly equitable, grant makers also need to remove applicant barriers at the front end of the process.
Streamline the Review and Disbursement Process
Efficiency and effectiveness go hand in hand. Even with a streamlined review process, a convoluted disbursement process could hinder the immediate impact of grants. And so, optimizing the review process in tandem with the disbursement process is the best way to ensure quick and effective aid in a crisis.
Simplify Reporting
Reporting can pose a significant challenge in an emergency, as responders will likely be unable to gather the type of information they would collect in more conventional circumstances. Still, accounting for the awarded funding is crucial for demonstrating impact and continuing operation.
To make this less of a burden on grant recipients, consider what data you truly need to show impact and be accountable for disbursed funds. Then, implement a secure, cloud-based reporting system that is simple yet comprehensive for both the grant making team and the grantees.
Launch your bespoke grant-making platform in just 10 weeks with WizeHive
Here at Wizehive, we like to think we're a bit of a unicorn. We've married all the flexibility and customization of a bespoke solution with the turn-around time of a pre-built solution. Because we get it. The work you're doing in the world is important, and it's happening at the speed of light. You can't wait for 6-12 months while someone builds a tool to help you improve lives today.
We believe at our core in being the change you want to see in the world, and that starts by having the right tools to do it. Book a demo with one of our social impact engineers to get the tools you need before the next disaster hits. 
New, Reduced Membership Dues
A new, reduced dues rate is available for CAOs/ACAOs, along with additional discounts for those in smaller communities, has been implemented. Learn more and be sure to join or renew today!