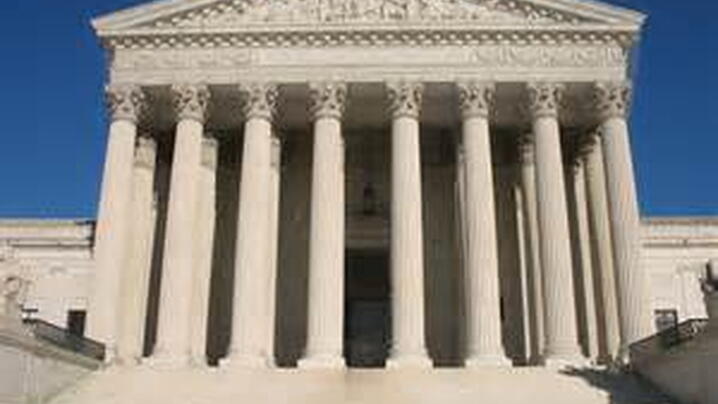 In a 6-3 decision in Thompson v. Clark the U.S. Supreme Court held that to demonstrate a favorable termination of a criminal prosecution in order to bring a Fourth Amendment malicious prosecution case a plaintiff need only show that his or her prosecution ended without a conviction.
Larry Thompson's sister-in-law, who lived with him and suffers from mental illness, reported to 911 that Johnson was sexually abusing his one-week-old daughter. Thompson refused to let police in his apartment without a warrant. After a "brief scuffle" police arrested Thompson and charged him with obstructing governmental administration and resisting arrest. Medical professionals at the hospital determined Thompson's daughter had diaper rash and found no signs of abuse.
Before trial the prosecutor moved to dismiss the charges and the trial judge agreed to do so without explaining why. Thompson then sued the officers who arrested him for malicious prosecution under the Fourth Amendment. Per Second Circuit precedent a malicious prosecution case can only be brought if the prosecution ends not merely without a conviction but with some affirmative indication of innocence.
In an opinion written by Justice Kavanaugh the Supreme Court disagreed with the Second Circuit and held that a Fourth Amendment malicious prosecution case may be brought as long as there is no conviction.
Thompson brought his Fourth Amendment malicious prosecution case under 42 U.S.C. §1983, which was adopted in 1871. This federal statute allows state and local government officials to be sued for money damages when they violate constitutional rights. One of the elements of a malicious prosecution claim is "favorable termination" of the underlying criminal prosecution. The other elements include whether the prosecution was "instituted without any probable cause" and was motivated by "malice."
According to the Court, to determine what favorable termination entails—a prosecution ending merely without a conviction or instead with an affirmative indication of innocence—the Court had to determine what courts required in 1871. The parties "identified only one court that required something more, such as an acquittal or a dismissal accompanied by some affirmative indication of innocence." So, the Supreme Court reasoned, no conviction is enough for a prosecution to be favorably terminated.
Thompson described his claim as malicious prosecution under the Fourth Amendment and the Court treated it as such. The SLLC amicus brief in this case argued Thompson was really making a false imprisonment claim under the Due Process Clause. Favorable termination isn't an element of a false imprisonment claim. Dissenting Justices Alito, Thomas, and Gorsuch agreed and would have held malicious prosecution claims can't be brought under the Fourth Amendment.
According to Justice Alito, writing for the dissent, reasoned "the Fourth Amendment and malicious prosecution have almost nothing in common." The Fourth Amendment prohibits "unreasonable searches and seizures." Such claims don't involve a prosecution, malice, and are "not dependent on the outcome of any prosecution that happens to follow a seizure." Likewise, "[s]ince a malicious-prosecution claim does not require a seizure, it obviously does not require proof that the person bringing suit was seized without probable cause."
The SLLC amicus brief was joined by ICMA, National Association of Counties, National League of Cities, U.S. Conference of Mayors, and International Municipal Lawyers Association.
New, Reduced Membership Dues
A new, reduced dues rate is available for CAOs/ACAOs, along with additional discounts for those in smaller communities, has been implemented. Learn more and be sure to join or renew today!