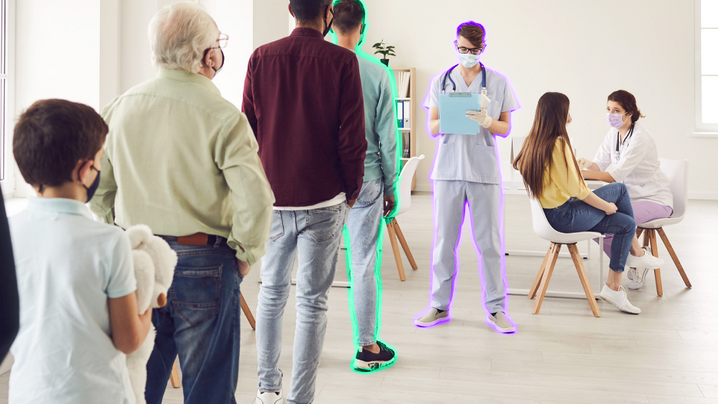 Sponsored Content Powered by Zencity
As a data analyst at Zencity, I've spent the past two months studying resident feedback from across the United States – in communities large and small – on how vaccines are being locally distributed. The vaccination distribution strategies run the gamut from mass vaccination centers to drive-thrus; on a first-come-first-serve basis or by-appointment-only; via registration by phone or by website.
Although distribution operations vary, what I have consistently seen in the data is a few very specific pain-points, voiced directly by citizens. Despite the wide-variety of approaches, there are some common themes of what isn't working well in vaccination distribution.
What follows are four, strategy-agnostic pain points we identified in our data that have helped local leaders better understand their communities' response to their vaccine rollout efforts, and as a result, streamline their efforts to be even more effective.
1. Making a vaccine appointment is a challenge for residents - be it online or by phone - so the more ways you can offer vaccine sign ups, the better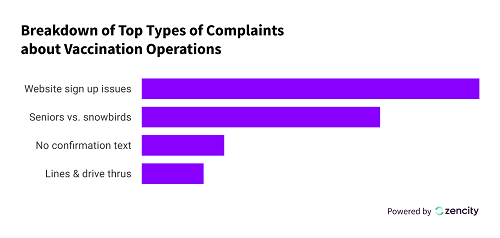 The biggest pain-point seen in our data is around navigating registration systems and securing vaccine appointments. Residents have reported a host of technical issues with online registration and appointment scheduling systems, and also noted that online registration was challenging for senior citizens or people without internet access. 
In cities and counties where a call center was opened, residents complained about not being able to get through and noted that a website was more efficient. 

The feedback shows that there is no perfect registration method. Residents are split in their preferences, with some feeling more comfortable online and others (mostly the elderly) preferring to book by phone. 
In either case, the most common complaint was that the system became overwhelmed and malfunctioned due to high demand. 
The pain-point: 
Technical difficulties with various registration systems, exacerbated by high demand. Some residents expressed concern that having only one method of registration excludes certain groups (including those most in need) from successfully registering. 
What can be done? 
Multiple registration methods allow more flexibility for residents' preferences and capabilities, and may also help with alleviating pressure on the system.
Specifying eligibility criteria (like age, occupation, zip code, etc.) may help limit the number of people attempting to schedule appointments and dissuade non-eligible individuals from burdening the system.
2. Residents signing up for vaccines are left wondering if their registration went through, so either confirm appointments or let people know not to expect a confirmation
Counties in Oklahoma, North Carolina, Florida, and Mississippi have all experienced a similar issue: residents were finally able to navigate the appointment scheduling system but then complained that they didn't receive any kind of confirmation text or email. The result? Further burdening the system to try to get that confirmation.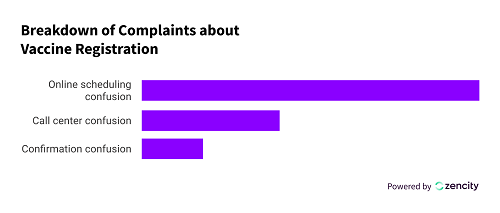 The pain-point:
No confirmation after scheduling an appointment.
What can be done?
There are many technologies that can automate email or text confirmation alerts for those still working on shaping an appointment system.
If your city or county has already decided you won't be sending out confirmations, providing a clear explanation on official channels that no confirmation should be expected and that this does not mean the registration was unsuccessful can preempt confused residents.
3. Residents want to keep updated and be notified about available vaccine slots, but they're confused about how to do so, especially on Facebook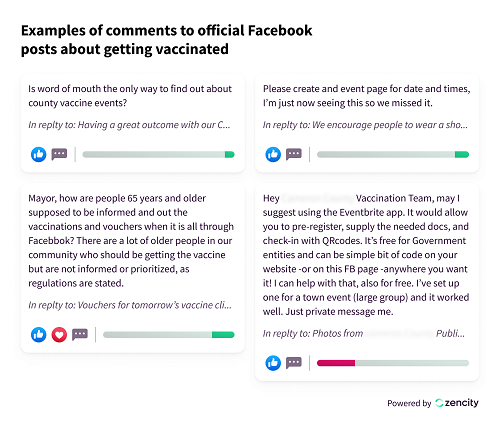 The above two concerns both relate to making appointments but one hurdle that must be overcome is helping residents understand how and when appointments are available in the first place. Information about the vaccine distribution process is everywhere – on official, government-run channels and on unofficial, non-government managed sources alike. Attempts to keep residents updated about when and how they can get vaccinated are proving to be a source of frustration.
One Oklahoma county invited residents to "follow" its Facebook page for updates about available vaccines slots. Instead of making sure they follow the County's Facebook Page for all future notifications and updates, residents mistakenly flooded the post itself with comments saying "following."
In a Texas county, residents complained that the County's social media posts about open vaccination clinics were too easy to miss on their Facebook feeds. Residents asked for the County to create Facebook events for easier tracking and notifications.
The pain-point:
Facebook is a great way to meet residents where they're at and utilize a platform they're already on but local governments need to go one step further. Residents turn to social media for notifications and updates about vaccinations, but technological proficiency and the quick pace of social media feeds make it difficult for residents – both the tech-savvy and the less techie folks as well – to feel confident they are getting new information when it's made available.
What can be done?
Provide very specific instructions on how to follow a Facebook page or any other steps that residents need to take to get information.
Ensure notifications from Facebook pages are prioritized and pinned.
Try using Facebook events instead of posts so that all of the dedicated information about vaccine logistics is in one place and doesn't get buried in a more general page feed.
Overpost – keep the information coming with ongoing and repeated updates (posts and comments alike).
4. Residents are complaining about how accessible and equitable certain vaccination sites are, and are also expressing trepidation about waiting in line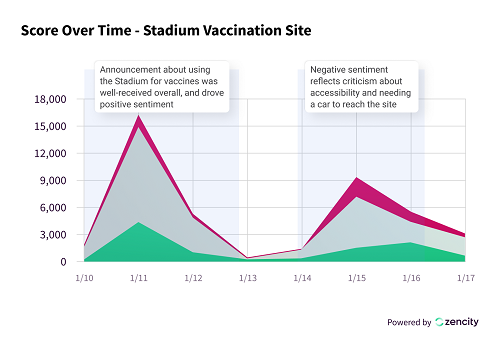 We know local governments are doing their best with quickly setting up mass vaccination operations but unfortunately, there are some things that are being overlooked. In many cities and counties, residents noted long lines and prolonged standing as potential spreaders for COVID19 and as difficult for the elderly, disabled and immuno-compromised to handle. They also require a time investment not everyone can literally afford.
In other cities, after receiving information about available vaccines and successfully registering, residents were dismayed to find out just how inaccessible vaccination sites are. For example in one major city, high negative sentiment was generated by the fact that its main vaccination site was virtually inaccessible by public transportation.
The pain-point:
The accessibility of vaccines is a major concern for residents and plays out both in the physical location of vaccination sites and the ability of residents to stand in long lines in order to get vaccinated. In big cities especially, access to the vaccination site and the convenience of getting there are major factors for consideration.
What can be done?
Diversify the locations of vaccination sites and allow access by bicycles, micro-mobility and public transportation.
Increased reliance on scheduled appointments rather than a first-come-first-serve basis to mitigate long waiting times.
If you do have long-lines, chairs for those less able to stand.
Use volunteers or paid staff (in many cases, residents suggested paying unemployed people to monitor the lines) to ensure that social distancing and precautions are taken.
While there is no single "right" way to go about the immense challenge of vaccinating Americans, the insights that we can garner from resident feedback data have already proven to be instrumental in supporting local leaders in their operations. City and county managers have used data insights to successfully adapt their communication and implementation strategies. In addition, tapping into feedback enables them to harness the power of their community members – those who are on the receiving end of vaccines. Many of my suggestions in this post came directly from the resident feedback I've been lucky to have access to, as well as from our work at Zencity supporting hundreds of communities in their vaccination operations. Whatever strategy your local government entity adopts – we recommend keeping your ear to the ground and some level of flexibility so that we can move on the next phase of this pandemic – recovery.
Find out how Zencity can help your city or county in its vaccine distribution.
New, Reduced Membership Dues
A new, reduced dues rate is available for CAOs/ACAOs, along with additional discounts for those in smaller communities, has been implemented. Learn more and be sure to join or renew today!