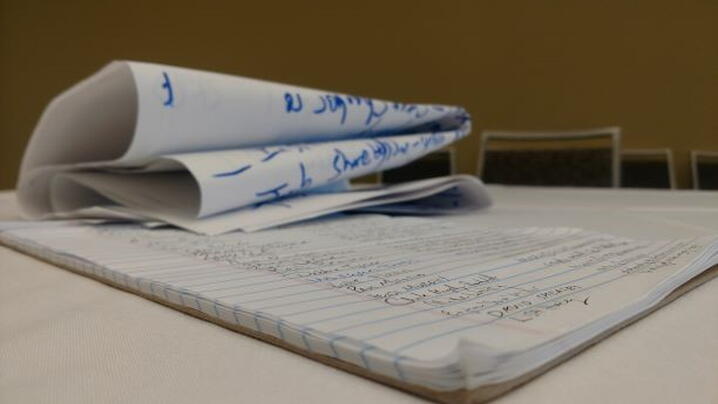 We certainly have come a long way. Nearly a year ago, I opened my first blog post of 2021 with the words, "as one year transitions to another, I like to set time aside time to reflect and to plan." I wrote this in a somewhat aspirational moment—2021, at the time, promised the end of the pandemic, a return to (more) normal operations, and the potential to refocus on development and public service as opposed to COVID-19.
I was convinced that no year would rival 2020 in terms of work/professional-related difficulty and stress. While perhaps not exceeding the heady days of March and April 2020, 2021 managed to mount quite a challenge.
It seems appropriate to close 2021 how I opened it, particularly given that 2022 promises many of the same things 2021 did a year ago. In this entry, I'd like to focus on the reflective aspect of professional development, so let's bring this series in for a landing.
Reflecting on your own development is, without getting too existential, a bit of a trip. I've found it can be useful to have aides or reminders to help the process along. I use my Outlook calendar and notebook as reference, and that works for me because (1) I'm introverted and would prefer to think quietly rather than talk things out, and (2) I write everything down in the notebook or it goes in my calendar (and sometimes both).
From reviewing those two sources, I can say that I've successfully refocused my involvement in professional organizations (ICMA and NACA) and that using them as a vehicle to access others ended up being a good decision. I feel less stretched and more able to take on new challenges or opportunities. I got better at this as the year went on. If you looked at my notebook or calendar for the first quarter of the year, you wouldn't think I was doing so well with the "fewer and better" theme, but by summer, I figured out how to apply the intentionality I was seeking. It was gradual—I didn't and still don't hit every target—and that's perfectly fine!
I have a much more manageable starting point for that theme for 2022 than I did for 2021, and a better framework for prioritizing my development time.
Use aides to help you reflect on your year. How do you like to process information—out loud with a partner, in silence with notes, or somewhere in between?
Look at your year as a whole and acknowledge progress or challenges (or both). What do you notice about your goals and yourself? Are you able to see changes over time between your January self to your September self?
Adjust, adapt, and reset for next year. What worked well for you this year? What didn't? How do you want to spend your time next year? What should be carried over and what can be let go?
Celebrate and share your progress! Be generous when critiquing yourself and acknowledge your success.
And now the cycle begins again. I have a new notebook with some new goals written into it, some old ones that I don't quite have closure on, and some that will be life-long endeavors. What's in your professional development plan for 2022? Give us your examples on ICMA Connect.
---
David Street will be a featured guest on upcoming episodes of Voices in Local Government podcast. Listen and subscribe on Apple or wherever you get your podcasts.