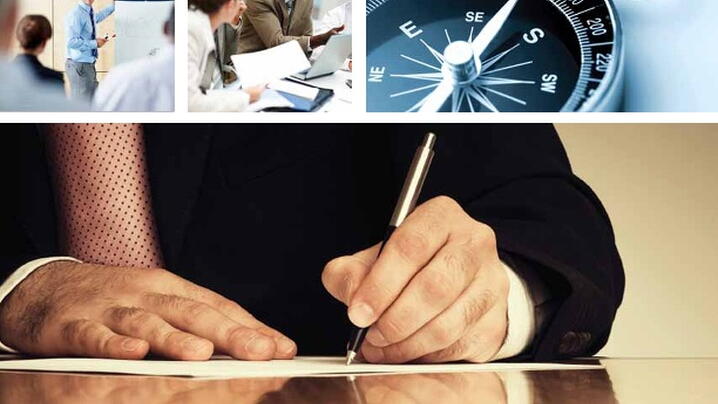 It's hard to believe we're more than halfway through 2021—ICMA Regional Conferences have come and gone, state associations have met in person and virtually, and professional life is starting to coalesce around a new normal more tolerant of flex and telework schedules, electronic meetings, and new forms of citizen engagement. In January, the ICMA Blog published What Is Your Professional Development Plan for 2021?, which shared a few steps I take to plan out my year in professional development. For me, the summer humidity signals a time to check-in on that plan and look toward the second half of the year. This post will build upon the principles, steps, and examples included in the January post, so if you haven't seen it, now is a good time to check it out.
Step 1: Revisit Your Theme
As I reflected on 2020, I picked up on a theme of "fewer and better" for 2021. In short, I saw that I needed to refocus on what matters to me personally and what adds value to my organization with respect to my professional development. The first questions I ask myself to revisit my theme are "How has this theme served me over the first six months of the year?" and "Does this theme still make sense for me now?" If the answer to both questions is a solid "yes"—great! Move on to step two. If not, set some time aside to explore why not and do not be afraid to modify your theme. This is a great opportunity to visit with a mentor or other trusted advisor to dig into what your experiences have been over the year and to gain some perspective. A lot can change in six months—new roles, new priorities, and new challenges. Yes, your theme should reflect your objectives at the time you set it, but it should also be flexible enough to adjust to your current situation and changing objectives.
In general, the "fewer and better" theme has worked well for me so far this year: I've scaled back or changed my level of involvement in some organizations, and I've aligned my work in those associations with other goals. This has let me bring more to the table for those organizations I am involved with. That said, I've also known that diversity, equity, and inclusion (DEI) is a space where I wanted to spend more time and energy (professionally and personally) and I've flexed my "fewer" theme to be able to participate in some DEI opportunities that have come up over the opening months of the year as I've been in the process of scaling back other commitments.
Step 2: Refine Your Goals
A lot of what "fewer and better" ended up meaning was two things: scaling back involvement in some organizations and refocusing that involvement to better match what I want to work on.
Scaling back means I will likely not volunteer for committees or other work in some organizations. As an example, I've come to highly value my experiences working with ICMA and its affiliate, the National Association of County Administrators (NACA). Refocusing through these two groups has allowed me to avoid over-extending myself. Do you have opportunities to maintain or build relationships through one or two organizations you derive a lot of value from?
Refocusing really just means making the most out of the time I've decided to spend. Using NACA as an example, I recently transferred to the communications committee, which is responsible for the organization's publications. Astute readers will recall that, in addition to scaling back by refocusing on a more manageable number of organizations, I also want to spend more time writing. I haven't done a lot of publishing this year, but I'm hoping that this transfer will let me write and engage more across a broader audience and contribute to the profession I've dedicated myself to.
What opportunities do you have to combine your goals?
Step 3: Decide How You Want to Close the Year
Deciding how to close the year comes down to asking yourself a few key questions:
"What am I missing?"
Have you noticed that your development over the year so far has lacked in a specific skill or topic area? What can you do over the second half of the year to fill that gap? Can I find a way to fill that gap that also aligns with my theme(s) and career goals? For me, hard management skills fall into this category.
"What else do I want to do?"
What have you learned or experienced over the first six months of the year that could serve as a springboard for more learning and development? Have you found a passion for or interest in a new topic? For me, this is spending more time in the diversity, equity, and inclusion space.
"What am I in the position to do now that I wasn't before?"
How have you changed over the year? What are you ready for now that you might not have been ready for earlier in the year? For me, this is a willingness to continue to refocus.
So how is your 2021 professional development plan shaping up? Let us know on ICMA Connect!
---
Call for Content
Share your ideas with fellow ICMA members and local government leaders to advance the profession. We're searching for interesting and insightful stories that can help others learn a memorable takeaway to serve their communities better.
Best practices, practical tips, innovative approaches, and lessons learned through success or failure are a few of the methods; PM magazine, ICMA Blog, Voices in Local Government Podcast, and videos are a few of the platforms. 
Whether it's a completed draft ready to submit or an early concept, complete the short form or email ICMA content manager, Joe Supervielle at jsupervielle@icma.org and we'll reply to talk about next steps.