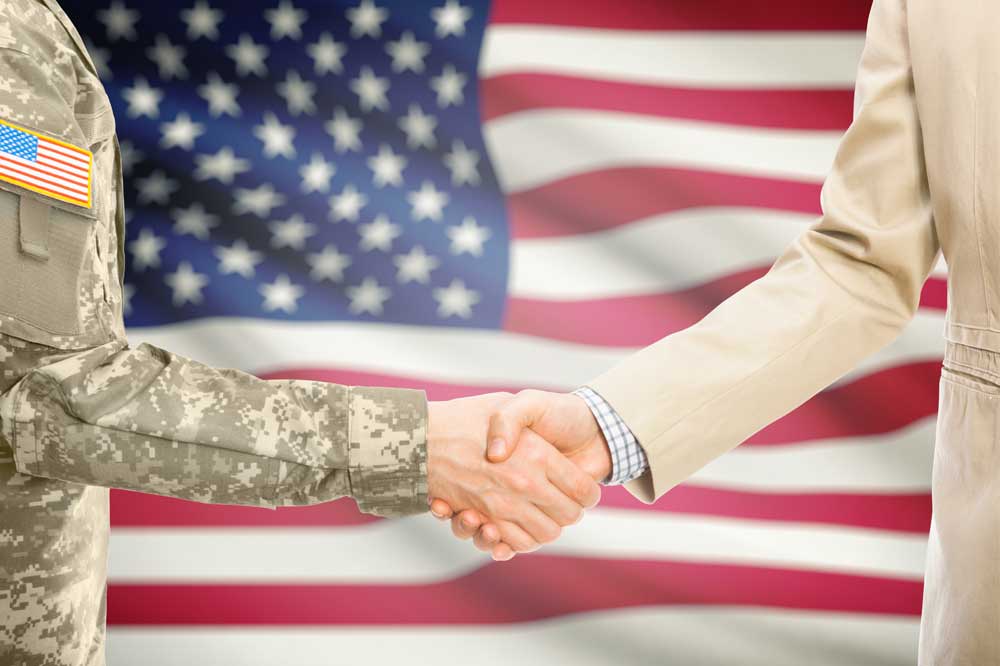 ICMA dedicates this blog post to veterans and transitioning military members. It also provides valuable tips and best practices for anyone trying to land a job in local government. These tips come from the new ICMA handbook, Veterans Guide to Finding a Job in Local Government.
Preparing for the Cultural Shift from Military to Civilian Work Life
Dustin Rief, City Administrator, Orono, Minnesota
A couple of the challenges I had to overcome were the change in my authority and the impact my decisions had and then filling the void. I was in the Army from 1996 to 2007 and rose to the rank of staff sergeant by seven years time-in-service. I was responsible for millions of dollars in assets and numerous people. Shifting from an enlisted E-6 with more than 10 years of service in 2007 to a sales job in aviation did not carry the same responsibilities. There was no personnel to manage; there was little financial responsibility, and my level of responsibility and relevance seemed to be dismantled.
How Do You Overcome This Hurdle?
Manage your expectations and know that much of your life will not be the same, especially at work. What I knew and what the civilian world expected me to know were not exactly in line. I had to use my mind to transition my thinking and lingo out of squad leader and platoon sergeant to manager and division manager. I had to interpret my skills in managing soldiers and aviation maintenance programs into human resource management and capital improvement plans. I had to transition my counseling and NCOER (Non-Commissioned Officer Evaluation Report) writing skills into writing ordinances and resolutions.
I had the skills, I was just not fully aware of how the civilian world needed me to interpret my authority and management of soldiers and programs into the civilian version. I was freelancing it until I figured it out.

What It Means to Fill the Void
There were two primary things that I struggled with early on after I got out. First was camaraderie and second was the need to do or be a part of something greater than myself. It takes time to build camaraderie. It is developed over time by sharing the same experiences in stressful situations and building a bond that only the people who experience that situation can truly understand.
In 2003, for example, shortly after the invasion in Iraq stopped, signs became optional for safety concerns. While blowing through a stop sign was something we joked about then, it is hard for a civilian to relate to what was once a norm. You build camaraderie, those same high-stress situations are not always present with coworkers in civilian life, and most of them do not deal with life and death situations regularly. The goal of finding that camaraderie is still elusive in many cases; however, as I get further away from those experiences those memories fade and new ones take their place.
Now, I go down to the public works garage or the police department regularly just to hang out and get a sense of what is going on on the front lines of local government, this still provides a sense of camraderie and provides some of my reasons for doing what I do.

The second and hardest component of transitioning for me was learning to understand how to become part of something greater than me, greater than profits and high commissions, greater than the need for money. I had the need for being a part of something larger, that directly impacted people. I started by being involved in the local chamber of commerce and volunteering. Then I wrote and proposed legislation to my state senator to update Nebraska's veterans license plate program.
Along the way I found my niche—I found city administration. I was a well-versed jack of all trades with no direction. I had enough training and technical knowledge to understand blueprints and a side passion for sustainability that I found it transitioned very well into city administration. I now work for my third city in five years and have taken my skills and understanding of strategic decision-making and technical expertise and transitioned it into a career.
Local government fills the void for being a part of something greater than just me. Everyday, I have the opportunity to solve problems for people and make them feel that there are people in government that care and that we take our service to residents seriously. I oversee hundreds of millions in assets, have budget responsibilities of more than $12 million, and have 58 full-time employees.
It took hard work and the realization that formal training was required, but overall, local government provides a lot of the same things that the military does: steady pay, decent benefits, stability, camaraderie, responsibility and the abilty to impact people in ways you can't when working for a corporation.

You could be a first responder and save someone's life, unclog a sewer, snow plow a street, or just walk someone through the process of voting for their very first time. Local government is about helping people. In my case, it is the 8,000+ residents of my community.