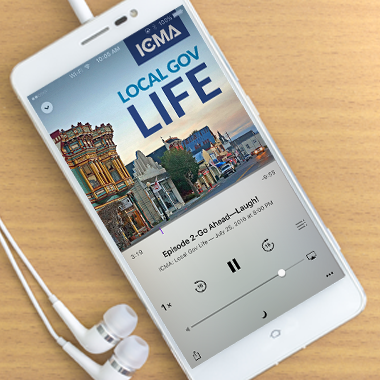 ICMA has created a series of podcasts with insights from local government leaders on how to create a Life, Well Run.
Host Rob Carty, ICMA's director of career services and next generation initiatives provides a narrative for Local Gov Life that guides listeners through each episode and can give aspiring local government leaders a great idea of how their careers may develop.
Recently published Episode Three takes an in-depth look at the economic development strategies of the three communities that are trying to reinvigorate downtown districts.
Episode Two explores humor in the workplace as an effective leadership tool and includes stories from two city managers and American University Professor and author, Patrick Malone, Ph.D.
Community volunteerism was the topic of the inaugural Episode One and explores several angles including an innovative local program in Fairfax County, Va., and the value of volunteers contribute to a city. You'll  also hear how volunteering enriches the lives of two speakers as well.
Visit ICMA's podcast page and don't forget to subscribe to future episodes.