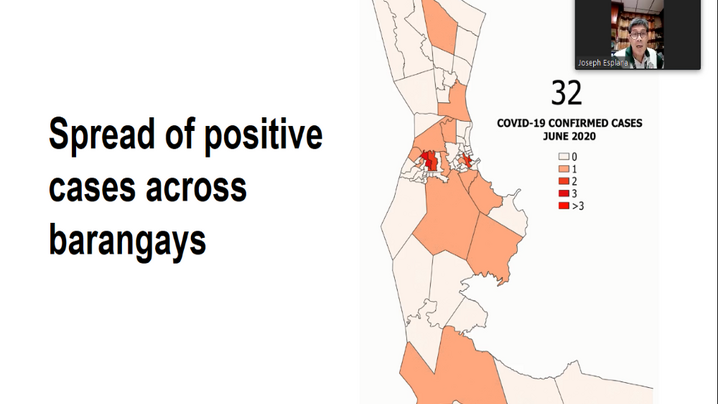 Edited by Rojessa Tiamson-Saceda; contributions by Rosalinda Paredes, Ronnesa Rollorata, and Marie Antonette Janer
 
The U.S. Agency for International Development (USAID) hired ICMA to implement the SURGE project in Philippine cities to improve local capacity in inclusive and resilient urban development, improve local economic development, and expand economic connectivity and access between urban and rural areas. Here's an update from two cities in the program.
Tagbilaran City holds webinar on "Transitioning to a Low-Touch Economy"
With the negative impacts of the COVID-19 pandemic on the local economy, city governments had to find ways to adapt, innovate, and reinvent to transition to the new normal. With its continued support to Tagbilaran City, USAID's Strengthening Urban Resilience for Growth with Equity (SURGE) project hosted a webinar on August 26, 2020, "Transitioning to a Low-Touch Economy," to discuss the reopening and restarting of the city's local economy.
Around 65 participants learned ways to apply low-touch economy to resume business operations in the new normal scenario. Michael Caňares, strategy advisor of Step-Up Consulting, served as the main resource speaker and explained that the low-touch economy is the way businesses around the world are currently operating to cope with COVID-19 and succeed despite the health crisis. Low-touch economy is the term used to describe an economy that does not depend on physical contact between customers and sellers and utilizes accessible platforms to facilitate online sales. To mitigate health risks, businesses are adapting to strict policies and safety protocols and measures, including "low-touch" interactions, limited gatherings, and travel restrictions.
Tagbilaran City Mayor John Geesnell Yap II and USAID/SURGE Chief of Party Serge Andal Jr. gave opening remarks with inspirational messages. A panel of reactors joined the session including the president of the Bohol Chamber of Commerce and Industry; the president of the Bohol Association of Hotels, Resorts, and Restaurants; the chair of the Provincial Tourism Council; auditor of the Bohol Alliance of Non-Government Organizations; and vice president of the Bohol Federation of Travel and Tour Operators. Cities need to strike a balance between health and safety priorities and economic concerns as the local economy reopens in the midst of the continuing threat of COVID-19.
Legazpi City government presents COVID-19 Response and Economic Recovery Plan to stakeholders
In times of crises such as the COVID-19 pandemic, a response and economic recovery plan can help cities and communities ensure the well-being of its citizens and reestablish competitive local economies. On August 25, 2020, the Legazpi City's Technical Working Group presented the COVID-19 Response and Economic Recovery Plan to stakeholders through an online forum. The plan was formulated with the technical assistance of USAID's SURGE project, in collaboration with city department offices, and with representatives from the private sector and local barangays. It outlines strategies and interventions to guide the local government in capacitating the health and economic sectors to achieve equitable health outcomes and economic revitalization.
These strategies and interventions were identified through analysis of Legazpi City's COVID-19 situation, risks, responses made, and local health capacity adapted from the Department of Health's Capacity Standards, National Action Plan on COVID-19, and Bicol Region's COVID-19 Rehabilitation and Recovery Plan. During the presentation, the private sector applauded the city government's efforts, having seen the identified programs and activities that are already being implemented this year and those proposed for 2021.
The presentation was attended by Legazpi City Mayor Noel Rosal, members of the local development and disaster risk reduction and management council, and representatives from the private sector through the Albay Chamber of Commerce and Industry and Legazpi City Tourism Stakeholders Council. The city government intends to finalize and adopt the COVID-19 Response and Economic Recovery Plan in September 2020. The COVID-19 response and economic recovery plan is the city's blueprint for a strengthened response and economic recovery mechanisms that will be operationalized by identified programs, projects, and activities.
New, Reduced Membership Dues
A new, reduced dues rate is available for CAOs/ACAOs, along with additional discounts for those in smaller communities, has been implemented. Learn more and be sure to join or renew today!