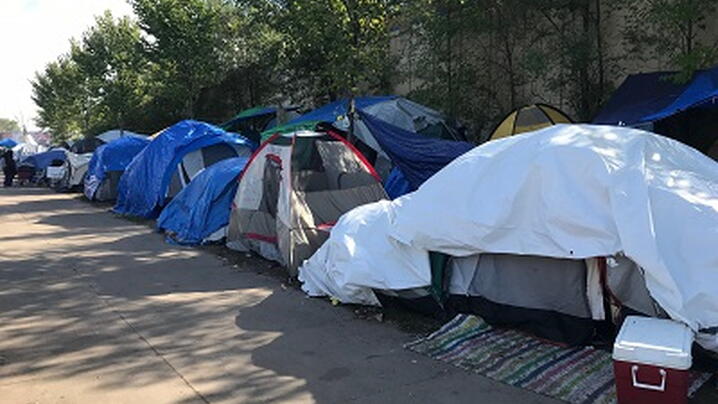 On any given night, up to 400 people in the city of Minneapolis, Minnesota (pop. 422,330), are homeless, according to CBS affiliate WCCO. Among those, roughly 50 individuals had been living in a "tent city" encampment at the intersection of Franklin and Hiawatha Avenues. To address this growing problem and benefit a severely underserved population, the city recently launched an unusual experiment.
On December 11, Minneapolis Public Radio reported that the city of Minneapolis had opened "a different kind of temporary shelter." The new, no-cost "navigation center" that enabled individuals to move from a homeless encampment on land owned by the Minnesota Department of Transportation. The cluster of three tent-like structures currently house 135 individuals and provide plenty of on- and off-site storage so that people aren't required to abandon their belongings before moving in. Pets are also welcome.
In addition to providing basic shelter, the goal of the new navigation center is to quickly move people into "long-term supportive housing or drug and alcohol treatment." Most of the barriers created by traditional shelters, such as strict check-in and check-out times and the requirement that individuals be sober or have clean criminal records, have been eliminated, although active drug or alcohol use on the premises is prohibited. The navigation center structures cost the city $617,000 plus an additional $700,000 for environmental clean-up and other site preparation. The Minneapolis City Council approved up to $1.5 million for the cost to build the navigation center and lease land from the Red Lake Nation for the cost of the property taxes owed during the time the land is in use.
Officials expect the navigation center to stay open for about six months, as Red Lake Nation plans to break ground on the site for a 109-unit, low-income apartment building in June 2019. Using a state-based resource called Housing Support, tribal leaders have also contracted with Avivo, a nonprofit organization for the chronically homeless or those with a mental or physical disability, to help house people from the encampment.
To learn more about the history of the Minneapolis Franklin/Hiawatha Encampment and its new navigation center, visit https://www.franklinhiawathacamp.org.