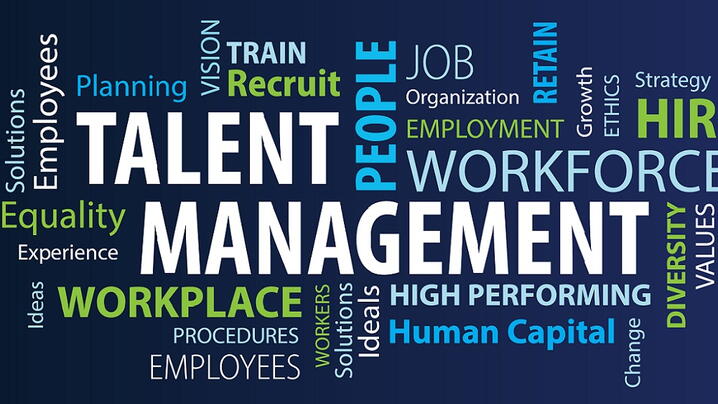 Now, more than ever, businesses and local governments are realizing that their success hinges on the people who work for the organization.  As such, it is critical that managers emphasize that important component of their human resource work called talent management.
Talent management is defined as an organization's commitment and development of work processes and systems to effectively recruit, hire, retain, and develop not only the most talented employees in the job market, but those who best complement the organization that is recruiting them.  An important way of looking at this definition is that talent management is a strategic approach that is applied by the organization throughout the life cycle of the employee while he/she is with the organization.
Talent management is not a contemporary term designed to replace traditional organizational human resource functions.  In fact, talent management should be looked at as one piece of a comprehensive human resource system, all components of which need to be operating at their best to attract, develop, and retain your key staff members.
Talent Management or HR?
In his blog, "What Is Talent Management and How Is It Different than HR?", Brian Westfall explains this concept further by breaking down the components of an HR system that include:
HR Administration: traditional back office HR functions, including employee data management, payroll, benefits, grievance processing, and safety.
HR Service Delivery: communications with employees, including the use of in-house intranet, newsletters, meetings, etc.
Talent Management: your HR strategy designed to recruit and maintain quality employees, including attraction, recruitment, retention, and development of employees.
Workforce Management: the organization and scheduling of your employees, including budgeting and scheduling to optimize productivity and resources.
Effective Strategies
Effective talent management goes beyond simply managing core tactical HR processes and requires leadership and organizational strategies around such important functions that attract and retain the types of employees you seek: 
Effective, modern recruitment planning, including innovative approaches to job descriptions, promotion, application materials, interviews, credential review/background checks, offer, and acceptance.
Contemporary onboarding processes, including those designed for today's virtual world.
Meaningful goalsetting and everyday feedback for employees by managers.
Real coaching and relationship building efforts by managers.
Formal feedback systems, such as performance management or an appraisal process.
Targeted and ongoing employee development in areas that develop both leadership and technical skills.
Interesting approaches to promotions, lateral moves, and transfers that continue to build upon the personal and professional growth of employees.
Fair employee termination by choice of the employee, or for cause by the employer, with feedback to assist both the employee and employer in the future. 
On-Demand Webinar Highlights
In a recent ICMA Coaching Program webinar, talent management was discussed by three local government professionals and ICMA members—Josh Franzel, president and CEO of the Center for State and Local Government Excellence; Victor Cardenas, assistant city manager, Novi, Michigan; and, Dominic Lazzaretto, city manager, Arcadia, California--all of whom have personal experience and success with talent management in their own organizations. The panelists shared some great advice for local government professionals.
The Center for State and Local Government Excellence identifies the following as the top workplace issues of 2020:
Competitive compensation packages.
Recruitment and retention of qualified personnel with needed skills for public service.
Employee morale.
Employee engagement.
Employee development in leadership.
General employee development.
Workforce succession planning.
Diversity and inclusion.
How to manage workload when current staff is at their limit and new staff cannot be hired.
Staff turnover.
These issues point directly to the need for a more comprehensive, strategic approach to talent management in our organizations today.  Simply providing competitive wages and a basic employee benefit package is no longer enough to address these more complex issues facing employers today.   
In exploring some of the concepts of strategic talent management, SLGE also found the following as the most appealing nontraditional benefits among public school employees:
Flexible work scheduling.
Continuing education and training programs.
Employee assistance programs (providing confidential support for issues such as stress, substance abuse, depression, and anxiety).
Tuition assistance programs.
Physical wellness programs.
Of these top five, only 49% of local governments offered continuing education and training programs, 46% offered employee assistance programs, 35% offered physical wellness programs, 23% offered tuition assistance programs, 12% offered flexible work scheduling, with 18% offering none of the above benefits.
It is important to note that the COVID-19 pandemic proved to be both a challenge and an opportunity for local governments to look at alternative work conditions and schedules. A May 2020 survey by SLGE saw 71% of surveyed local governments with employees working remotely some to all of the time during the early phases of the pandemic.
The post-pandemic era will likely show a very different look to work in many businesses, including local governments—a condition that many organizations stumbled upon in their response to COVID-19. It is important that managers adopt a more proactive approach to workforce management issues, and not rely on crises to encourage a different approach to work, instead, looking to benefits and work schedules that appeal to the workforce of today and tomorrow.
In addition to employee-focused benefits, employers interested in developing a talent management program must also look to practices that improve their organizations, including succession planning.   Unfortunately, succession planning is not as high a priority as it should be in local governments.   SLGE studied this issue and found the following barriers to succession planning:
37% felt it was not a leadership priority.
19% lacked internal expertise to develop a succession strategy.
12% lacked financial resources to develop a succession strategy.
5% generally felt that the organization did not need a formal succession plan.
Internships were also identified as a key strategy for talent management/workforce development and, when done appropriately, can help to prepare our next generation of local government managers. Novi, Michigan, has an intern program designed to introduce young professionals/students to the types of work that is done each day by local government managers. Rather than assigning a low-level research project, the city provides real-life experiences in city meetings on labor negotiations, candidate interviews, budget review sessions, and city council meetings. Interns also spend one-on-one time with senior managers in the organization and are immersed in the day-to-day work of the city's key departments. They are also afforded the opportunity to be involved with community residents and in various professional development organizations, including ICMA.
Arcadia, California, discussed its talent management program, which was designed to retool hiring and onboarding practices to better attract and launch top-tier talent in the organization. Key strategies of this program include:
More presence/partnerships with universities to identify young talent interested in the local government profession.
Retooling of job announcements to be more appealing to today's youth and to brand your organization as a forward-thinking city that is an incubator of talent.
Increase the communication, speed, and ease of the hiring process.
Utilize employee testimonials/videos to focus on the city's competitive advantage.
Eliminate experience requirements for entry level jobs.
Interview for future fit vs. experience of the candidate
Adoption of a "buddy program" for new hires, as well as emphasize coaching for success for all staff.
Emphasize organizational values.
The city's work in these key areas has resulted in quicker and more efficient hiring processes, increased internal satisfaction with hiring processes, and greater new hire satisfaction with the organization, largely because the city stretched its focus from tradition human resource functions alone to building a true model of talent management.
Priority for Managers
In today's environment, local government managers must focus on the important topic of talent management. Your HR staff can provide support, training, and backup in many of these functions, but the truly effective work in planning for the new staff member, attracting quality staff members, and providing feedback, encouragement, and development opportunity to ensure the new employee's success and retention, must come from the employee's manager/supervisor. 
Managers must recognize the importance of this work, spend time doing it, try different approaches, and measure outcomes to see if they are on the right track. Talent management is work that every manager needs to take seriously for, with the changing needs of our workforce and competition for the best people, this work is that important.
View the Webinar
The archived 90-minute webinar on Talent Management in the 21st Century:  Growing, Attracting and Retaining Your Best is available on-demand, and learn more about ICMA's Coaching Program.
New, Reduced Membership Dues
A new, reduced dues rate is available for CAOs/ACAOs, along with additional discounts for those in smaller communities, has been implemented. Learn more and be sure to join or renew today!