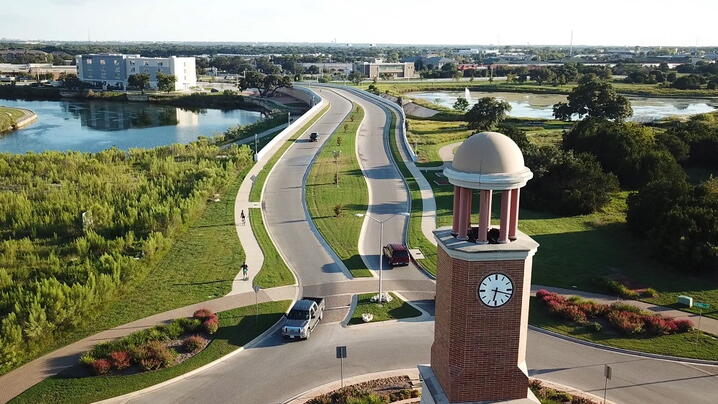 The city of Cedar Park, Texas, borders north Austin Cedar Park, has about 84,000 people in its city limits. and more than 480 full-time city employees. Like cities and counties across the country, Cedar Park has had to make substantial changes in operations to manage the challenges that COVID-19 have presented. The greatest challenges we faced were having to shutter facilities, modifying work environments, ramping up telework situations, keeping our workforce feeling connected to the organization, and preparing everyone for the eventual return to their onsite work environments.
To manage the crisis that the pandemic created, we developed a high-level plan to prepare the organization to resume operations as quickly and safely as possible. The plan required attention to three interrelated outcomes: (1) support our people, (2) prepare our facilities, and (3) develop relevant policies and procedures. Our ultimate goal was to ensure that our facilities provided a safe, clean, and healthy work environment so that our employees could return. A strategic communications plan supported the entire effort.
We are now able to reflect on the plan and lessons learned so that we are better prepared for similar challenges in the future.
Support Our People
The vast majority of our workforce is unable to work from home, most notably public works, police, and fire. However, others may easily adapt to a work-from-home environment, such as finance, engineering, and IT. We realized from the start that we had to support all of our employees and the unique challenges they faced based on their specific work environment.
For those who remained working in the field, making sure they had the necessary safety equipment was essential. We identified their needs and immediately provided appropriate personal protective equipment and were able to leverage relationships with our local business community to support this effort.
With schools closed and daycare opportunities limited, we organized a city-run daycare program for staff who needed childcare support. We reassigned employees from closed public facilities, such as our recreation center and library, to run the program, which also provided employment opportunities for those who otherwise may have been furloughed.
Recognizing the added stress our in-the-field staff faced due to the heightened risk of contracting COVID-19, we found ways to show appreciation for their work. For example, we held a breakfast taco party one morning for them to pick up breakfast before heading to their jobs.
For those working from home, we realized the biggest challenge would be making certain they felt connected to their teams and the organization. So, we created fun activities to bring people together in a virtual space. For example, we produced a video showcasing various employees in their "at home" workspaces. We also held a photo contest encouraging staff to show how they stayed connected while being physically apart and how they entertained their children while working at home. Work teams found ways to encourage people to take a break from work and enjoy the company of their fellow employees.
Prepare Our Facilities
We recognized right away that until employees feel their workspaces are safe, they will not want to return to work. For those who continued reporting to the work site each day during the shutdown of normal operations, we had an obligation to provide them the cleanest, healthiest, and safest facility possible. We viewed the cost to modify facilities as worthwhile investments in our employees and our community. Ultimately, we sought to protect the health and well-being of our employees and citizens who use the facilities, while also ensuring better continuity of operations should the virus resurge.
Prepping our facilities began with an informal readiness audit of every city facility. We evaluated and identified changes needed to reduce touchpoints, increase cleanliness, allow for physical distancing, and control access. We mobilized our purchasing personnel and facilities staff to acquire and install hundreds of arm-pulls and foot-pulls for doors, hand sanitizer dispensers, physical distancing floor markers, touchless faucets, and plexiglass shields for workspaces and front desk counters. Everything was rush-ordered and installed within a few weeks.
We considered all of our vehicles, including police units and public works vehicles, as "office spaces," ensuring cleaning protocols, supplies, and use practices were put in place.
We created a block captain program for each office area to serve as the departmental point-of-contact for information on new policies and procedures. They also are responsible for maintaining communal cleaning supplies for employees, in addition to enhanced professional janitorial services.
Develop Relevant Policies and Procedures
Some staff cannot perform their jobs remotely, while others are able to transition rather easily to a work-from-home environment. Like most municipal governments, we were not set up to allow for working from home, so the following were essential for successful telework.
We established a basic Human Resources Work-from-Home Policy, for general guidance and requirements.
We established guidelines for daily health checks at the front door of work sites upon starting a shift.
We developed a process for employees with higher risk health factors to modify their job conditions to help keep them healthy.
We also provided guidelines for meetings, encouraging virtual meetings unless it is necessary to meet in-person.
Last, we launched mandatory health and sanitation training for all staff.
Supported by a Strategic Communications Plan
We knew from the start that our employees would grow frustrated and feel disconnected if we did not stay in regular communication with them. We conducted virtual meetings with our city manager and entire workforce, allowing questions submitted in real time. We provided signage at facilities, email updates, and e-newsletters from city management, as well as training videos featuring our facility changes.
Another key component was to communicate what the organization expected of its employees: a safe workplace is a partnership. Throughout all of our communications materials, we wove the message, "Here is what we are doing to make work a safe, healthy, and clean place—and here is what you need to do to help." We clarified that employee behavior—both at work and at home—would directly impact coworkers and the public.
Whether employees were returning or remained onsite throughout the closures, we provided everyone a "welcome back" package that included a travel mug, hand sanitizer, personal tissues, and brochure on how employees are expected to partner with our organization to help ensure a healthy workplace.
What Worked
We learned that having this master plan worked as a guiding principle, but employees with guidance from their management were ultimately in charge of determining how best to carry out their mission.  This was far more productive than delegating the plan to human resources or department directors to execute.
Prioritizing time spent communicating with employees was a wise investment. It allowed us to keep a pulse on the needs and morale of employees.
Some of our most valuable insights into employees' fears, concerns, worries, and needs resulted from conducting an anonymous survey, which helped inform and guide our return-to-work plan.
Last, providing training to supervisors for how to manage a remote team proved invaluable, as this was a new experience for most.
What We Would Do Differently
In retrospect, we learned that we must be even more thoughtful about how employees are reintegrated into their office environments after working remotely should we find ourselves in a similar situation in the future. While we did a gradual reintroduction, we found that a percentage of our employees preferred working at home and were reluctant to return. We wish we had more clearly communicated from the onset why working from home would not be a permanent option for employees.
We also must make our human resources policies easier to understand. While these policies must be written in certain HR terms and legalese, we learned that we should develop more "cheat sheets" to making them clearer to our workforce. We found that many of our employees are not accustomed to regularly reading comprehensive policies, and it was difficult for them to quickly reference how our COVID-19 operations could impact them from a policy standpoint.
During the beginning of the pandemic, when stress levels and uncertainty were high, we in city management wish we had taken the time to tend to our own mental and emotional health needs. Decision fatigue is very real and can be compounded by a wide range of opinions and emotions depending on the situation. Ultimately, we all worked together to achieve our common goal, but we now wish we had extended some of the care to ourselves. It is important for those of us who are leaders to remember that our well-being is important for the success of our organizations in any situation.
For additional information, visit ICMA's Coronavirus Resource page.
New, Reduced Membership Dues
A new, reduced dues rate is available for CAOs/ACAOs, along with additional discounts for those in smaller communities, has been implemented. Learn more and be sure to join or renew today!