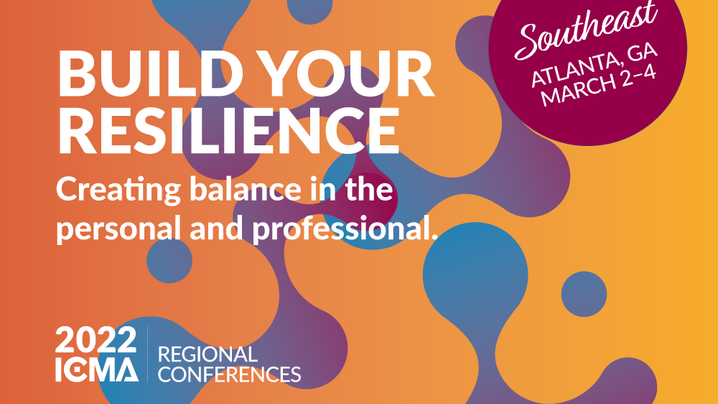 Building your personal and professional resilience was the theme of the ICMA Southeast Regional Conference in Atlanta. Sessions focused on enhancing the ability to bounce back and thrive by offering new strategies, best practices, and creative solutions.
Day-to-Day
Several of the sessions were applicable to my day-to-day work.
First, the opening session focused on mental health, emphasizing concepts and principles of mindfulness. The tips, techniques, and systems received have already been beneficial in addressing stressors at work and how to remain focused. The session successfully elevated the conversation of mental health as employees and community members face mental health challenges small and large, which must be validated.
Second, the sessions on diversity, equity, and inclusion (DEI) provided opportunity for feedback on the language of the Code of Ethics as ICMA addresses equity and social justice.
It was beneficial to hear all sides and opinions. Regardless of an individual's stance, people were given the opportunity to share and listen to one another, which I valued the most.
Besides expanding my own knowledge from sessions, the conference equipped me with tools to share with my colleagues in Pinellas County. The session on brownfields gave me a greater understanding of the steps for successful redevelopment and the strategies, grants, and technical resources available. Although not relevant to my work, I was able to relay it to those who could use it.
Networking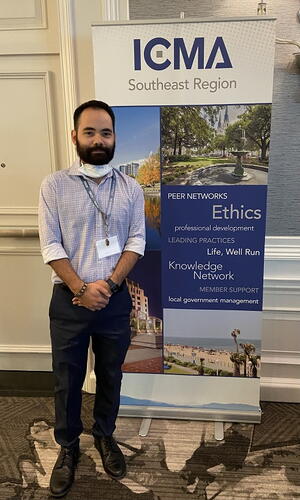 Being able to connect with individuals at almost every single level of local government and even individuals from ICMA was a highlight of my time in Atlanta.
As an ICMA Local Government Management Fellow (LGMF), I was able to meet other cohort members. Being able to exchange ideas and hearing from others about their challenges was invaluable. Such impactful conversations could not have been achieved through a text chain or Zoom call.
When trying to find the session on brownfields, I met two passionate individuals. One worked for the city of Atlanta and the other was a former LGMF Fellow in Decatur. Although we have different jobs, we discovered that we share similar ideals and learned so much from one another. By being at the conference I gained two long-lasting relationships and I am eager to see where our careers will go.
Several city managers and county administrators offered advice and an open line of communication for the future. It was inspirational hearing the challenges they have faced and the passion they carry in their work.
Networking at the conference ended up being the most valuable resource I gained for my career development and growth as a professional. I was given so much insight into careers and what is out there. Already I have been made aware of several opportunities elsewhere and encouraged to apply for them. This one conference alone gave me access to opportunities I otherwise would have never found out about and gave me a greater belief in myself as a leader.
---
Register for the ICMA Annual Conference
Join us September 17-21 in Columbus/Franklin County, Ohio for the 2022 ICMA Annual Conference.
JOIN ICMA TODAY!
ICMA provides the tools, resources and connections to help you become part of the international network of 13,000+ local government management professionals.