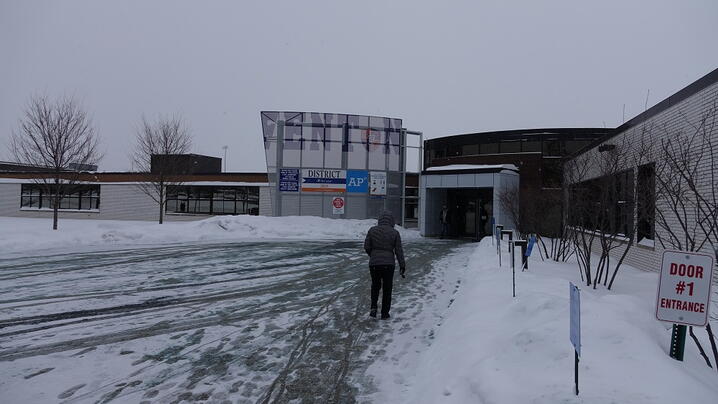 In his speech at ICMA's 1918 annual convention, Richard Childs talks about the importance of proactive discovery and purpose driven creativity when there is a need to act.  
"Someday we shall have managers who have achieved national reputation, not by saving taxes or running their cities for a freakishly low expense per capita, but managers who have successfully led their commissions into great new enterprises of service . . . the great city managers of tomorrow will be those who pushed beyond the old horizons and discovered new worlds of service."  
As he was speaking, the influenza pandemic of the last century was growing in intensity and spreading around the world.    
Over the past year, professional managers have found those new worlds of service, creating innovative solutions and agile approaches for the challenging COVID era. And while innovation and agility has been necessary throughout the pandemic, the ethos that Childs talked about more than a century ago is clearly demonstrated with creative, well-planned programs and events to get shots into the arms of vulnerable populations.  
Oakland Park, Florida: Vaccination Pod for Elderly Residents
Oakland Park, Florida, is a diverse, working-class community, bisected by Interstate 95 and located between Pompano Beach to the north and Fort Lauderdale to the south.  When vaccines became available late in 2020, city manager David Hebert realized the community had a problem. Even as mass vaccination sites were opening in places like Fort Lauderdale, the city manager and his team worried that Oakland Park's residents would be left out or face significant hurdles. Too many of the city's seniors faced an uphill climb because of individual shortcomings in computer literacy or internet access, which is necessary for online registration. Many other residents have personal mobility struggles or faced language barriers.  Some would struggle with transportation to any location. 
Hebert and his team turned its concerns into initiative: "I was worried at first that my community's residents were going to be left out. Then I got angry, and angry can be a great motivator for action if channeled in the right direction."  
Following a conversation with the Broward County health director and commitment for a supply of vaccines, the city planned a closed POD (point of dispensing) site, only open to the community's most vulnerable members.  Six days after the promise of vaccines, Oakland Park opened their POD and began vaccinating 54 and later 72 people per day.  That number has since increased to 144 injections per day as people return for second shots. 
The POD currently operates six days a week from 10:00 a.m. to 2:00 p.m. at a local community center.  More than 2,000 people have been fully vaccinated. The city has received dozens of letters, calls, and emails praising the overall experience. And as testament to its success, many other communities in south Florida have adopted similar approaches based on what they learned and witnessed in Oakland Park.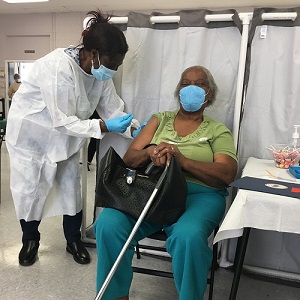 Oakland Park, Fl. Vaccination POD
Bensenville, Illinois: Senior Vaccination Event
Bensenville, Illinois, city manager Evan Summer is justifiably proud of the work of city staff and volunteers that planned and implemented a senior vaccination day. Bensenville is a small town located on the western edge of O'Hare Airport in the greater Chicagoland area.  
After a successful vaccination clinic for first responders and teachers on February 5, 2021, there was a request to do it again for seniors. According to Summers, "Our local healthcare provider called and said they had an allocation of vaccine for our seniors and asked if we could put on a mass vaccination event. Saying no was never an option." 
Time was of the essence.  The clinic had to happen eight days after the request. 
Using lessons learned from the earlier event, the city's team came back together to identify needed changes for a daylong clinic focused on the elderly and raced to secure final commitments for vaccine supply, vaccinators, volunteers, and other staff. 
On February 13, 2021, the one-day event administered 1,500 doses in an 8-hour period. As Summers notes: "It's not often that we get to save lives in this line of work. The vaccination event was emotional for the people staffing the event and for many of the vaccine recipients. There were tears shed by all."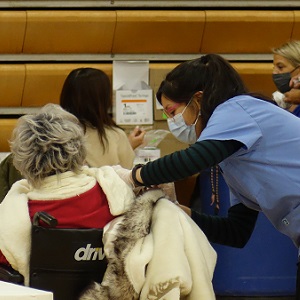 Bensenville, Il. Vaccination Event
Leadership for the Last Mile
In his recent article, Randall Reid, ICMA's Southeast regional director, writes that
As professional managers, we should renew our efforts to assist this national management challenge and build community capacity to see these vaccines make it "the last mile" and into the arms of all our residents.
Going the last mile for elderly residents includes many common characteristics in both Oakland Park and Bensenville. 
Being Proactive. Managers across the state of Florida out of necessity are highly attuned to emergency response and recovery. David Hebert is no exception to that professional mindset common in the Sunshine State: "It can be too easy to say that a challenge like what we are facing is someone else's job. But when the health and safety of your community's residents are at stake, it is our job, and we have to be proactive." Bensenville city manager Evan Summers suggests the same take-charge commitment: "When opportunity presents itself, you have to take it.  We have the moral responsibility, and we have to protect the people we serve."  
Finding Solutions for Square Pegs and Round Holes. Bensenville and Oakland Park both realized that an easy-to-use list of the demographic they wished to target for vaccines did not exist. Both locations used combination of sources, such as senior vehicle stickers, or property owners receiving a senior exemption. Elder support organizations such as the American Legion and Meals on Wheels helped provide names in Oakland Park. 
Professionals Study Logistics.  Operating vaccination clinics requires effective onsite logistics.  Both communities devoted significant time to planning for a smooth operation of a single event in Bensenville, and multiple days in Oakland Park.  Some of the key logistical concerns and solutions in Bensenville included identifying challenges and solutions to overcome them. 
Potential Challenges 

Potential Solutions 

How to help people at the clinic with mobility issues? 

Rent wheelchairs from medical device company 

How to avoid making the clinic a super spreader event? 

Schedule people throughout day 

Utilize vaccinated individuals to staff event when possible 

Ensure masks, sanitizer, and social distancing are applied 

How to support non-native English-speaking population? 

Have bilingual staff members at every stage of event 

What happens if it snows? 

Arrange for continuous snow removal 

Provide helpers to walk individuals from cars to avoid slips and falls 

How to avoid wasting doses? 

Have a rank-ordered, standby list of individuals that can make it to vaccination site within 15 minutes 
For Bensenville's one-day effort, the clinic relied heavily on volunteers (50) that had to be quickly identified, mobilized, and trained, as well as a cadre of professional staff to handle other tasks at the clinic.  
Oakland Park's operational strategy includes a floor plan that maps the flow of customers from parking until the vaccinated are released after the recommended observation. The goal is to get people in and out as effectively and as quickly as possible.  The city has even served cookies and water at the clinic to create additional customer delight for what may still be a stressful experience.  
Connections and Culture Matter.  According to Summers, the successful Bensenville clinic was supported by a multi-agency team culture that was nurtured for many years through working relationships and monthly breakfast meetings. While their community's mass vaccination clinic was put together mainly with city staff, they are planning additional events for other vulnerable populations and are working with a local Catholic church to identify vaccine recipients. Oakland Park leveraged existing civic relationships with local community and nonprofit organizations and institutions to identify and reach the targeted customers of the clinic. Because of good working relationships with other surrounding jurisdictions, Oakland Park started scheduling appointments for vulnerable populations from other communities to use their established POD for vaccination. 
Paying It Forward. Oakland Park has reached out to surrounding jurisdictions and nationally to share their model for vulnerable seniors, vaccination POD. Staff created a YouTube video that walks the viewer through the process that a customer goes through at the Oakland Park POD.  Because of the interest, staff also created a PowerPoint presentation for other local governments.  Bensenville city manager Evan Summers says this experience has reenergized his obligation to share leading practices, especially during difficult times like the pandemic: "If you've had the opportunity to be on the cutting edge of something in this profession, then you have a responsibility to pay the lessons learned forward.  It is the embodiment of Tenant 8 of the ICMA Code of Ethics. Since our successful event I have had numerous calls with other communities that are stepping up to vaccinate their senior populations. It is my hope that even this interview with ICMA will help local managers in vaccinating their residents. It's about saving lives at this point." 
Pushing Beyond the Old Horizons
The COVID-19 pandemic has created a challenging new intersection for local government managers. Local governments are designing and implementing innovative last mile programs for vaccinating their community's vulnerable and challenged residents. Richard Child's words echo through the decades in local government management all around the world. In places like Oakland Park, Florida and Bensenville, Illinois, and many other communities, the "great managers" of Richard Child's distant future—the managers of today—are pushing beyond the old horizons and discovering the necessary new services in this challenging time. 
---
Share your own stories with fellow members on ICMA Connect or with ICMA at covid19@icma.org 
For additional resources, visit our Coronavirus Resource page.
New, Reduced Membership Dues
Beginning October 1, a new, reduced dues rate is available for CAOs/ACAOs, along with additional discounts for those in smaller communities, has been implemented. Learn more and be sure to join or renew today!