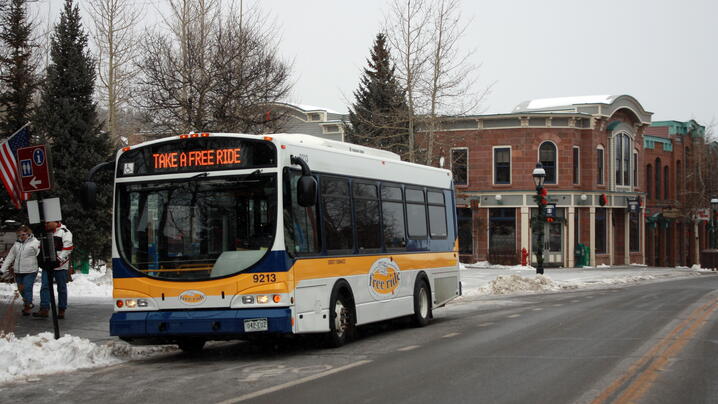 by Haley Littleton, communications, and marketing coordinator, Town of Breckenridge 
In December 2017, the town of Breckenridge's transit system "Breckenridge Free Ride" serviced more than a million riders in one calendar year. For a town of 4,500 residents, the milestone was encouraging in the town's mission to create a more sustainable method of travel, to reduce congestion, and to ease issues around parking.
As a town with limited space and a large number of visitors (nearly 40,000 people during peak recreational times), transit has become a priority for town officials. Breckenridge is working to ease congestion and reduce emissions by improving and promoting transit with smart design, and it is seeing results.
Changing Habits
Changing the habits of residents and visitors is key for increased ridership and reduced congestion on the road. Convincing people to get out of their cars and into transit systems can seem daunting but planning and development can help. As Breckenridge has expanded and added more housing units and neighborhoods, a focus on transit-oriented development was key in giving people an incentive to use transit and convince them that they didn't need a car to get around town.
By increasing routes and the frequency of buses on residential routes, there have been tremendous ridership gains that indicate the changing behavior of the local community. By also placing bus stops at such key locations as grocery stores and the base of the ski resort, there have been large increases in guests skipping the circling for parking and hopping on the bus. The intention is to make transportation so accessible that a car is more of a hassle. This clears up congestion and reduces the emissions in town.
Technology Improvements
Investing in technology improvements has also significantly helped Breckenridge streamline its transit system. By developing the new app "My Free Ride" for Android and iPhone users, transit is easy to track and plan. The app tracks buses in real-time through GPS locators, allowing riders to see all bus stops across town and each individual bus route mapped out. People can easily see where hey are and where they need to go. The app will also link with Google Transit, allowing residents and visitors to plan their trips across the state using alternative methods of transportation. The town also installed LED arrival boards at several stops across town, encouraging riders to wait for their buses and track their arrival. By bringing transit straight to the tips of riders' fingers, local governments are able to promote the ease of public transportation.
Street Design  
For transit to be a viable transportation solution, Breckenridge found that the walkability of the rest of the town plays an important role. By creating an enjoyable walking experience, riders are encouraged to take transit even if their destination is further from the bus stop. A sidewalk masterplan was developed to redesign and widen pathways, install brighter LED lights in street lamps, and add more heated walkways so that people feel comfortable using their feet.
Through slowly changing habits, improving the technology of the transit system, and creating a compatible street design, Breckenridge has seen large-scale gains in ridership. An intentional design of public transportation can solve issues across the board for local governments, including congestion, parking, and sustainability. 
New, Reduced Membership Dues
A new, reduced dues rate is available for CAOs/ACAOs, along with additional discounts for those in smaller communities, has been implemented. Learn more and be sure to join or renew today!