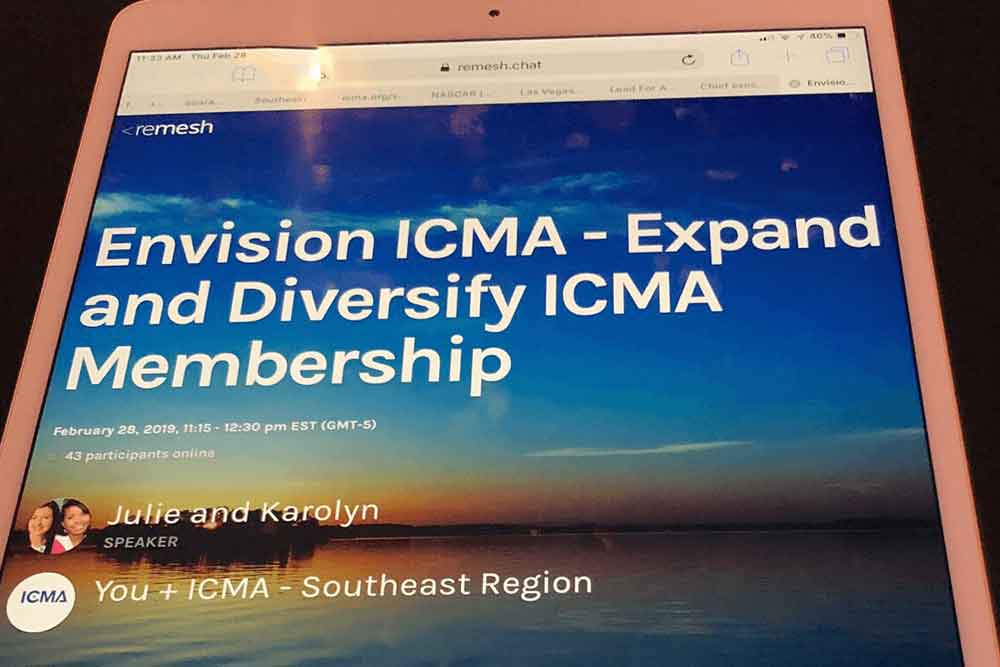 by ICMA President Karen Pinkos, city manager, El Cerrito, California
Greetings from the Southeast Regional Conference, where 200-plus members have gathered to learn, connect, and enjoy each other and our wonderful venue in Greenville, South Carolina! We have had some great conversations on innovation, creativity, and thinking differently. In that context, we've also continued the conversation about the ICMA Executive Board's initiative of expanding and diversifying the membership. You have already seen a few emails from me and one from ICMA Executive Director Marc Ott, along with some posts on social media about a unique opportunity to have members provide feedback to the board through an online focus group. Here at the Southeast Regional Conference, we were able to do a pilot of this online platform and begin the discussion on what we need to do as an organization to fulfill our values of diversity, equity, and inclusion within ICMA.
A little background: the board continues to be engaged in implementing Envision ICMA, our strategic plan. One of the priority initiatives in the plan is to expand and diversify the ICMA membership. As I am a rare type of ICMA President in that I'm only the fourth woman to ever serve in this role, I am committed to continuing this work and to focusing on promoting equity and inclusion in our profession. The ICMA Executive Board and ICMA staff have been working on how we can remain a world-class organization of local government leaders while giving a stronger representative voice to the diversity in our membership.
Member Engagement Process Launched
To help make this happen, we have launched a member engagement process to make sure that all member voices are heard as we explore options for bringing more diversity to the ICMA Executive Board, the membership, and ultimately, the local government management profession. The board will be proposing several ideas that we are asking our members to discuss and provide feedback on with respect to membership and voting privileges in ICMA. These ideas would require member approval to amend the ICMA Constitution.
Over the next six months, we'll be listening to you—at the regional conferences, state association meetings, and other events. We have been working with engagement and research experts who have experience with other organizations like ours who have similar challenges. They are using an innovative online platform to collect feedback by having users share ideas, thoughts, data, and information that will inform the process by which the board decides to move forward. While we're hosting the national online focus group on Monday, we had the pleasure of kicking off the process Thursday at the Southeast Regional Conference.
The platform, in which 72 people participated in one session, asks questions of the group on various components of ICMA membership and how to achieve diversity and inclusion in the organization and on the board. Once answers are submitted, participants can then agree or disagree with those ideas proposed by their fellow members. It's a really interesting way to collect data and test opinions, which a stats nerd like me can totally appreciate! One great component of this tool is that answers are submitted anonymously, allowing for candid feedback—and yes, people were indeed brutally honest, which is great and absolutely necessary for the board to hear to be able to do its work.
Your Feedback Needed
The best part is that the session sparked some great conversations among attendees and I continued to receive excellent feedback through the rest of our time together at the conference. I'm happy to report that I've heard many different ideas and opinions that members have not been shy to share with me, other board members, and each other. As I've said before, sometimes these may be uncomfortable conversations, but we need to have the courage to have them so that we can identify the real issues and move forward.
Now, it's your turn! Please join us online on Monday, March 4, for the live focus group. You need to both call in and use this link to participate: https://remesh.chat/r/ICMA. The call in number is 1 646 558 8656  and the i.d. code is 998 531 456. Members with a computer, tablet or smart phone can participate. If you can't participate, there will be other ways to make your opinion known. The results of the online focus group session will be used as a basis for ongoing discussion and in-person sessions at upcoming regional and state conferences and events, and will be a big part of how we move forward in making local government more inclusive, and more representative of the communities we serve.
Thanks to everyone who has already participated, has signed up to participate, and who plans to provide feedback over the next few months. Your voice matters and I can assure you that the board is listening. Feel free to reach out to me personally, if you like; I am always eager to hear from you. I am grateful that we have a membership that is dedicated to making our association better. Thank you so much for all you do!