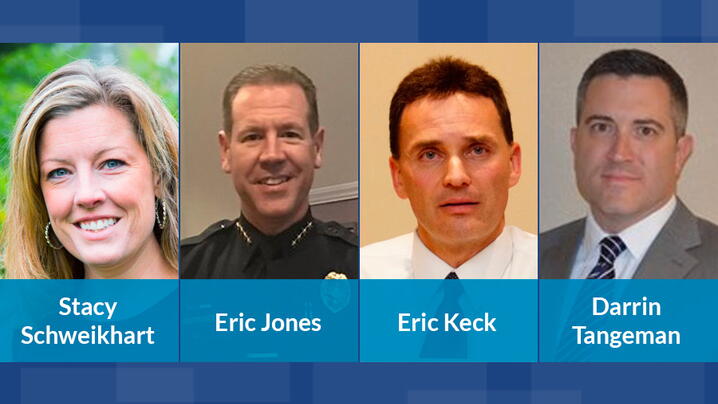 Recipients of the 2017 Route Fifty Navigator Awards were announced during a ceremony on Wednesday, November 15 at The Mint Museum in Charlotte, North Carolina. Four ICMA members were among the 50 individuals and teams named as finalists in the second annual Route Fifty Navigator Awards competition, with one member winning an award in the Next Generation category. The awards honor the best and brightest individuals and teams who work in or collaborate with state, county, and municipal governments throughout the U.S., based on their demonstrated abilities to implement a great idea that improves the communities that they serve.  Nominations were evaluated for their innovation, implementation, and outcomes.  
An ICMA Communications Partner, Route Fifty is a digital news publication from Atlantic Media's Government Executive Media Group that informs and connects the people and ideas advancing state and local governments nationwide. The four ICMA-related Navigator Award finalists were
Stacy Schweikhart, information manager, Kettering, Ohio, won an award in the Next Generation category. Schweikhart was nominated for her mentorship of a nationwide data collection team created to build a database on diversity in local government leadership. The "Diversity Dashboard," which originated in North Carolina, has now expanded to 10 states and continues to grow.
Eric Jones, chief of police, Stockton, California, pushed his city to employ innovative, evidence-based policing strategies, earning him a nomination in the Data and IT Innovation category. In 2012, amid staffing cuts, increasing crime rates, and the city's bankruptcy, Jones collaborated with the California Department of Justice to develop "Principled Policing," a strategy designed to increase public trust by emphasizing the fundamental principles of law enforcement and how they must always guide police work. The police department utilized crime analytics software to map, compare, and share crime data from multiple sources resulting in substantial decreases in firearm-related- and property crimes.
 
Englewood, Colorado, City Manager Eric Keck, is one of 10 nominations in the State and Local Executive Leadership category. He earned his nomination for implementing a controversial plan to improve fire service delivery in his city through a priority-based budgeting strategy that required fire and emergency services to be contracted out to neighboring Denver. His plan not only freed up $3.3 million of Englewood's budget, but it also shortened emergency response times, allowed the department to modernize equipment and guarantee compensation parity to transitioning firefighters.
 
Darrin Tangeman, chief administrative officer, Pueblo West Metropolitan District, also received a nomination in the Next Generation category for his role in founding the Veterans Local Government Fellowship in Colorado. The fellowship provides opportunities for veterans to jumpstart their post-military careers and utilize their skills and training through positions in local government.  The program has caught the attention of several other organizations, including Route Fifty, and is being considered for replication in other states.
Visit the Route Fifty Navigator Awards website to learn more about the program and the 50 finalists.
New, Reduced Membership Dues
A new, reduced dues rate is available for CAOs/ACAOs, along with additional discounts for those in smaller communities, has been implemented. Learn more and be sure to join or renew today!