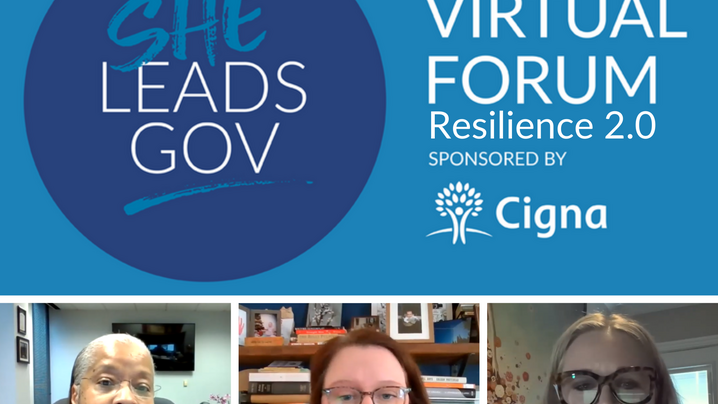 On International Women's Day, the second annual SheLeadsGov Virtual Forum on Resilience 2.0: Redefining Resilient Women in Local Government provided more than 570 women and men a unique professional development opportunity to assess and enhance their resiliency to achieve professional and personal goals in 2022. This day of inspiration presented by ICMA and the League of Women in Government, and sponsored by Cigna, provided a platform for attendees to understand how to disable their silence and use their voice to do scary things, improve their resiliency through stress management, and remove barriers to support themselves and their peers to keep women in local government.
The virtual forum kicked off with thought-provoking and motivational panel on Overcoming Challenges Faced by Women During the Pandemic. Kim Funderburk, national vice president and general manager for government and education, Cigna moderated the panel that featured four local government women who answered, "How do we keep women in local government?": Jane Cheeks, IPMA-SCP, director of human resources, Houston, Texas; ICMA member Kelly Houghteling, deputy town administrator, Wellington, Colorado; Shawn Stokes, director of human resources, Prince George's County, Maryland; and Ann-Marie Sharpe, director of risk management, Miami, Florida. The panelists scrutinized day-to-day challenges the pandemic revealed for women in the workforce and the negative impacts, leading many to struggle with fewer advancement opportunities or leave local government altogether.
Following a mindfulness and meditation podcast on managing stress, ICMA member Sereniah Breland, city manager, Pflugerville, Texas, inspired attendees to be authentic and vulnerable leaders by finding their own voice and providing the same for others through her keynote on Do It Scared: Never Doubt that Your Silence Enables and Your Voice Empowers.
In the session Resiliency 2.0: Finding the Path Forward Sandra Shaklan, behavioral clinical account manager, Cigna explored what has changed during the previous 12 months and the pandemic's effect on wellness and well-being, unprecedented resignations, and personal resilience.
Following the event, Susan Barkman, assistant to the city manager, Royal Oak, Michigan, shared her insights and takeaways from the day:
How did the SheLeadsGov virtual forum help you improve your resiliency?
Barkman: I think one of the ways it helped my resiliency is in finding a little bit of community. The pandemic has been isolating in so many ways.  It can also be easy to feel like you're on your own dealing with a lot of different challenges that many of us encounter. It was just nice to hear from some folks who are working through similar challenges.
What's one thing you'll do, change, or implement based on the sessions?
Barkman:  I have been working on sharing more positive feedback, appreciation, and encouragement, both internally with staff and with friends working in local government across the country.  It has been a tough few years and I think it is easy to overlook these things as we contract in spending our own time and energy. Taking the time to share these thoughts helps to balance out the frustration being felt from our residents, build connections to other staff within our organizations, and lifts spirits.
Why is it important for colleagues and organizations to remove barriers and empower women to keep them in local government?
Barkman:  You want the best workforce possible in your organization. Having a diverse workforce helps bring a lot of different views to the table and ensures that we can best serve our residents. While removing barriers is important, it is really important to look around the organization and not see all women as one block with the same barriers. The intersection of different aspects of our own identities assures that we will not experience all of the same barriers.  Removing a barrier for me doesn't mean you have removed it systematically or that all barriers have been removed.  
To listen to the thought-provoking sessions and motivational speakers, recordings of the SheLeadsGov Virtual Forum, Resilience 2.0: Redefining Resilient Women in Local Government, are available on the ICMAvideos YouTube channel.
New, Reduced Membership Dues
A new, reduced dues rate is available for CAOs/ACAOs, along with additional discounts for those in smaller communities, has been implemented. Learn more and be sure to join or renew today!