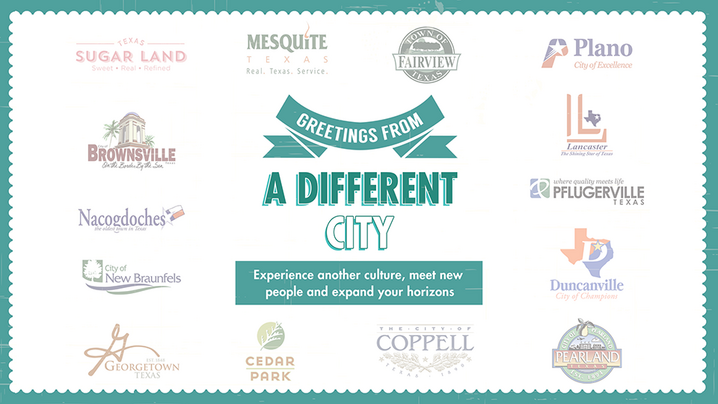 By Katherine Caffrey, deputy city manager, Cedar Park, Texas, and Karen Daly, regional director, ICMA Mountain Plains
The benefits of being a foreign exchange student are vast.  Studying abroad is an opportunity to become immersed in a new and different culture, language, and way of life, as well as a chance to meet new people.  Exchange students' host families experience similar benefits.  And for students and hosts alike, stepping outside of one's comfort zone to participate in an exchange program can be simultaneously exciting and a bit worrisome–and absolutely worth it. 
What if?
What if we took the general concept of a foreign exchange student program and applied it to local government? This question came up during a conversation over lunch one day, when we were discussing the limited professional development opportunities that were available to tenured assistant city managers.  We wanted to explore how we could go about fostering a fresh perspective for those who've been with an organization for a while.
After some deliberation, we agreed there was something missing and we should try a pilot program to see if we could address it.  Our idea was to create an assistant city manager/deputy city manager exchange program.  The goal was simple: to offer a new professional development opportunity for tenured assistant/deputy managers so they could gain a different perspective.  We called it the TEXchange Program (because it needed a name!).
How We Created the Program
By late fall 2021, we invited a select group of assistant/deputy city managers across Texas, who we knew had worked in a singular city for an extended period of time–at least six-to-ten years–to participate in an exchange program with another city.  It was designed to give them the opportunity to "exchange" with other local government professionals and learn how these other communities deliver services, engage citizens, and strategically plan for the future. It was, by no means, a semester abroad.  Rather, it was a brief sabbatical over a period of just a few days.  Participating ACMs had an opportunity to shadow a city manager in a different city, and gain new ideas and approaches to help them in their current ACM jobs.  These ACM "exchange students," in turn, provided their host managers with fresh, new perspectives. 
In our invitation, we asked participating ACMs to commit to taking the time away from their cities and and stay in host cities for no less than three days during the workweek.  Activities could include touring government operations; attending internal and external meetings; participating in discussions about programs, people, and issues affecting the host communities; and attending a city council meeting.
Simultaneously, we asked a select group of city managers who have significant experience in their roles if they would consider hosting.  We asked them to be very open and transparent about their experiences and organizations with their ACM participants, who would be comfortable and familiar with confidential subject matter. 
The program was scheduled to occur in early January/February this year, but we left scheduling details and logistics in the hands of the city managers and ACMs, while highly recommending that they set the exchange for dates that accommodate attendance at the host's city council meeting. Participating ACMs who exchanged with these other organizations were responsible for covering their own travel and lodging expenses during their visits.
Exchanges Earn Top Marks
The 14 municipalities that agreed to participate in our inaugural exchange program are the cities of Brownsville, Mesquite, New Braunfels, Sugar Land, Pearland, Cedar Park, Pflugerville, Lancaster, Coppell, Nacogdoches, Plano, Georgetown, and Duncanville and the town of Fairview. Feedback from the participating ACMs was overwhelmingly positive.  It was described as a professional development program on steroids and left everyone energized with new perspectives.
Inaugural TEXchange program participant Helen Ramirez, who currently serves as interim city manager for Brownsville, says the experience helped build individual and organizational relationships.
The TEXchange program was an intense and rewarding experience where 'on the job' best practices were shared among professionals at the manager and executive team level. In the city I visited, we truly 'exchanged' ideas and lessons learned that have since led to relationship-building between our two cities–in the areas of economic development and organizational development and human resources.
In addition to these experienced managers fostering this next generation of city managers, the host cities benefited equally from the presence and perspectives of their visiting ACMs. 
"Having a high-performing senior staff member visit our city was a lot of fun and incredibly valuable to our team!" said Plano city manager Mark Israelson. "Getting feedback from an experienced manager provided insight on our organization and helped us look for areas where we can improve. We now have an ex-officio member of our team and we are looking to implement a similar program for our own staff with other city departments.  We will be participating again as a host and hopefully sending staff to another city for this experience.  I give this program my highest possible recommendation."
Georgetown city manager David Morgan shared similar positive feedback. 
"We all share similar challenges and having a seasoned professional immersed in another city provides an incredible perspective," Morgan said.  "I know our visiting assistant city manager benefited our city management team by providing a fresh approach to issues we grapple with daily. I hope we get to host someone again."
Of course, there will be opportunities for additional assistant or deputy city managers in our state to go on an exchange because TEXchange is now an annual program in Texas.  But we hope there will be similar opportunities in neighboring states–even across the globe–as we encourage everyone to begin to create their own ACM exchange program.  Who knows? It just might change the world of city management, and it will certainly keep our tenured ACMs engaged in the profession.  
Core Elements of the Exchange
Participate a minimum of two and maximum of three days.
Attend a host's city council meeting.
Attend an executive staff meeting.
Report on your host visit when you return.
Plan the visit but keep some flexibility.
Challenge the ACM to visit a host unlike his or her own city.
The takeaways were vast for our hosts and exchange ACMs.  From learning about space stations and having lunch in another country (which happened in Brownsville), to presenting how your city addresses staffing vacancies, the exchange offered more than we could have hoped it would.  Participating in an exchange (even in your own state) is a great way to gain fresh perspective and it does not even have to be an official program. To learn more, reach out to us at katherine.caffrey@cedarparktexas.gov or gpadaly@gmail.com. 
New, Reduced Membership Dues
A new, reduced dues rate is available for CAOs/ACAOs, along with additional discounts for those in smaller communities, has been implemented. Learn more and be sure to join or renew today!