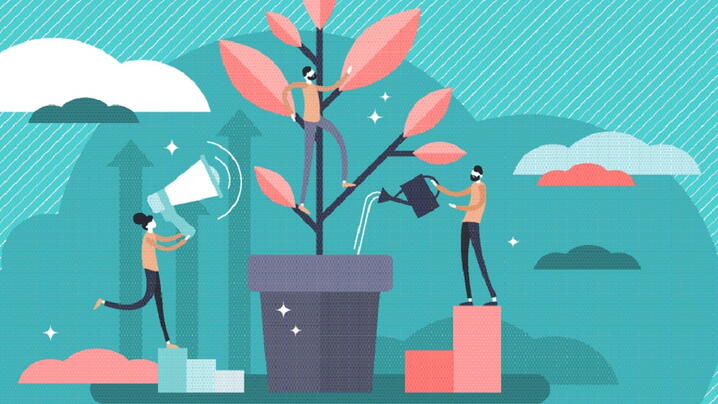 In part one of How to Have Happy Employees, ICMA spoke with Bennett, Colorado, town administrator, Trish Stiles, and discussed her mission to have happy employees. Stiles explained how personal goal setting, professional goal setting, and making clear emotional connections to how local government work supports the happiness of the community are the three main ingredients to creating a positive workplace where happy employees do impactful work.
In part two, Stiles talks about buy-in and how other local government leaders can do the same for their teams. She considers tangible and intangible ways to measure success, and offers final words on mental health in the workplace.
You found that your employees/staff are very receptive to this emotional buy-in process. Why do you think that is?
To be honest, I have to say, at first, we had a few big skeptics. For some, it all felt a bit too touchy feely, and I think they were hesitant. One of our key strategies to overcome this was working on gratitude with the group. The practice was a way to remind ourselves about the things in life that are great and amazing, shift focus away from the uncertainty of the pandemic and the change in our working locations, and realize we can accomplish big things.
At every meeting, we share our wins related to our goals to keep us connected and accountable to each other.
Sharing this information built a great level of additional trust as some had shared very personal goals and we could see how we were all working toward them.
The more we worked on the process and the more the team opened up and shared, the easier it got. The more we celebrated our personal and professional wins and successes, the more there was in life to celebrate. The genuine happiness for other team members was infectious.
Changing our thinking to be more focused in a positive way was very impactful. Even one of the skeptics acknowledged in the process that her way of thinking needed to change, that she could now see the value in what we were working to achieve, and that she wanted to make that change.
How can we encourage other local government leaders to implement this type of approach in their organizations?
Share your experiences. For me, I know that supporting employees from a place of wholeness makes a better team. I have one employee who has 40+ years of local government experience in several municipal organizations. He is always telling me how different it is to work in Bennett and that he has never felt as supported like he is with this team. I asked him what he thought:
"When I first came to this organization, I sensed something was different. Every organization talks about building and being part of a great team. In the town of Bennett, you are welcomed first as a family member with a focus on employees as individuals. The caring is genuine. Then we set out to build value-based relationships, resulting in teams that get things done with gratitude and celebration."
If you want an organization that is stronger and more resilient, the emotional work is worth it.
What does success look like for this type of program?
Some of the success in this program is very tangible. We all see real achievement of goals like the new appliances, buying new homes, and taking bucket-list vacation trips. Our master project list has emotional connections that everyone understands and supports, making it even more special when they are complete.
Investing in the team also has so many intangibles that are harder to measure but are very much present. I touched a bit on the positive thinking and the change in attitudes in the organization. Also, there are high trust levels among the group, and with me, for them to share some very personal goals. We all have accountability partners at work, but it has also been taken home to spouses and families for their buy-in and support, making these goals well-rounded. The outcomes are life-changing here; it is such an honor to be trusted enough to connect to these outcomes. The program has brought us closer together during a time when we were physically apart.
The pandemic taught us a lot about mental health in the workplace. What have you learned that you can share with us to help others?
For me, I was able to hear. To really listen to our employees and connect with what they were saying. In a crisis, I want to step up, be a leader and help, which is a huge part of our roles as managers. I felt like I was doing much of the cheer leading to get us through the challenges of the pandemic.
But at one point, I felt like I had to stop trying to do the talking and instead probed employees with more tunneling questions to have candid conversations.
Specifically, I took this new approach on a Zoom meeting and asked the employees to be open and honest about their festering concerns. I don't think we train ourselves and our teams nearly enough to have open and clear conversations, but I have found it will make a big difference when you do. Being honest about how people are feeling and acknowledging those feelings is very freeing and a great first step in order to help. These are brave conversations, and we need to embrace them for better outcomes.
Striving for Mental Health Excellence in the Workplace | Make your commitment today!
On April 27, 2022, we launched an initiative calling for local government leaders to commit to support employee #mentalhealth through concrete, data-based actions like training managers to promote well-being & examining health insurance policies with a mental health lens. Learn how you can get started today. #MentalHealthAtWork
---
Call for Content
Share your ideas with fellow ICMA members and local government leaders to advance the profession. We're searching for interesting and insightful stories that can help others learn a memorable takeaway to serve their communities better.
Best practices, practical tips, innovative approaches, and lessons learned through success or failure are a few of the methods; PM magazine, ICMA Blog, Voices in Local Government Podcast, and videos are a few of the platforms. 
Whether it's interest in a Q/A style like this blog, a completed draft ready to submit, or an early concept, complete the short form or email Joe Supervielle, ICMA content manager, at jsupervielle@icma.org and we'll get back to you on next steps.
Register for the ICMA Annual Conference
Join us September 17-21 in Columbus/Franklin County, Ohio for the 2022 ICMA Annual Conference.
JOIN ICMA TODAY!
ICMA provides the tools, resources and connections to help you become part of the international network of 13,000+ local government management professionals.