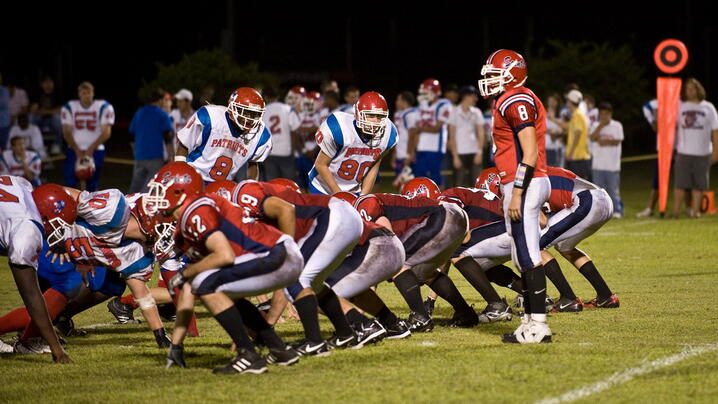 by Amanda Nagl, engagement manager, Bang the Table
For all of us who have worked in the field of community engagement—local government, or otherwise—we instinctively know the difference in playing offense or defense with our tactics and communications.  It goes without saying that organizational reputation, values, and community trust are always of utmost importance and guide our entire playbook.  In any given play, however, we also know which side of the ball we are on and we balance the fear of turnover with the calls we make.
Offense is when we get to introduce an idea, project, or decision with a plan but without a lot of rules—interest and support are high; risk is low—levels of approval are few.  These projects feel good, serve as a respite and reward for employees in some cases, and remind us why we got into this business in the first place.  In-person events are a pleasure and connecting people in the online space feels natural and comfortable.  We are open to dialogue and we come across as transparent. We may be described as innovative, positive and accessible.  We promote broad discussions and blue sky thinking in our exercises with the public.  We encourage imagination and dialogue.  We engage readily on social media, encourage the public to share messages, celebrate alongside us, and have independent discussions.  In the online world, we use forums that allow community members to talk to us and to each other—building on ideas and expanding capacity.   
Then there are the ideas/projects/decisions where the odds are stacked against us from the beginning.  The opposition is strong and may be previously undefeated, presenting a situation where we feel there is a win or lose outcome to a process.  Natural instinct is to double-team and back away—in the world of community engagement, this sounds a lot like silence—tendency is to only answer direct questions and hope that the issue just goes away on its own.
If policy dictates and we must go "out there" into the public then we put on our battle gear.  We make sure we create an agenda that will protect us or at the very least—control the conversation.  Our engagement tactics are narrow and defined and if we are honest, even without intent, we are likely creating community engagement processes designed specifically to keep the opposition groups at bay—we are thinking of them and preparing for them while we build—rather than thinking about our values related to community engagement or the information that we need from the public to make a specific decision.  If protection and defense are guiding our play calls, we're likely to make mistakes.
Just as our in-person defense posture takes on a specific look: feet squared, weight balanced, arms folded, tables placed between us and the public, a tight agenda that doesn't allow for outside influence and maybe even double teams—employees who are there for the sole purpose of handling the "trouble makers;" so is our online engagement influenced when we feel defensive.  When we are afraid of turnover, we are likely to use controlled tools like closed surveys and polls—while these tools certainly have their place; when used in isolation, they may not allow all the issues to get out on the table and frequently leave members of the public—enabling the "opposition" to make statements such as, "I don't feel heard" or "nobody is listening."  Worse yet, we might skip the survey altogether and just assume that "we know how the public feels." We all know these feelings and statements frequently serve as a prelude to a period of community unrest and that projects are often stalled or come to a standstill while we try to undo bad community outreach by creating new processes—designing new plays that cost more time, more money, create more politics and lead to penalties such as staff burnout and low employee morale as well as community distrust.
Defensive posturing in community engagement is very costly and can easily be avoided.  By utilizing a broader set of tools for online engagement in these circumstances, we come across as more open and available; willing to hear all positions related to a decision.  We will be better positioned to provide facts and offer reasoning for decision making because we've allowed all of the ideas and emotions to surface, we've listened—and we've provided an opportunity for the public to do the same.  Sometimes the opportunity is all that is needed—by providing it, we remove the perception that we are hiding information or are being driven by ulterior motives—we build trust in our community.
Ideas or brainstorming tools can be used to open-up the conversation—allowing for new ways of thinking and providing an alternative to a polarized community dialogue about only two options.  This tool is best used in collaboration with an open-ended question.  By allowing people to vote, or like, ideas presented by others, the silent majority gains a voice.  Storytelling tools can be used to allow people to share through video or photos—providing images that can evoke emotion and understanding in a way that words alone can never achieve.  If there is need to protect the vulnerable, then cutting off public comments on publicly-submitted stories is always an option.  Guestbooks work very well in combination to an ask for people—ask them to read information or visit a location and honestly reflect on that experience—just like we would all do if we visited a bed and breakfast or another facility that asked for our heartfelt feedback—open and honest.  
In reality, these types of open-ended conversations are happening all over our community.  People will find a way to communicate their feelings, emotions, and beliefs about issues that matter to them.  Nextdoor.com and Facebook are full of open dialogue regarding civic issues.  The only voice that is missing on these channels is often that of local government—sometimes because we've gone into a defensive posture and shut down engagement on a divisive issue or decision; other times because we have no idea the conversation is happening or we do not have access to the channel—in those cases, we sat out on the play altogether.  Through the use of an online community engagement platform and the incorporation of online resources—our voices can become a part of the dialogue—providing factual information regarding the process and previous decision-making that may have a critical impact on the topic or decision.  Our choice is in our role as local government officials—what will we choose to do?  Ignore? Inform?  Defend?  Or will we host?
I am scheduled to graduate from Leadership ICMA this fall and have learned much along the way but the one discussion I go back to most frequently was one of the first—during our introduction to the program, in Washington, D.C. when former ICMA Executive Director Bob O'Neill, led a session about the roots of local government.  Bob took us back to early settlements in our country and the motivation behind people coming together to organize into local government units.  Bob went on to describe the purpose as a provision of space for community dialogue and the role of a government employee as that of a host for public decision-making. We all know this on some level but I wonder how often we ground ourselves there before we create community engagement opportunities?  If we did, I wonder if we would play less defense and run a more open pattern? Maybe we would take more chances and if we did fail, maybe it would be a fail forward—closer to the goal line.
Amanda Nagl, Engagement Manager, Bang the Table, amanda@bangthetable.com
Felicia Logan, ICMA director of Leadership Development, oversees the two-year Leadership ICMA program and welcomes any questions at flogan@icma.org. 
New, Reduced Membership Dues
A new, reduced dues rate is available for CAOs/ACAOs, along with additional discounts for those in smaller communities, has been implemented. Learn more and be sure to join or renew today!